Sakurai on how third-party characters are chosen in Smash Bros., roster, more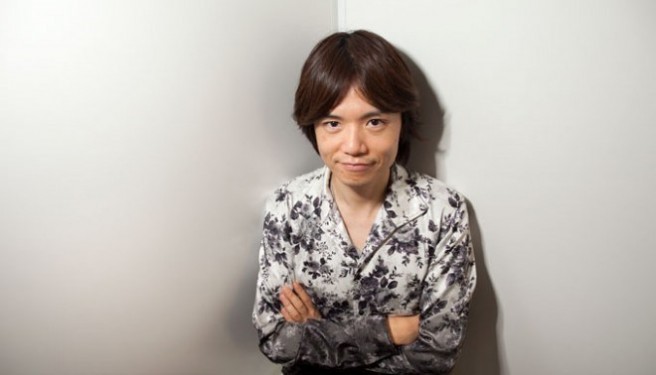 Nintendo Life has published a new interview with Super Smash Bros. director Masahiro Sakurai. Topics include third-party characters, the roster in general, the meticulous process of creating the different characters, and how much fans influence decisions.
Head past the break for some interview excerpts. The full interview can be found here.
On how third-party characters are chosen…
First off, I think about which third-party characters would make suitable guests for the game before beginning any negotiations. It goes without saying that Mega Man is a guest who could fit Smash Bros. with his range of moves and attacks, but PAC-MAN as a guest fighter needed some careful consideration. With Bandai Namco Games being the developer for this title, it was definitely one of the reasons I wanted to include him, but I also knew that in order to make this round ball of a character into a proper fighter I would need a lot of good ideas and a strong feel for what kind of moves would fit him.
In the end, I decided to embody classic Namco, and I think it really worked out well. I've heard that Bandai Namco had also thought about using the older style PAC-MAN before, but they just weren't able to find something that worked well. Some of the staff have even said how surprised or thrilled they were that we were able to represent the classic PAC-MAN so well in the modern day.
On how Smash Bros. Wii U/3DS offers the largest roster thus far…
My priority is to provide the best experience possible to consumers and so I want to make as much as I possibly can for them. The number of characters (not counting alternative versions) was more or less decided from the beginning, however, I worked with the understanding that we might need to cut some characters if the development was progressing too slowly. Fortunately, we were able to finish just about everything.
In actual fact, since the development team is different for this game as compared to previous iterations, even the veteran characters were remade from scratch. Although this meant an increase in costs, it is precisely because of this and – in no small part – thanks to the efforts of the development team, that we were able to put so much content into the game.
We could always have reduced the number of characters and played it safe, so to speak, but I believe that having all these characters is an important part of what makes the Smash Bros. series special.
On how much time goes into designing and balancing each character…
I get the planning for each character done remarkably quickly. For example, after learning about Greninja and its abilities one evening, by late night I had already completed the design for that character's moves and features.
The process, however, of actually creating a character often takes well over a year, where we are constantly working on the model, the animations, the audio and the balancing. For the game balance we have a testing team playing almost every day and we make adjustments based on their results. I was working from morning to night with my responsibilities as director, so I was only able to spend Wednesday evenings and weekends on the balance.
One of the important things for me was having a large difference between the characters, which I call their "dynamic range". In a typical fighting game where you just square off against an opponent, other things like the environment have less of an impact, so even small differences between characters can be very noticeable. With Smash Bros., however, I want to bring out the individuality in the characters and I think it's rare to see a game with such a wide dynamic range as this.
So although it may end up that some characters are stronger than others due to way the game works, we have focused on allowing a lot of "accidents" to happen in a party game sort of way – resulting in things that make players laugh – so the emphasis is on variety rather than making Smash Bros. into a sport.
On the decision to bring Smash Bros. to a handheld for the first time…
With each iteration of Smash Bros. we have tried to push beyond the limits of what content we can put into each one. This is inevitable as long as we are developing for home consoles, with the push for even more characters, or better graphics. I felt we needed to a way to break out of this cycle, and look at new ways to play instead.
In particular, I really liked the idea of being able to provide new ways to play due to the game being on a handheld too.
Also, a major reason for developing the handheld and home console versions simultaneously is that since I don't have my own development company and I'm working freelance, for each project I'm working with different staff, so once a team is disbanded, that's it. It takes a lot of work to have new people take over a project, therefore developing both versions at the same time was a way for me to finally release a Smash Bros. game on both home console and handheld platforms.
On whether the collective voice of the fans has been an influence on decisions made in regards to the game…
I know that some sequels focus on fixing problems with the last game, but if we had taken that approach then we would have had less than half as many new characters, and the game wouldn't have felt so different from the last one.
I believe that Smash Bros. games need to offer something that can also be enjoyed by a wide range of people, such as those who might just be getting into gaming when they are released. To do this we need to listen not just to the biggest fans, but to a whole range of different users to give everyone an experience that is fun.
Having said that, there are lots of things I want to improve on from the last game and I'm fixing those on my own initiative.
Leave a Reply