Sakurai on working with Square Enix and Disney to get Sora in Smash Bros. Ultimate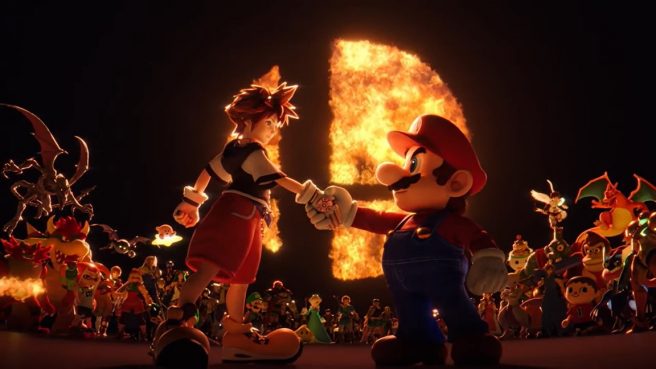 In his latest column for Famitsu, Super Smash Bros. Ultimate director Masahiro Sakurai talked in-depth about the game's latest DLC fighter, Sora from Kingdom Hearts, including how an unplanned meeting with a Disney rep kicked off the whole process. He spoke about the negotiations with Square Enix and Disney, how Sora was actually the series' most requested playable character ever, as well as unpacking many details around the character's design.
Below is a full translation of what Sakurai had to say.
Super Bros. Ultimate's final DLC fighter, Sora from the Kingdom Hearts franchise, is now available. His announcement caused quite the stir! For an in-depth look at the character, please check out "Battling With Sora", where I go over the character in more detail.

I touched on this in the video, but Sora was the most requested fighter by fans. In the Smash Bros. Fighter Ballot from the previous game, he ranked number 1. Truth be told, Banjo & Kazooie were high up there as well, which probably comes as a surprise to Japanese fans.

Some of you may not be surprised to find out, however, that we had to jump over incredibly high hurdles to get Sora in the game. Obstacles unlike anything we had with the other DLC characters.

Fans' hopes were so high we weren't sure we'd reach expectations, and I'm sure our negotiations team felt the same.

One day, the opportunity appeared. I happened to meet a Disney rep at an award ceremony, and as I began explaining to him how we'd like to add Sora to the game, he told me that Disney thought it would be a great idea too. What!?

Of course, that wasn't something that could be decided there and then. The higher-ups might have different ideas. What followed was long conversations between Nintendo, Square Enix, and Disney, and in the end we were given the go ahead. We had our sixth fighter for Fighters Pass Vol. 2.

Truth be told, Fighter Pass Vol. 2 was only supposed to have five characters like the first Pass. Deciding on which fighters would be included happened early, so we delayed Sora in anticipation that he would make it in later on. Preparation continued before we were sure it would actually go ahead, and our efforts ultimately got Sora a spot on the roster.

Everything we did with Sora was under the supervision of both Square Enix and Disney. There were many obstacles to overcome and different rules we had to adhere to during development. The Smash team produced high quality models from the start, and we were so comfortable with other parts of the project that we faced fewer problems making Sora than we thought we would.

… That's not to say it was without its challenges. To keep Sora faithful to his games, we emphasized aerial combat and slower timings in his combos. I think you get a solid sense of Kingdom Hearts playing Sora, but I'd be curious to know what players think. I hope you enjoy playing the character.

Looking back on it, it's been about three years since the game's release and in that time, we made eleven diverse DLC fighters. With that said, that's far too long. The team scaled back their expectations and of course the pandemic played its part – that's not to say we were slacking by any means. We just spent as much time on the DLC as we did the main game.

The long production time made me think there are only so many more titles I can have a hand in developing, which made me a little uneasy about the future. I think it's great that we were able to make headlines in the game industry through our development and presentations. Smash is just a completely different beast. I'd like to once again extend my thanks to the developers who have entrusted their worlds to us.

With that all said aside, my column will be coming to an end and my next column will be my last.
---
Translation provided by Jarop and centurionnugget on behalf of Nintendo Everything.
If you use any of this translation, please be sure to source Nintendo Everything and do not copy its full contents.
Leave a Reply