Splatoon 2 producer on whether Pearl and Marina know they're in a game and more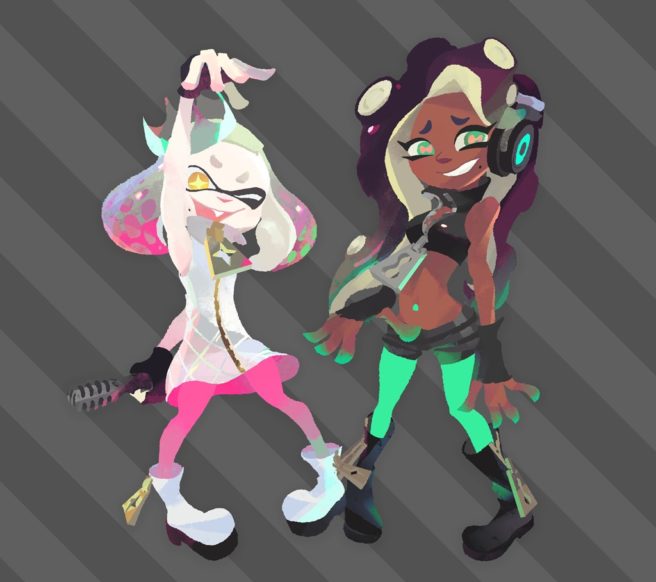 Game Informer published two new interviews with Splatoon 2 producer Hisashi Nogami today. Aside from one discussion that was more on the serious side, the second was off-beat and was more about lore. Topics in the second interview include whether Pearl and Marina know they're in a game, what happens to Inklings as they move through ink, and how they can't go in water.
We've rounded up the comments about these topics below. Game Informer has the interview in full here.
On whether Pearl and Marina know they're in a video game…
Oh, that's a really difficult question. I think that if you play Splatfests, you'll occasionally see them say things that may put their position somewhere in the middle of Splatoon and our world in the references that they're making. They also fulfill this role of discussing what stages are upcoming and the news, but when it comes to Splatfest, we wanted to make the Off the Hook characters something that's a bit closer to reality, as Splatfests are events that expand beyond the boundaries of the game and occasionally tie elements of our world into Splatoon.
So it just might be that during those moments of Splatfest, they may have an occasional inkling that they are characters in some sort of a virtual space in the world of a video game. When it comes to the Splatfests, there is this Japanese idea of a Matsuri, which is a Japanese-style festival. In Japan, those Matsuri festivals usually have some kind of a female shaman, who is kind of the leader of the festival in Japanese tradition. These characters – whether it's Callie and Marie or Pearl and Marina – take on those roles in the Splatfests as well.
It might just be that in these special events that are Splatfests, the characters leading the Splatfests may come into contact with consciousness greater than their own! [Laughs] It might just be that they're speaking words that aren't even their own.
On what happens to the Inklings when they swim through water…
At least in my mind, they're becoming a liquid. They've sort of changed forms to become something long and thin that allows them to slip through the ink at great speed. It's not that they lose their shape completely but… wow you've really put it to me here, this is difficult… [Laughs] I guess maybe it's something a little closer to jellyfish where they can become really flat and stretched out, still holding their shape as they're slipping through the ink.
In my mind, it's not that they melt completely or dissolve completely into the ink, but that they still hold sort of a shape and know, "Okay, I'm still a squid!" as they're swimming along.
That's the first time I've gotten that type of question! [Laughs]
On whether the inklings know that at one point in the past, squids could go in water…
So this is just one of my own theories I have, but these inklings have gone through a lot to evolve from the squids that we know to the creatures that they've become in this world. In that evolution, one of their characteristics is that they can change their forms freely. But again, one of my theories is that one of the downsides to being able to so freely change their form is that their outer membrane is thin and very permeable, so when it comes into contact with another liquid surface like water, that the ink within them will just sort of bleed out and that may be the cause of the problem.
For the inklings, in the process of their evolution, which has made them better in some ways. One of the downsides of that is that they've lost the ability to swim around in water. That's just something they've had to toss aside in their evolution. The salmonids [from Splatoon 2's Salmon Run mode], in a different way have evolved, but for some reason they are still able to enter water and swim around.
Leave a Reply