Splatoon 3 devs on the game's DLC, Side Order will have "new and different" gameplay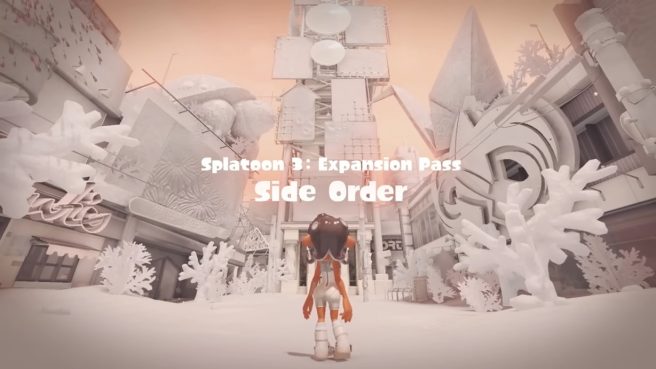 The developers of Splatoon 3 have discussed the game's DLC, including Side Order which will be released in the future.
Director Hisashi Nogami along with co-directors Shintaro Sato and Seita Inoue weighed in as part of a recent interview with Famitsu. According to Nogami, Side Order will feature "completely new and different" gameplay. Whereas the main game is based on the final Splatfest for Splatoon 2 in which Team Chaos defeated Team Order, the new DLC is based on the latter side coming out on top. And yes, we'll be seeing Off the Hook.
You can find our translation below, which also includes talk about why Inkopolis was brought back for the first part of the Expansion Pass DLC.
In the trailer for Side Order, the second wave of the Expansion Pass, we caught a glimpse of Off the Hook and the Octolings.

Nogami: Yes. As everyone has guessed, the two of them are definitely making an appearance. We can't give away any details yet, but it's going to be a new story that Off the Hook will be part of. We also plan on making the gameplay completely new and different, so please look forward to it.

I wondered if this is what the world would be like if Order won in the Final Fest.

Inoue: Yes. We didn't decide on this from the beginning, but when coming up with plans for the Expansion Pass, we thought it would be interesting to make a world where (Team) Order triumphed and so we acted on that.

By the way, is that Octoling Agent 8?

Satou: That… still needs some investigation.

Understood..! Then, please tell us why Inkopolis was brought back in wave 1 of the Expansion Pass.

Inoue: A lot of people started playing this series with either 2 or 3, and while they knew about 1, we wanted to show those who haven't actually played that entry what Inkopolis is like, and the Squid Sisters doing their real job.

Was the new Inkopolis designed to reflect the seven years since [Splatoon] 1 was released?

Inoue: Yes. Just like how a place you used to live in might change a bit after seven years, we made sure to have it evoke the feeling of going back to your hometown after some time. It seems like things have changed but a lot has stayed the same too. I think that while it feels nostalgic, you'll be able to see realistic changes, such as the station becoming barrier-free.
The Splatoon 3 Expansion Pass is comprised of two parts. Wave 1, which features Inkopolis, is already available. Wave 2, Side Order, will launch in the future.
---
Translation provided by SatsumaFS and Simon Griffin on behalf of Nintendo Everything.
Leave a Reply