Suda51 outlines Travis Strikes Again's different game worlds, No More Heroes 1 and 2 Switch chances, more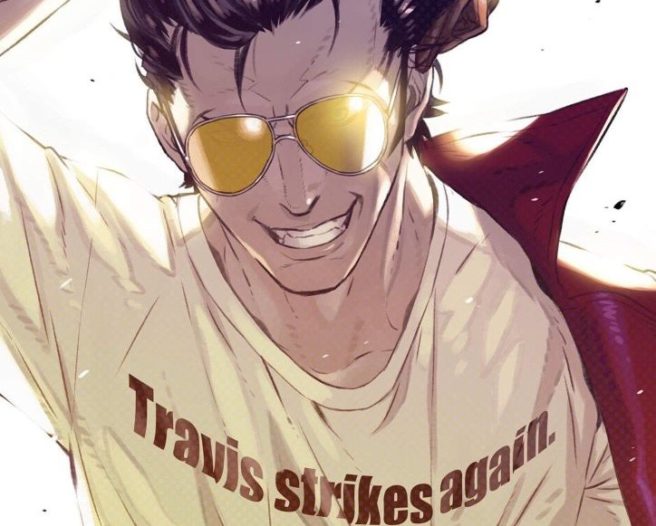 One of the major elements of Travis Strikes Again: No More Heroes is the different game worlds you'll travel to. Lately we've seen Electronic Thunder Tiger II from the recent playable demos. In an interview with Gematsu, director Suda51 outlined the other worlds that will be included.
Suda51 shared the following:
"He will be going into the worlds of different games in the game's universe. The first one he'll be going into, which is what has been unveiled in the demo, is 'Electronic Thunder Tiger II,' which is a sequel to an arcade game in that universe. The second game 'Killer Marathon,' which is a pinball game. The third game is 'Life is Destroyed,' which is a simulation puzzle game. The fourth game is 'Coffee and Donuts,' which is an action adventure game. The fifth game is 'Golden Dragon GP,' which is a racing game. The sixth game is 'Serious Moonlight,' which is a huge, triple-A RPG. And the last one is a secret."
A few other tidbits were also shared about Travis Strikes Again. These points in particular stand out:
– Suda51 wants to have 51 or 64 collaborations with indie studios
– 51 is for Suda51, 64 would be for Nintendo 64
– The 'Coffee and Donuts' world is the desert stage
– Outside of going into different games, there is the previously-mentioned Adventure Mode
– Can only run around the trailer, not run around in Travis' world
– Can sit on the toilet like past games
– No voice acting
– On how long it is compared to other No More Heroes games: "It's probably the same amount"
– Grasshopper Manufacture looking into whether it can do a physical release itself
– Kamui from The Silver Case appeared in the most recent Travis Strikes Again trailer; the two are connected and you'll understand that connection if you play
Later on in the discussion, Suda51 addressed the possibility of porting No More Heroes 1 and 2 to Switch. On that front, he said:
"… No More Heroes 1-2-Switch, yeah… It would be awesome if we could do it, but I still have to figure it out. Marvelous and Grasshopper Manufacture share the IP, so I would have to get their permission."
You can read the full interview on Gematsu here.
Leave a Reply