Super Mario Maker devs found it a bit tough to implement Yoshi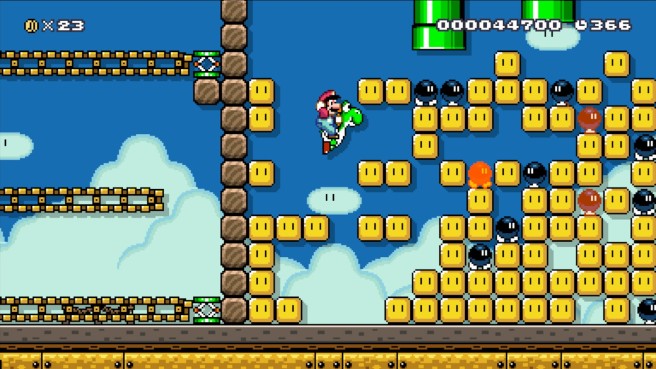 Yoshi's inclusion in Super Mario Maker partially came about thanks to the involvement of producer Takashi Tezuka. In a recent issue of Japanese magazine Nintendo Dream, Tezuka and director Yosuke Oshino spoke about his appearance in the game:
Oshino: We decided to put in characteristic actions like Raccoon Mario, Caped Mario and Propeller Mario during the first phases of development. But Yoshi had much controversy…

Tezuka: I was a bit pushy in requesting to have Yoshi. There were reasons like being responsible for the Wii U game Yoshi's Woolly World, wanting to use the Yoshi amiibo, and wanting to have some kind of collaboration as it is also Yoshi's 25th anniversary.

Oshino: But adding Yoshi was complicated, so we discussed what should we do.
So what was the difficulty in implementing Yoshi? Oshino explained:
"In Super Mario World, you couldn't enter a Ghost House with Yoshi for example. As you can freely arrange things in this title, there were many occasions in which it was required to think about how to apply things that you couldn't do in the original game, like whether or not Yoshi can step on a Boo and what Yoshi can eat and what he can't."
Tezuka and Oshino, as well as senior director Yoshikazu Yamashita, touched on a few other topics as well during the interview. Here's what was said about the Donkey Kong Jr. costume and Oshino wanting the sun to make it in:
Yamashita: Yes, I was the one that pushed to have him in! I have always thought it would be nice if he appeared in games again. I'm attached to him!

Oshino: My favorite didn't make it into Super Mario Maker, but it's the sun from Super Mario Bros. 3. Rather than liking it, it was very impactful.

Oshino: I can't forget the scary memories of playing when I was little…
And everyone's favorite characters:
Tezuka: It's Lakitu. Recently he has had various roles like holding a camera. If you beat Lakitu, you can fly around on his cloud. That is surprising and great fun.

Yamashita: It seems like the discussion turned out to be about how you like the cloud.

Everyone: (laughs)

Yamashita: When talking about the series, my favorite is Donkey Kong Jr. wearing a tank top. Although he has had few chances to appear in games recently, he appeared often until Super Mario Kart or so.
Leave a Reply