Wondering what Pokemon Battle Trozei's sales are like thus far? If so, you're in luck – retail shop blog Sinobi provided an estimate for the game's Japanese performance in a recent tweet.
Sinobi said that March sales seem to be about 30,235 downloads. This accounts for roughly 74 percent of sales, while another 10,600 (give or take) download cards were sold over the counter. Combined, that puts Pokemon Battle Trozei at over 40,000 units.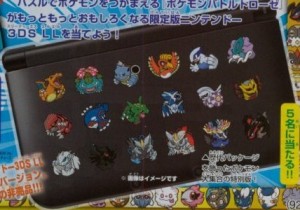 A second Pokemon Battle Trozei-themed 3DS XL has been revealed for Japan. The one above will be distributed as part of a CoroCoro promotion. Fans can send in an entry by April 14, and CoroCoro will choose five winners through a lottery.
You can find information about the first Pokemon Battle Trozei here.
Pokemon Battle Trozei's final block/file size is in. As previously mentioned, it's a rather small download. You'll only need about 390 blocks of free space available, which amounts to about 49MB.