Terraria update out now on Switch (version 1.4.3), patch notes and trailer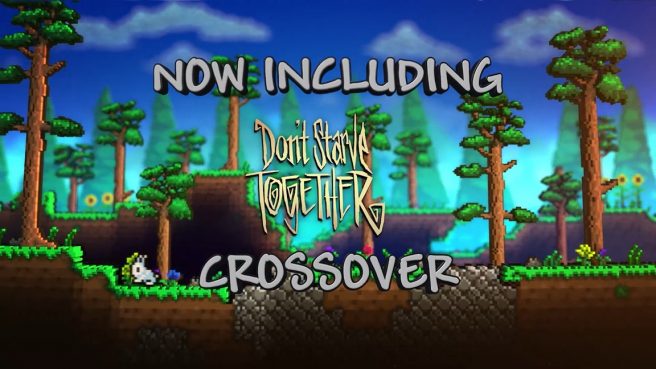 The next big update for Terraria has landed on Switch, with players now having access to version 1.4.3. All content from the 1.4.1 and 1.4.2 patches on PC are also included.
Today's update is highlighted by the crossover with Don't Starve Together. It also contains the Community Contest vanity armors and the Tenth Anniversary World Seed and more.
The full patch notes for the Terraria version 1.4.3 update are as follows:
New!

The Don't Starve crossover content is now available also on PlayStation, Xbox, Switch and Mobile!

New items and pets
A new boss: Deerclops
A new special seed world
Emotes

There are 3 new achievements to unlock:

Just Desserts!
Boots of the Hero
Hey! Listen!

You can now customize the color of your cursor!
Credits roll can be accessed directly from the front end now
In Settings, you can now choose between different expand/collapse/close profiles for UI pages

Improved!

Wiring has been improved and optimized
We have improved the existing filter & search mechanics in Crafting and Duplication
Now you can reset settings on a tab level, without having to reset everything
World selection screen has been improved and displays some more info
Some UI pages such as the the Reforge menu and some storage pets now have a dedicated icon
You can now toggle between Crafting and Duplication without having both menus associated to a page group
Expanded/Collapsed/Closed page statuses are saved between sessions

Fixed!

Fixed a crash issue when trying to open the Painter's shop during Christmas
Fixed an issue where the game would crash during multiplayer when reopening a chest while the inventory was open
Fixed a crash issue when placing furniture while building from the inventory
Fixed issues where some world objects were incorrectly positioned when on reverse gravity
Fixed a minor issue where some text editing fields (such as Chest) would accept unlimited characters
Fixed an issue where the placement grid would disappear when cycling between non-grid to grid items
Watch a trailer showing off the Terraria version 1.4.3 update below.
Leave a Reply