Tetris 99 reveals 35th Maximus Cup with Xenoblade Chronicles 3 theme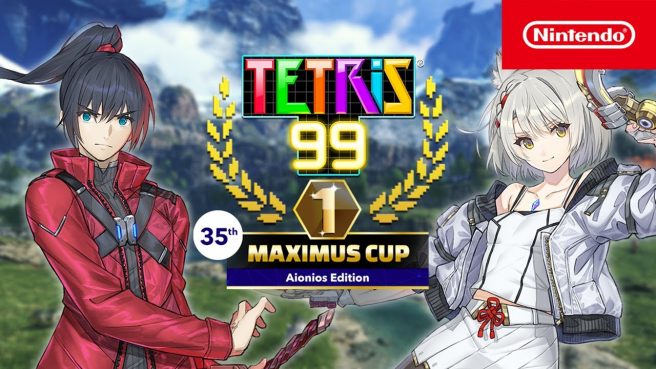 Tetris 99 has revealed its 35th Maximus Cup, which will give players the chance to earn a theme based on Xenoblade Chronicles 3.
Those with an active Nintendo Switch Online subscription will be able to participate. To earn the theme, players will need to reach 100 points while the event is active. Points are earned simply by battling others online, though you'll obtain more for a higher placement.
The Xenoblade Chronicles 3 theme for Tetris 99 features unique background art, music, and Tetrimino designs. Three tracks can be heard if you make it to the end.
Even after four years, Tetris 99 has still been holding Maximus Cups, though things have slowed down a bit. In July, players could earn a theme based on Pikmin 4. This year has also brought fans events based on Kirby's Return to Dream Land Deluxe and Fire Emblem Engage.
The 35th Maximus Cup in Tetris 99 with the Xenoblade Chronicles 3 theme begin at 12 AM PT / 3 AM ET on September 29, lasting until 11:59 PM PT on October 2 / 2:59 AM ET on October 3. We have a trailer for the event below.
35th Maximus Cup Trailer
Tetris 99 is currently available on Switch. You can access the official website here.
Leave a Reply