The Super Mario Bros. Movie McDonald's Happy Meals toys spotted for Japan, Portugal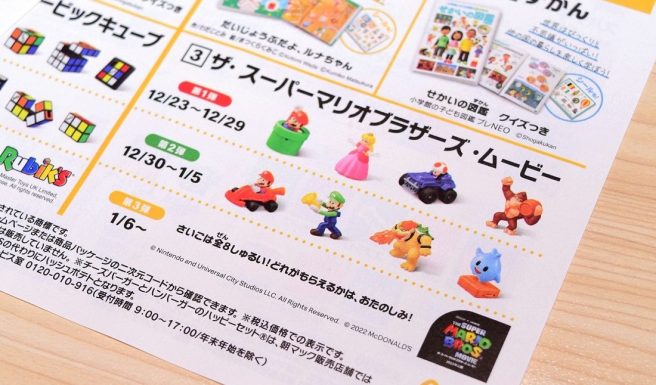 The Super Mario Bros. Movie has a few months to go until its debut (you can see the latest trailer here by the way), but it looks like McDonald's already has a big promotion planned – at least in Japan.
A flyer is starting to be distributed at the restaurant revealing that toys will be included with Happy Meals in just a few weeks. Two (well, technically three) waves will be happening. The first features Mario, Peach, Toad, and Donkey Kong. The second has Mario, Luigi, Bowser, and a character that isn't currently named but seems to be some kind of Luma. For the third round, it sounds like all of the eight toys will be offered at the same time.
Wave 1 will be held between December 23 and December 29. Wave 2 will follow between December 30 and January 5. Finally, wave 3 will be happening on January 6.
As of now it's unclear if and when these McDonald's toys for the Super Mario Bros. Move will be offered in other regions. We'll keep you updated if there happens to be any news on that front.
The Super Mario Bros. Movie will hit theaters on April 7, 2023. Let us know what you think of the toys in the comments below.
---
Update (12/12): The Super Mario Bros. Movie will also have McDonald's Happy Meals toys in Portugal. Check out the advert below.
Leave a Reply