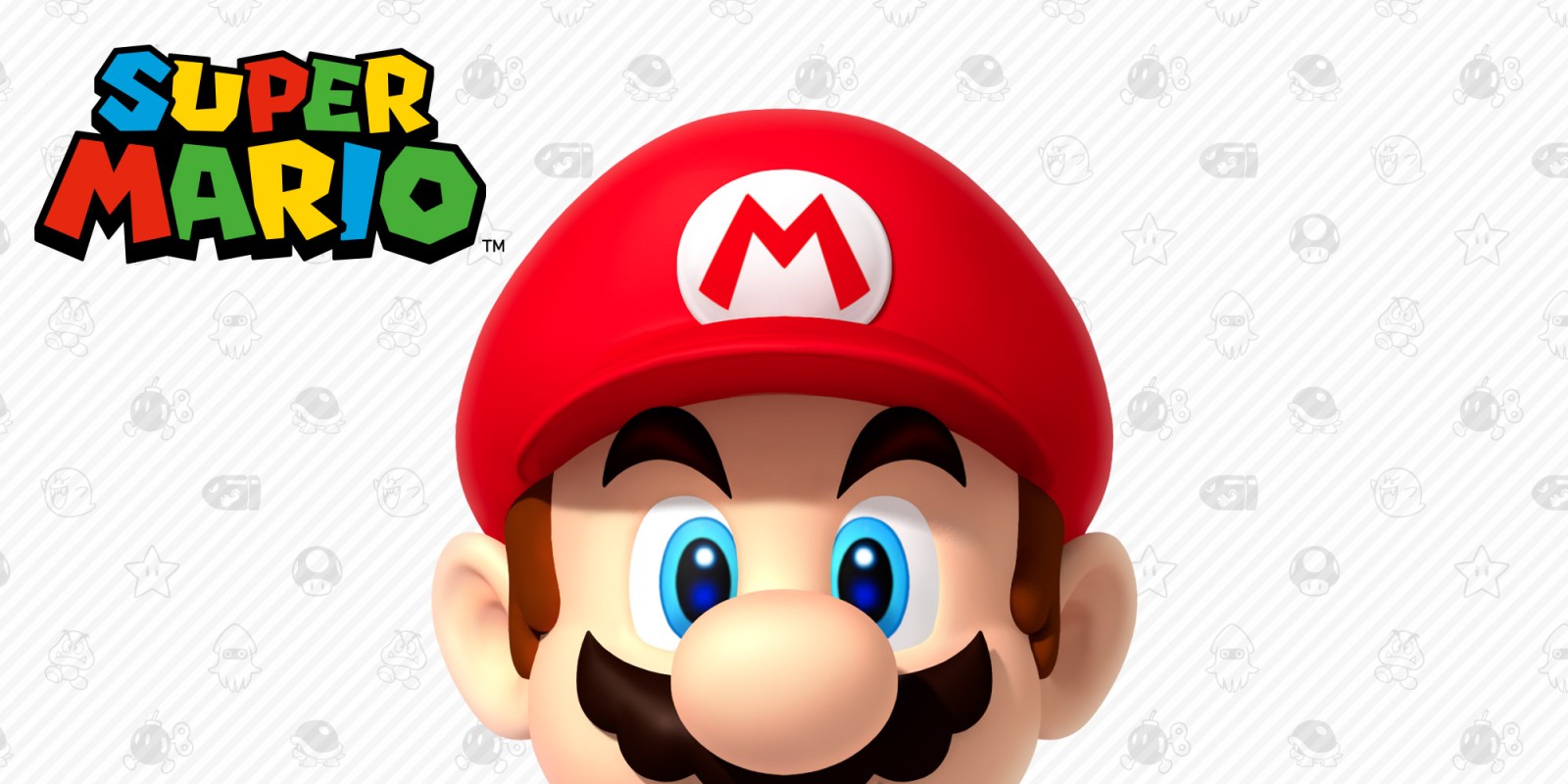 Mario's cap is highlighted by the "M" at the very front. Meanwhile, the McDonald's logo also prominently features the same letter. Did you know that the restaurant food chain wanted more synergy between the two at one point?
Yoichi Kotabe, who worked as an artist at Nintendo for two decades, revealed the news in an interview with French publication Le Monde. When asked about his first assignments, he mentioned coming up for various Mario designs and poses before eventually making the boxart for Super Mario Bros. 3. Kotabe went on to mention that he emphasized the "M" of Mario's cap and wanting to distinguish it from the McDonald's logo – despite the fact that McDonald's wanted the hat to resemble its logo more.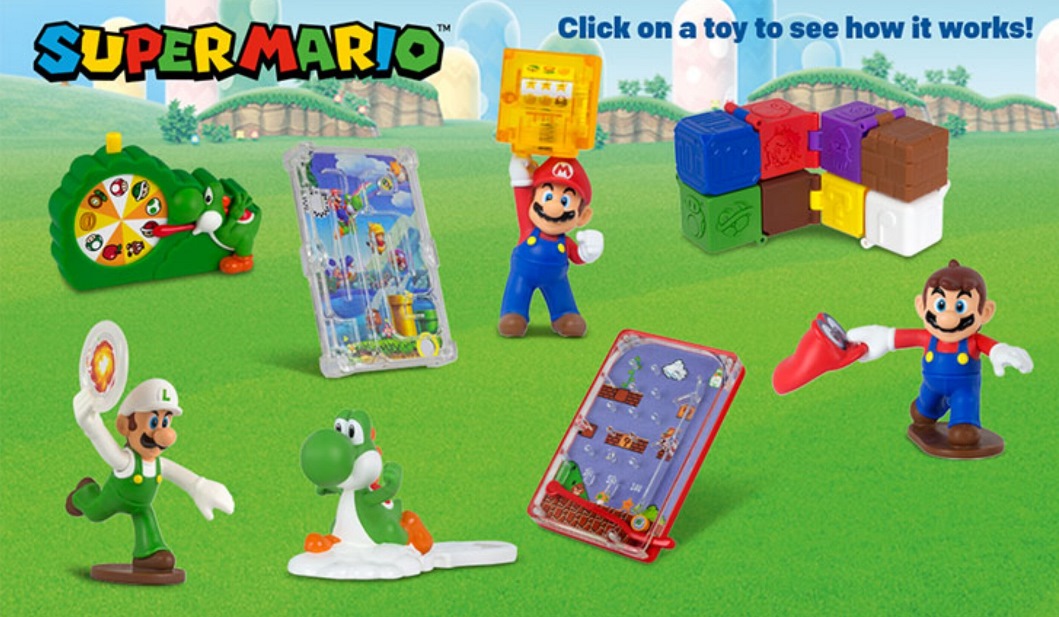 Super Mario has returned to McDonald's in the United States. A new wave of toys are available with Happy Meals, as pictured above.
Several designs are present here, including a toy with Mario and Cappy in which the latter character can be thrown – similar to the action you can perform in Super Mario Odyssey.
You can get a closer look at the Super Mario toys on the official website here.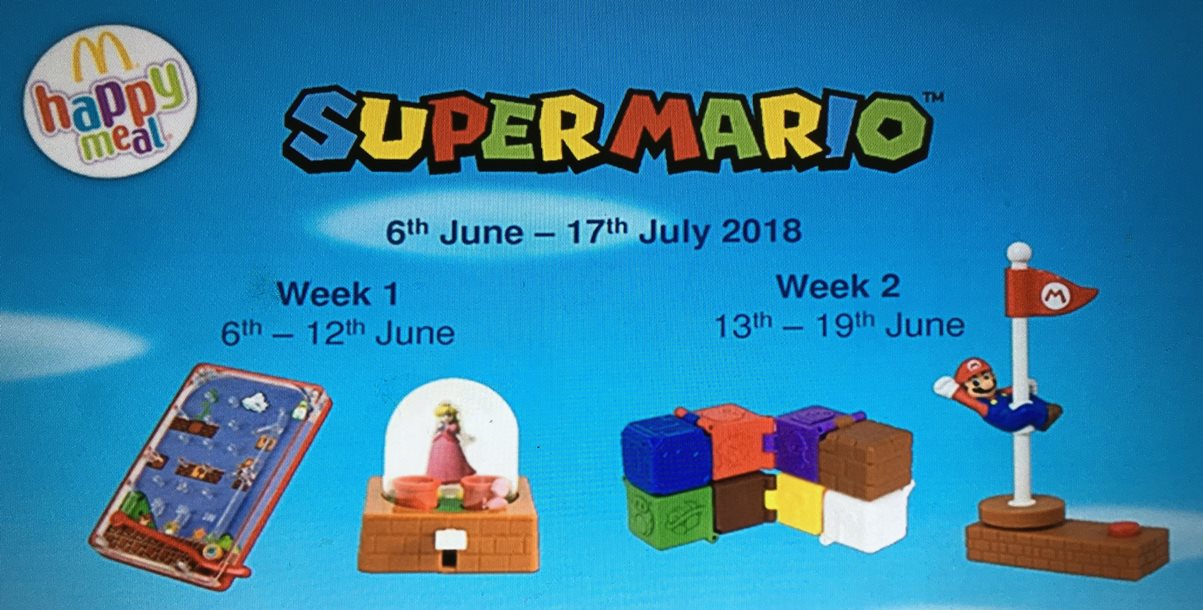 Earlier in the year, we heard that new Super Mario toys would be available this summer at McDonald's in the UK. First images have now appeared online.
Toys will be included in Happy Meals through two different waves. The fun starts on June 6, lasting all the way through July 17. All toys will be offered during the final week.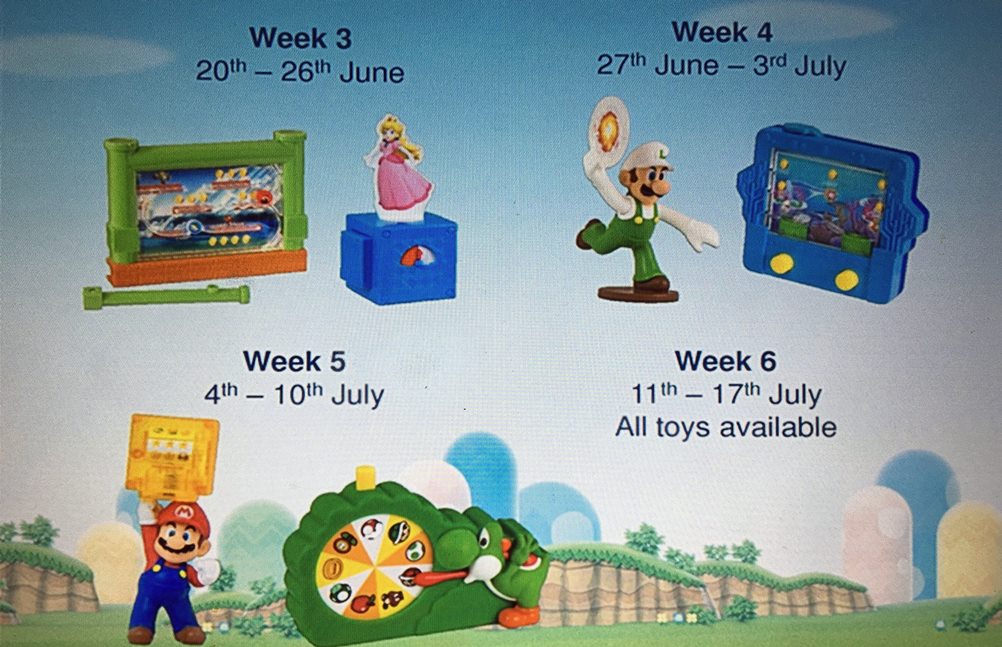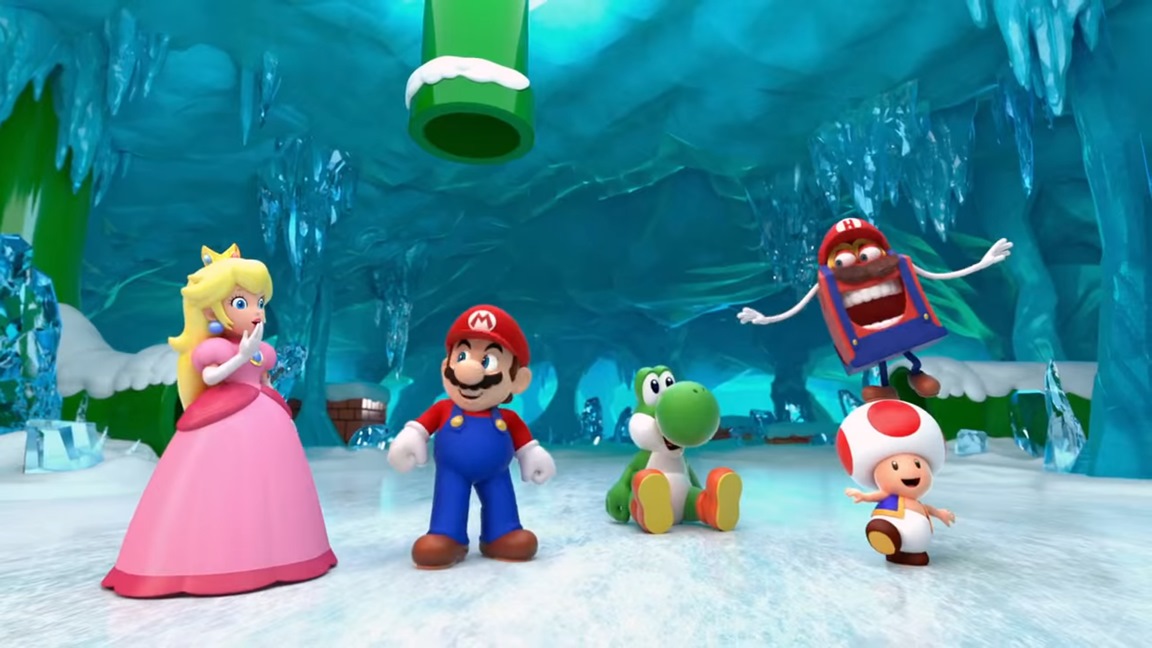 This summer, Super Mario toys will be returning to McDonald's Happy Meals in the UK. It's the fourth time that Mario will be featured at the restaurant chain.
McDonald's is planning three Happy Meal box designs based on Mario, Luigi, and Yoshi. They'll also feature "puzzles and activities as well as perforated props which will help them transform into one of the gang". As for the actual toys, ten different ones will be offered.
Here's what mentioned in the staff memo: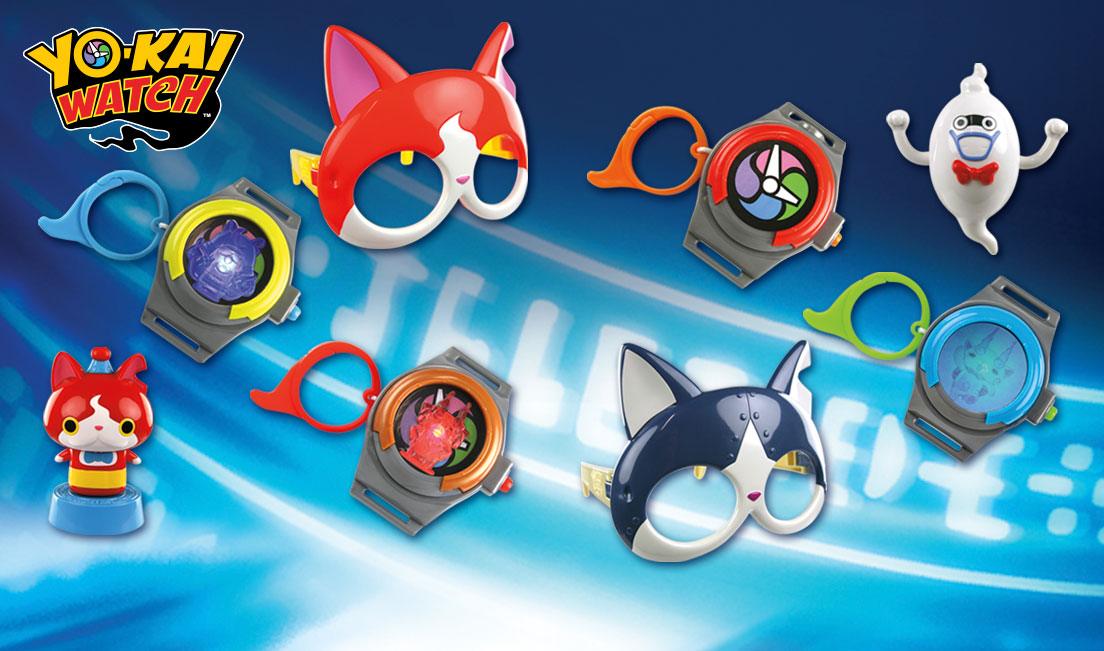 In the United States, Yo-kai Watch toys can currently be found inside McDonald's Happy Meals. AbdallahSmash026 posted an unboxing video – which we have below – showing a closer look.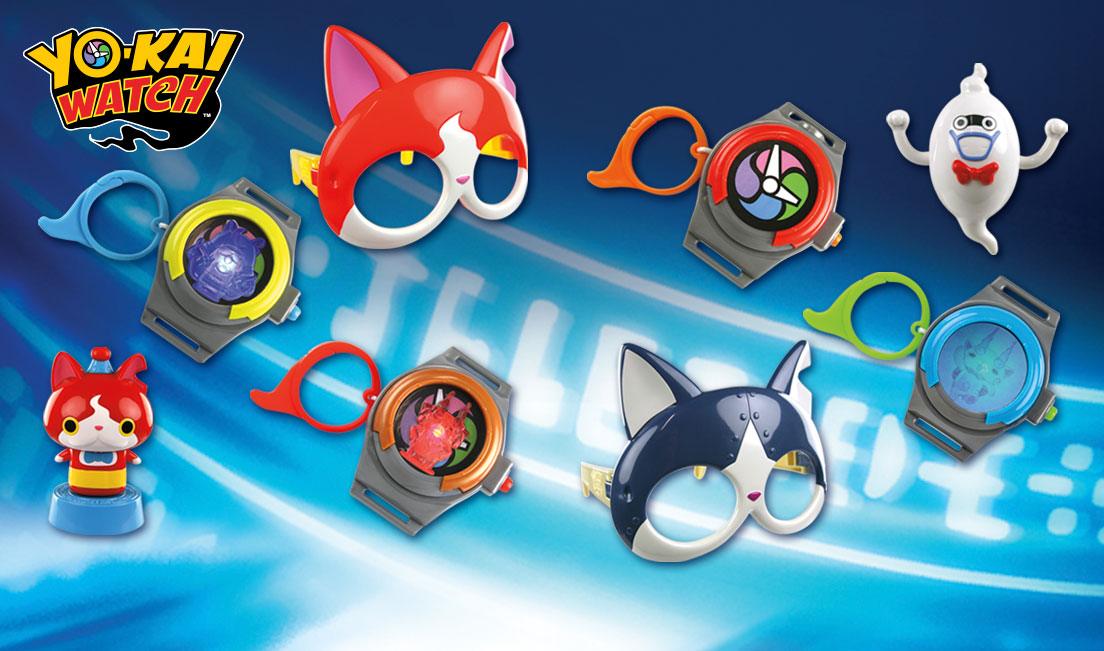 Yo-kai Watch toys are now showing up in McDonald's Happy Meals across the United States. Eight toys can be found in total, including watches, masks, and more.
You'll have until January 28 to secure the different toys. After that, McDonald's will be retiring them.
Here's the official news about the new Yo-kai Watch toys:
Jibanyan is popping up at #McDonalds! Exclusive #YokaiWatch toys are available in every #HappyMeal until Jan 28! pic.twitter.com/T0qS0AKx1q

— YO-KAI WATCH (@YokaiWatchNews) January 12, 2018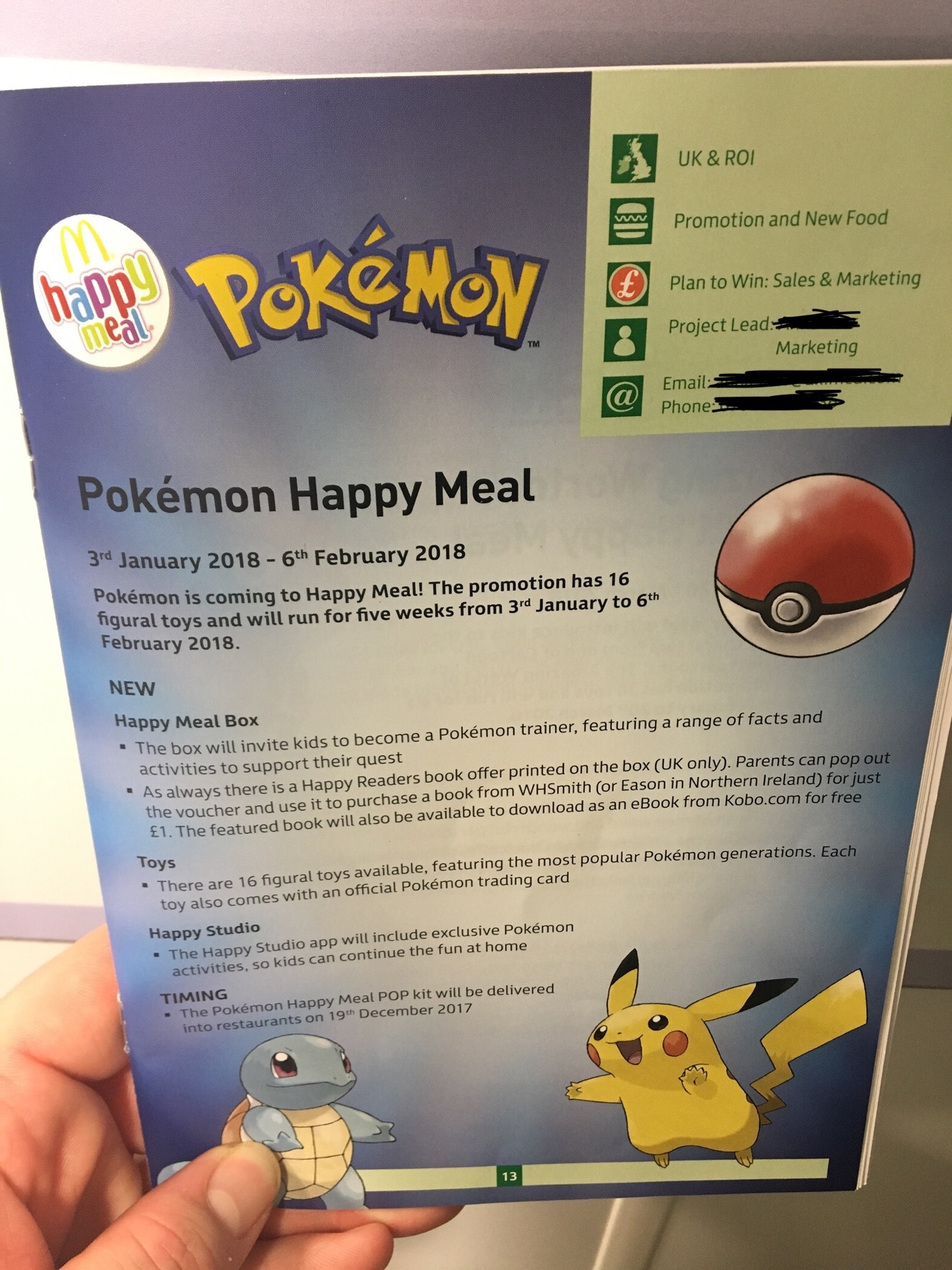 Pokemon Sun and Pokemon Moon toys are currently being offered in McDonald's Happy Meals in North America. Meanwhile, those in Europe will be able to nab their own set of toys soon.
Fans will be able to obtain 16 different figures from various Pokemon generations. Additionally, each one will come with an official trading card.
McDonald's will begin offering these Pokemon toys in the UK beginning January 3. The event will last until February 6.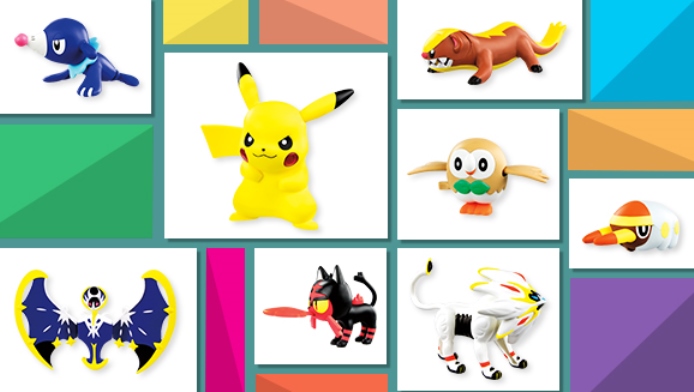 We previously heard that Pokemon Sun and Pokemon Moon toys would soon be distributed in McDonald's Happy Meals in the US. The Pokemon Company has now confirmed a start date of today.
Pikachu, Rowlet, Litten, Popplio, Grubbin, Yungoos, Solgaleo, and Lunala will be featured in Happy Meals. You'll also receive one of 12 Pokemon TCG cards.
This Pokemon promotion with McDonald's will run through December 4.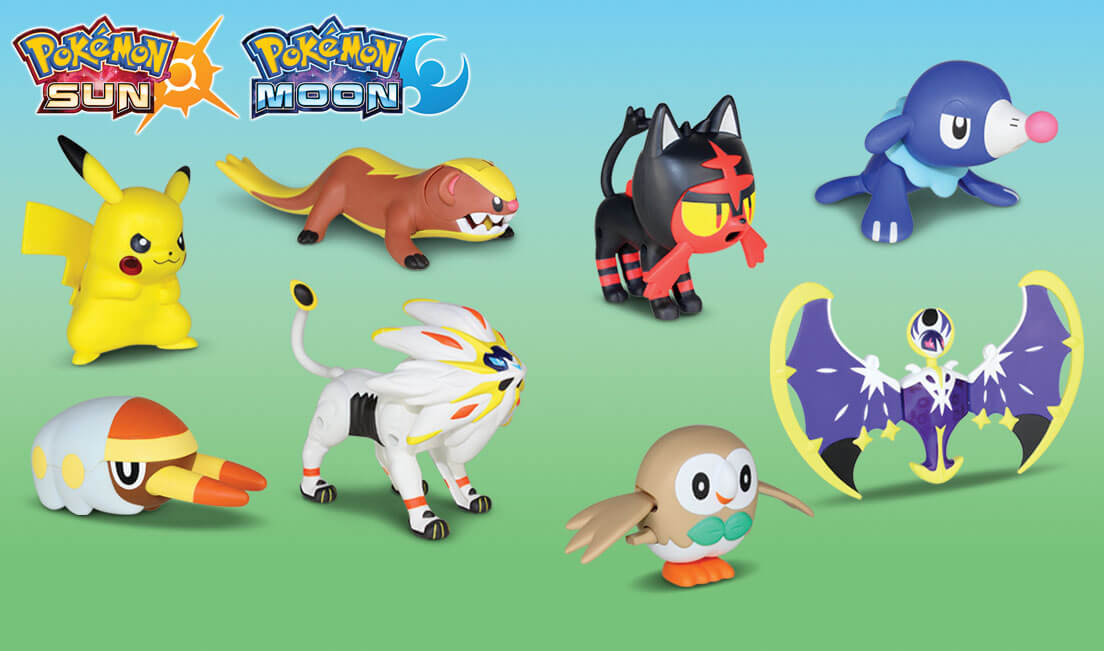 A new Pokemon promotion is coming to McDonald's. According to the official website, new toys based on Sun and Moon are bound to be offered in Happy Meals soon. The three starting Pokemon, the Legendary Pokemon Solgaleo and Lunala, and more are pictured.
We don't have an exact date as to when these toys will be appearing. The McDonald's website indicates that they're up next though, so they're probably not too far off.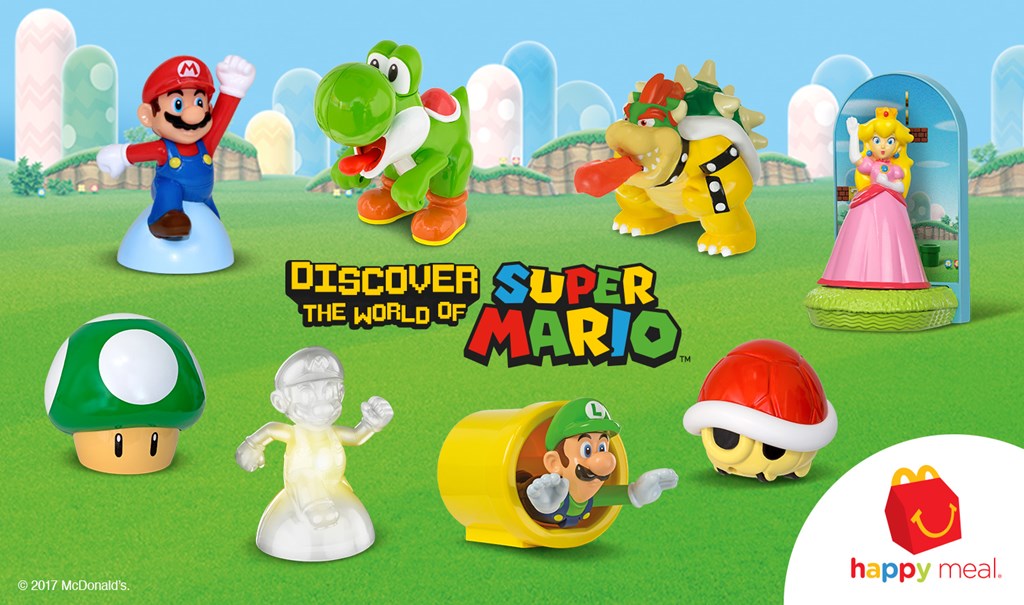 We had heard that the latest Mario toys would soon be included in McDonald's Happy Meals across the United States. In a new announcement from Nintendo, it's confirmed that this is beginning today. Those who purchase a Happy Meal at participating McDonald's restaurants will receive one of eight fun toys based on Super Mario characters.
McDonald's is also hosting a special sweepstakes to celebrate the upcoming release of Mario Kart 8 Deluxe. The details on that are as follows:
"In addition to the toys, families can take their fun to the next level by entering a sweepstakes for a chance to win one of 100 Nintendo Switch Prize Packs inclusive of a Nintendo Switch system and the Mario Kart 8 Deluxe game. Eligible customers that scan and purchase a meal at McDonald's using the McDonald's mobile app between now and May 22 will be entered. Customers get one entry for redeeming any deal in the app and two entries when they purchase a Happy Meal. No purchase is necessary to enter. The sweepstakes is open only to residents of the United States who are 13 and older. Official rules for the sweepstakes, including details about how to enter without making a purchase, can be found at online and http://www.PlayatMcD.com and at participating McDonald's restaurants."
Read up on today's full announcement below.