The World Ends with You: Final Remix introduces Coco, A New Day scenario, purple Noise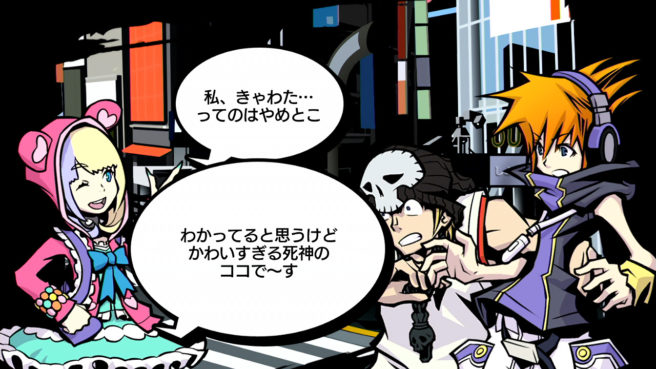 When The World Ends with You: Final Remix was announced for Switch, Square Enix teased new content including an additional scenario for the game. Famitsu provided a first look in this week's issue, which has since been quickly added to the Japanese website. We've now translated all of the relevant details.
First up, we have an introduction to Coco. She was previously in The World Ends With You: Live Remix and The World Ends with You: Solo Remix, but seems to play more of a role this time around.
Here's her profile:
Making her debut in A New Day, this Reaper has an affinity for fashion from Harajuku. Cheerful yet calculating, Coco is always appearing out of nowhere in the middle of a conversation!
Square Enix also introduces us to the new scenario, known as the aforementioned A New Day, as well as the new purple Noise:
New Scenario

The appearance of Coco, a new Reaper, is at the heart of this never-before told story; and with this new scenario – A New Day – come new Noise as well!

A New Day

On that day, a vision suddenly flooded Neku's mind – high-rise buildings vanishing one after another, and a voice of a mysterious stranger calls out: "All will vanish."

A confused Neku finds himself at a crowded intersection – what on earth had happened, he was just somewhere else! Bewildered, Neku looks at his phone to find that he's received a familiar message: the Reapers' Game has begun once more, in "Hard Mode."

Brand-New Purple Noise Make their Debut!

New challenges can also occur mid-battle, for instance: Noise can divide, the player's max HP can decrease, and balls that damage the player on touching them may now appear!
Square Enix also shows off the Tin Pin Slammer mini-game, though the feature has appeared previously. In The World Ends with You, it's a popular game and tournaments are held in Shibuya.
The new screenshots below show off the latest updates:
The World Ends with You: Final Remix launches September 27 in Japan and October 12 in North America. It'll contain HD visuals, touch and Joy-Con controls, over 300 badges (including new ones), as well as new compositions, arranged versions of previous tracks, and a higher quality version of the original soundtrack.
Leave a Reply