Xenoblade Chronicles 3D out now in North America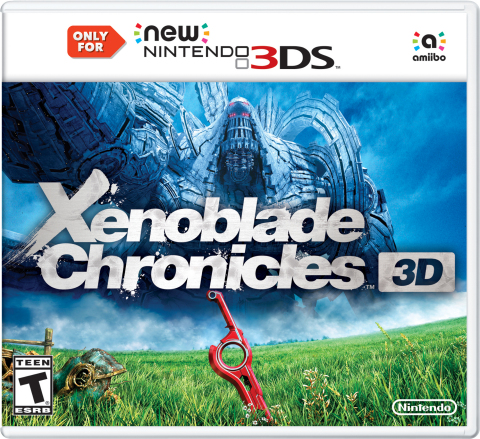 Xenoblade Chronicles 3D has now launched in North America. Accompanying that news is a new press release from Nintendo, which you can find below.
Explore Acclaimed RPG Xenoblade Chronicles 3D on New Nintendo 3DS XL
Discover the Origins of Shulk and the Incredible Story of the Monado Blade in This Massive Adventure

REDMOND, Wash.–(BUSINESS WIRE)–Two giant titans frozen in time. All over their bodies, armies of humans and machines engage in epic battles across vast lands. Unlikely hero Shulk, equipped with an ancient blade, sets off on a magnificent adventure to put an end to this generations-long war once and for all. This enticing scenario sets the stage for Xenoblade Chronicles 3D, a stunning hand-held remake of acclaimed Wii role-playing game Xenoblade Chronicles that can only be played on the New Nintendo 3DS XL system. Available now, the game uses all the enhanced features of New Nintendo 3DS XL, including camera control with the C Stick, face-tracking 3D and the new ZL and ZR buttons. The massively robust RPG is perfectly suited for portable play on New Nintendo 3DS XL, allowing players to take the game with them wherever they go and hop in and out whenever they are ready to dive into the unforgettable adventure.

"New Nintendo 3DS XL owners will not want to miss out on this hand-held version of an amazing game," said Scott Moffitt, Nintendo of America's executive vice president of Sales & Marketing. "Xenoblade Chronicles 3D is simply enormous in scale, but is perfect for portable play on New Nintendo 3DS XL, and a must-have for any and all fans of open-world role-playing experiences."

The main story of Xenoblade Chronicles 3D revolves around Shulk, who many will know as a playable character in the recent Super Smash Bros. games. The game reveals the origins of Shulk and uncovers the secrets behind his mysterious blade called the Monado. As Shulk journeys across two giant titans, he and his unexpected party of memorable playable companions will traverse varied worlds full of all different kinds of beasts – some friendly, some … not so friendly. The numerous open-world environments contain hundreds of side quests, treasures and hidden areas, and come to life with the face-tracking 3D of New Nintendo 3DS XL.

The Xenoblade Chronicles 3D game includes a deep yet intuitive battle system that finds players battling in real time, as opposed to turn-based battles employed by traditional role-playing games. During battle, characters automatically attack as long as they are next to a targeted enemy. By moving freely around, players can select between a series of upgradable special abilities known as "Arts," adding a layer of strategy to each battle. These abilities can be customized to match the players' fighting style or chained together for truly devastating attacks.

As players complete quests, defeat enemies and even explore new parts of the world, they will earn experience. Experience is used to level up Shulk and the party, as well as earn new arts and increase strength and other stats. Xenoblade Chronicles 3D features a sophisticated character customization and upgrade system that allows players to change equipment, improve their characters' performance and even experience a fascinating relationship-building mechanic that influences character interactions. While the customization and upgrade options are numerous, they offer many options for hard-core players, as well as easy-to-learn systems for players new to the genre.

Using Collection Mode – a new mode exclusive to Xenoblade Chronicles 3D – players can look over a number of animated models of both enemies and allies in the Model Viewer, or listen to the game's incredible soundtrack in the Jukebox – even when the New Nintendo 3DS XL system is closed. These models and songs are unlocked by using in-game tokens, which can also be obtained by meeting other players via the StreetPass feature, spending Play Coins or tapping a Shulk amiibo figure (sold separately) to the touch screen of New Nintendo 3DS XL.

Xenoblade Chronicles 3D is now available exclusively for New Nintendo 3DS XL in stores, in the Nintendo eShop and at Nintendo.com at a suggested retail price of $39.99. For more information about the game, visit http://xenobladechronicles3d.nintendo.com.
Leave a Reply