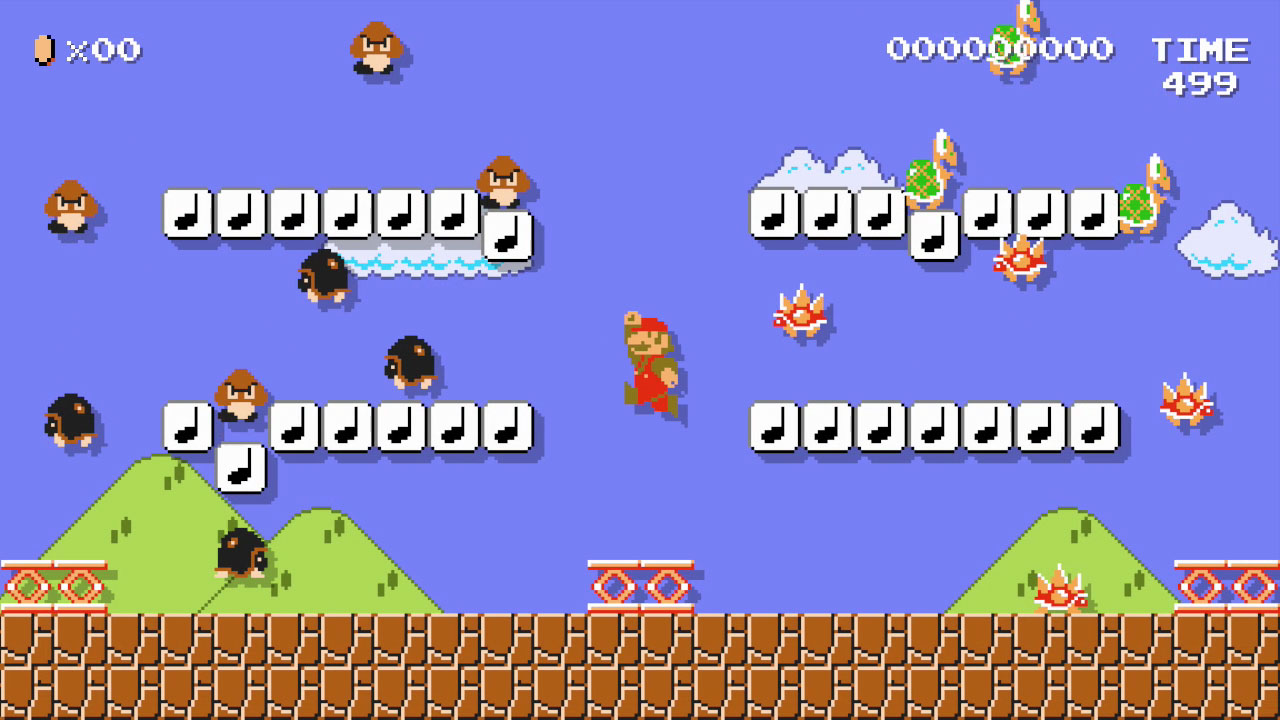 Nintendo has issued a press release for Super Mario Maker's launch tomorrow. We've posted it in full below.
Enter a Virtual Playroom to Create Levels, Play Levels Created by Others and Experience Mario Like Never Before

REDMOND, Wash., Sept. 10, 2015 – Flying Piranha Plants? Bill Blasters that shoot helpful coins instead of dangerous Bullet Bills? A level full of 20-Goomba-high stacks, dozens of trampolines and Hammer Bros. flying in Koopa Clown Cars? Mamma mia!

While all this sounds like some kind of amazing Nintendo fever dream, it's all possible in the Super Mario Maker game, launching exclusively for the Wii U console on the 11th of September. This new game lets players' imaginations run wild! Anyone with an Internet connection can play a near-limitless number of Mario levels created by people all over the world. Using the Wii U GamePad controller, players can quickly and easily create their own original levels using items, enemies, graphical styles and even power-ups from four classic Mario styles: Super Mario Bros., Super Mario Bros. 3, Super Mario World and New Super Mario Bros. U. These levels can then be uploaded online to share with players everywhere. Things that were never possible before in a Super Mario Bros. game are now possible in Super Mario Maker – and players are in control of it all.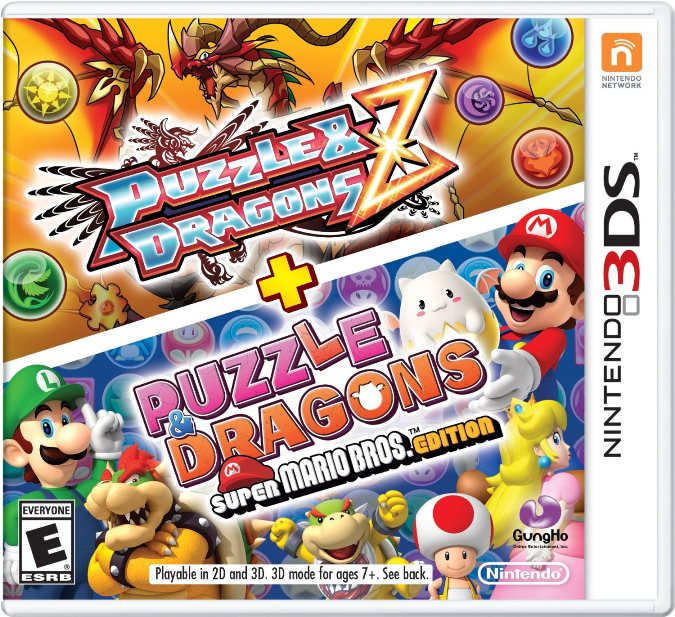 Nintendo issued a North American press release for the launch of Puzzle & Dragons Z + Puzzle & Dragons: Super Mario Bros. Edition. You can read up on it below.
Puzzle & Dragons Z + Puzzle & Dragons Super Mario Bros. Edition Come Packaged Together on One Game Card

REDMOND, Wash.–(BUSINESS WIRE)– Nintendo is doubling down on puzzle gaming with two adventures for Nintendo 3DS – so big and so immersive that they have room for dragons and Mario – in one power-packed game package. Puzzle & Dragons Z + Puzzle & Dragons Super Mario Bros. Edition will challenge gamers to drag and match colored orbs to create combos and take down enemies. And Puzzle & Dragons Z + Puzzle & Dragons Super Mario Bros. Edition will delight them with the chance to befriend Mario baddies across multiple worlds to rescue Princess Peach. Both games will be available on a single game card in stores and as a game download at Nintendo.com and in the Nintendo eShop on May 22 for one suggested retail price of just $29.99.

"The drag-and-match fun of these games will attract fans of puzzle games," said Scott Moffitt, Nintendo of America's Executive Vice President of Sales & Marketing. "Then it will surprise them with a much deeper and richer experience than they expected."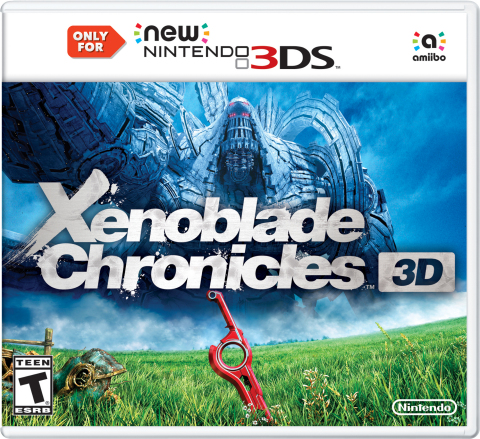 Xenoblade Chronicles 3D has now launched in North America. Accompanying that news is a new press release from Nintendo, which you can find below.
Explore Acclaimed RPG Xenoblade Chronicles 3D on New Nintendo 3DS XL
Discover the Origins of Shulk and the Incredible Story of the Monado Blade in This Massive Adventure

REDMOND, Wash.–(BUSINESS WIRE)–Two giant titans frozen in time. All over their bodies, armies of humans and machines engage in epic battles across vast lands. Unlikely hero Shulk, equipped with an ancient blade, sets off on a magnificent adventure to put an end to this generations-long war once and for all. This enticing scenario sets the stage for Xenoblade Chronicles 3D, a stunning hand-held remake of acclaimed Wii role-playing game Xenoblade Chronicles that can only be played on the New Nintendo 3DS XL system. Available now, the game uses all the enhanced features of New Nintendo 3DS XL, including camera control with the C Stick, face-tracking 3D and the new ZL and ZR buttons. The massively robust RPG is perfectly suited for portable play on New Nintendo 3DS XL, allowing players to take the game with them wherever they go and hop in and out whenever they are ready to dive into the unforgettable adventure.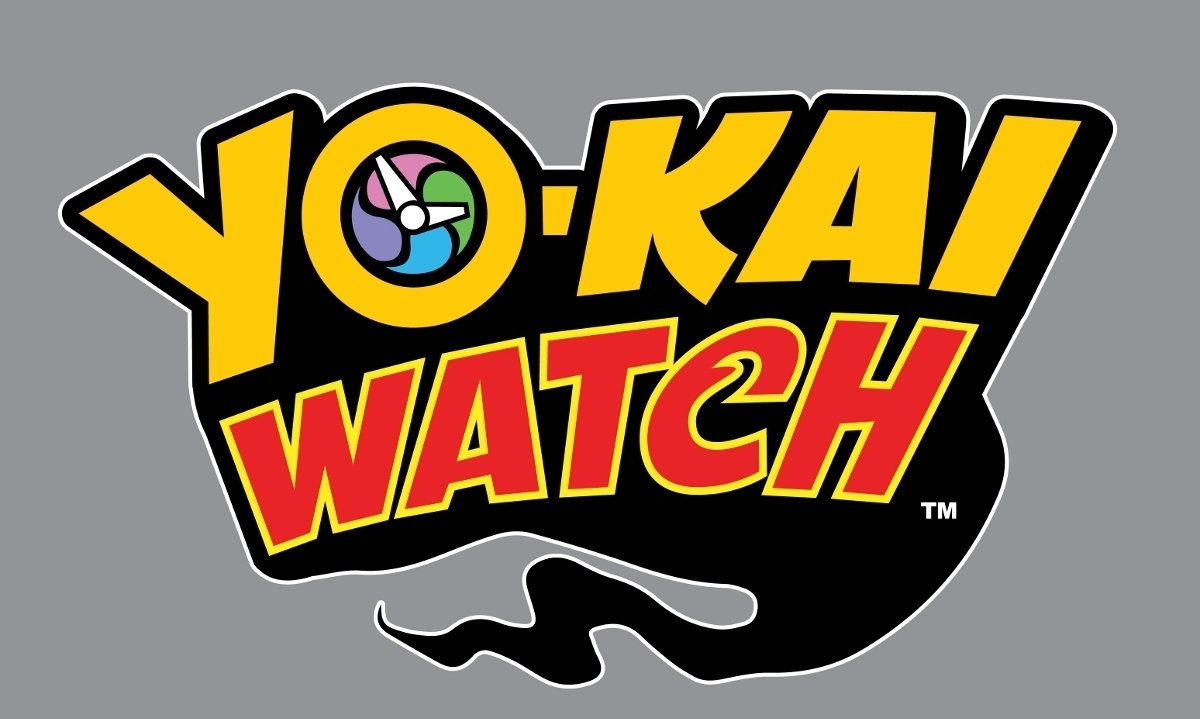 Yo-Kai Watch has been officially announced for North America and Europe. Level-5, the game's developer and publisher in Japan, is teaming up with Nintendo for the overseas release.
Nintendo will also bring Yo-Kai Watch to Australia, New Zealand, and Korea.
Today's announcement does not specify any sort of timeframe for Yo-Kai Watch's western launch.
Head past the break for the press release in full.
Nintendo of America has now issued its April 2015 Nintendo Direct recap press release. We've posted it in full below. There's plenty of information about what was shown today!
REDMOND, Wash.–(BUSINESS WIRE)– With so much information, it would be easy to dismiss the latest Nintendo Direct presentation as an elaborate April Fool's Day prank. But the latest Nintendo Direct is definitely no joke. The next evolution of amiibo? It's happening! Lucas from Mother 3 in Super Smash Bros. for Wii U and Nintendo 3DS? He's joining the battle! The debut of a 200cc speed class in Mario Kart 8? Yup! A new line of Yoshi amiibo figures made of actual yarn? Oh yeah. A home-designingAnimal Crossing game? Launching this year! Splatoon launching on May 29 and more details about Mario Maker, Yoshi's Woolly World and the new game in the Fire Emblemseries? It's all accurate!

A totally new form of amiibo is coming this fall! The first set of amiibo cards will be based on Animal Crossing characters and will be compatible with the Animal Crossing: Happy Home Designer game. (Photo: Business Wire)

To view the Nintendo Direct video in its entirety, visithttp://www.nintendo.com/nintendo-direct.

"The world of amiibo is getting bigger, better and even more interactive," said Scott Moffitt, Nintendo of America's executive vice president of Sales & Marketing. "And with existing amiibo support for games like Super Smash Bros., Mario Kart 8 and more, and upcoming support for Splatoon, Yoshi's Woolly World and Animal Crossing: Happy Home Designer, amiibo continue to stretch the definition of the toys-to-life category."

Highlights revealed in the video include:
Atlus has now sent out its official announcement for Attack on Titan: Humanity in Chains. You can find it below.
Irvine, Calif. — April 1, 2015 — Sie sind das Essen und wir sind die jaeger! Atlus U.S.A., Inc. will publish the Spike Chunsoft-developed title, Attack on Titan: Humanity in Chains, for the Nintendo 3DS™ system in North America and Europe. Based on the hit "Attack on Titan" anime and manga, players will defend the three Walls from invading Titans as a member of the elite Scout Regiment with their omni-directional mobility gear and blades. Based on the upcoming Japanese remake of an earlier Attack on Titan game, Humanity in Chains will be the first Attack on Titan game to reach North American shores, and will release exclusively on the Nintendo eShop for Nintendo 3DS in May 2015 with the original Japanese audio and English subtitles.

The features for Attack on Titan: Humanity in Chains include:

Story Mode: As a member of the elite Scout Regiment, defending the outer walls from the Titans will push players to their very limits to save humanity. Enhanced Titan AI behavior will sap every ounce of ability from players as they make a last stand for the human race.
Familiar Characters, New Customizations: Eren Jaeger, Mikasa Ackermann and others will be familiar faces for players as they pick their favorite Scout member to defend the Walls. Several new additions will join the Scout Regiment, customizable with costumes, weapons and voices.
Online Co-op Mode: Defend the outer walls with up to three friends in the all-new online co-op mode with ranking and leaderboards.
Fresh Look: Updates to the UI, improvements in gameplay balance and support for the Circle Pad Pro and the New Nintendo 3DS XL system's C-Stick take Humanity in Chains to the next level.

Attack on Titan: Humanity in Chains will be available in North America and Europe exclusively on the Nintendo eShop for Nintendo 3DS this May. Release timing, pricing, and additional details will be made available at a later date.
Source: Atlus PR
Missed out on today's European Nintendo Direct? Then check out the press release below! It's a helpful summary of what was discussed.
NINTENDO DETAILS NEW Wii U AND NINTENDO 3DS GAMES, MAJOR UPDATES TO CURRENT TITLES, AND A WIDE RANGE OF NEW amiibo

amiibo cards, new Super Smash Bros. characters, Mario Kart 8 in 200cc and an Animal Crossing spin-off game, among the numerous announcements in today's Nintendo Direct

1st April 2015 – During a Nintendo Direct presentation aired today, Nintendo revealed brand new details about games in its line-up for 2015 and beyond, plus news about major updates to games that fans are already enjoying, as well as the latest on all things amiibo.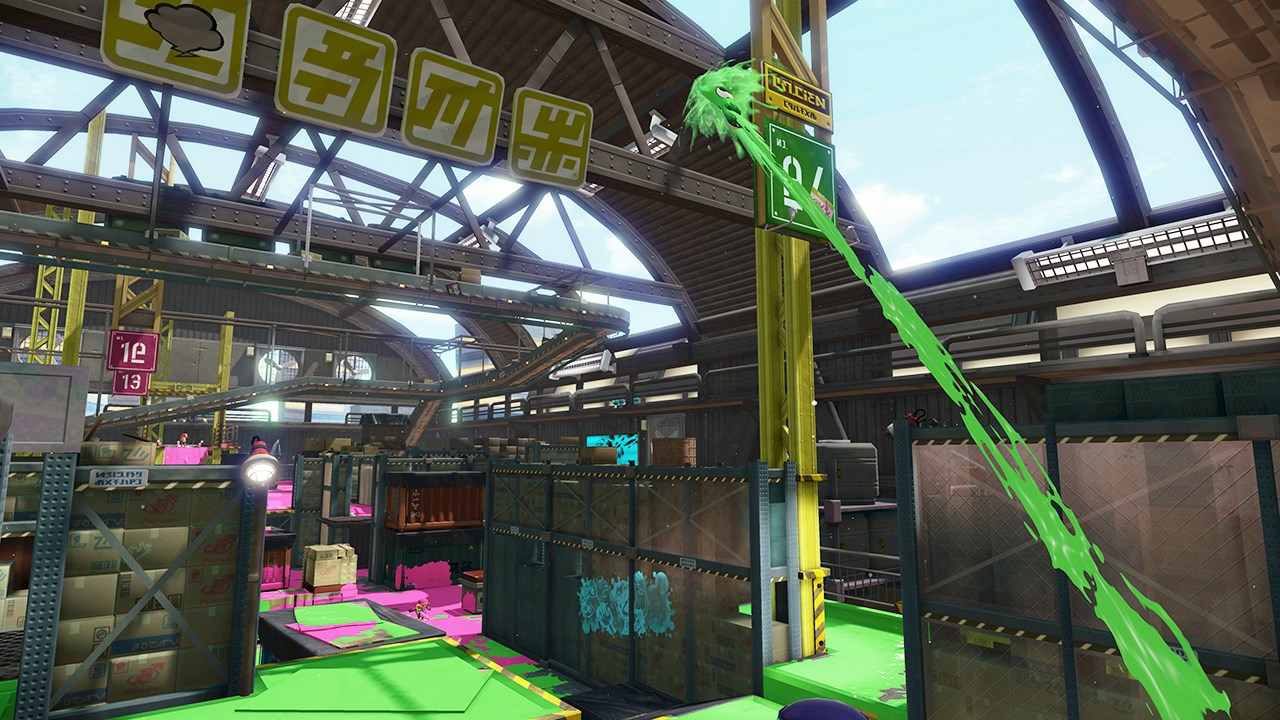 Nintendo has published a new press release, which reveals the latest details about Splatoon. You can find it in full below.
REDMOND, Wash.–(BUSINESS WIRE)–Splatoon, Nintendo's upcoming third-person action shooter game for the Wii U console, combines elements of shooting, strategy and action – and original new characters, Inklings, that can instantaneously transform between human and squid form. Splatoon gives players the goal of covering as much territory as possible with their ink-spewing weapons. The game, which is scheduled to launch in May, features four-on-four online team matches, as well as a full single-player mode that takes players deeper into the game's unique world and characters.

The game's main online mode is Turf War, in which players with broadband Internet access can compete head-to-head in four-on-four teams to try to cover as much territory as possible in their team's ink. As they do battle, players will gain levels and earn in-game currency that allows them to customize their Inkling. Players can equip different pieces of clothing, which each provide different game-play perks like swimming more quickly through ink or decreasing the time needed for them to refill their ink canister. Players can also equip pre-determined weapon sets consisting of main weapons like rapid-fire ink guns, long-range ink rifles and paint rollers, as well as sub-weapons like ink bombs or sprinklers. Players can also fill up their special gauge in battle to unleash powerful special weapons for a brief period of time. Players will battle in a variety of online multiplayer maps, including the newly announced Blackbelly Skatepark, Saltspray Rig and Walleye Warehouse.
REDMOND, Wash.–(BUSINESS WIRE)–On March 20, you are invited to the biggest and baddest bash of the year: Mario Party 10 for Wii U! In addition to a power-packed lineup of new features, new boards and new mini-games, new revelers join the Mario Party fun in the game's ground-breaking Bowser Party and amiibo Party modes. When bad guy Bowser crashes the party to playfully torment up to four additional players on Team Mario, the franchise's social experience takes an unprecedented and deviously good turn. In amiibo Party mode, which requires at least one compatible amiibo figure to access, you and up to three other players can tap amiibo to the Wii U GamePad controller to play with and customize your amiibo, and change a portion of the board to match your character.

To add more fun to the Mario Party 10 game, a new set of amiibo called the Super Mario series will also launch simultaneously on March 20. The Super Mario series features the amiibo debut of Toad, as well as new designs for Mario, Luigi, Bowser, Princess Peach and Yoshi. The new "Super Mario series" Mario amiibo design will be available exclusively in a Mario Party 10 bundle that also launches on March 20 at a suggested retail price of $59.99. The other amiibo figures will be sold separately at a suggested retail price of $12.99 each.
This is indeed a real thing Nintendo has been sending out to members of the press. It's a bit random!
· In The Legend of Zelda: The Wind Waker HD, Princess Zelda was actually a tough and spunky captain of a ragtag group of pirates. Tetra saves Link from Ganondorf's clutches, and later helps Link defeat Ganondorf for good to save the world.

· Toadette is a recurring Toad character in the Mario series. These days, she's a plucky treasure-hunter in Captain Toad: Treasure Tracker, who puts on a brave face to find rare goodies and save Captain Toad from the monstrous and greedy bird, Wingo.

· Bayonetta is a sassy and incredibly stylish witch with pistol-stilettos and a vendetta against the armies of angels and demons that hunt her. She's a force to be reckoned with, an ally to her best friend and fellow witch Jeanne and doesn't take flak from anybody.

· Rosalina is an interstellar observer, protector of the Lumas and friend to Mario in Super Mario Galaxy. She is mother to the Lumas, who are little star-like creatures capable of becoming new galaxies!

· Lucina is an unwavering warrior with a strong sense of justice and commitment to her family. Her power, determination and wisdom gained from watching the destruction of her world are priceless strengths as one of Fire Emblem Awakening's many playable female protagonists.

· Samus Aran shocked the video game world at the end of the original Metroid game by revealing her gender and changing the way we think about video game characters in the process. Video game protagonists need not be male in order to be strong. Samus is a space bounty hunter in an armored suit, outfitted with a powerful blaster on the arm and extreme heat resistance.

· Bombette is a Bob-omb who joins Mario on his quest in the original Paper Mario for the Nintendo 64. As a member of Mario's diverse team of fighters, she has an explosive fighting style and isn't afraid to get physical with her body slam and powerful bomb attacks.
Source: Nintendo PR