Dylan Cuthbert on Switch, Star Fox old-school re-make pitch, Star Fox Command, "X" staying in Japan, more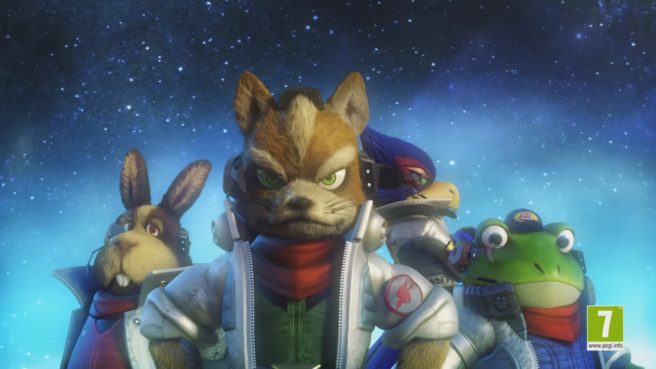 Q-Games founder Dylan Cuthbert conducted a new Reddit AMA today. As a Star Fox developer who has played an influential role in the Star Fox series, he had plenty to say about the franchise. He spoke about an old-school re-make pitched to Nintendo, working on Star Fox Command (and its endings), and his own personal ideas for a new game. Cuthbert also weighed in on Switch, Nintendo's Game Boy title for "X" and why it never left Japan, and more.
We've collected a number of important responses from the Reddit AMA below. You can read the full thing right here.
On the inspiration behind the Arwing walker mode mechanic in Star Fox 2…
I think it's just that we all grew up with Transformers/Gundam and transforming robots and it seemed a natural fit. We also wanted to experiment with foot-based gameplay and a lot of our initial experiments were platform-gamer based (of course back then 3d platform games didn't exist so these early experiments were to prove for Miyamoto that something like Mario 64 could be made). This was all back in 1993 immediately after launching Star Fox.
On Switch…
I think the Switch is awesome – perhaps the res could have been higher but maybe that would have resulted in a smaller screen to keep the cost down. The idea is very cool though and I'm playing Zelda (of course). I'm sure Nintendo must be thinking about StarFox for Switch but we aren't involved in that (I must admit it would be fun to do though!).
On thoughts regarding Star Fox Zero…
I can't really comment on other developer's games. I think Platinum did the best they could within the restraints they had. There were some fun experiments in there that I'd like to see expanded in future titles.
On an old Star Fox pitch made to Nintendo and Star Fox 2 version shown at CES in January 1995…
We did a old-school re-make demo like this of the original StarFox for the 3DS back after we did the remake of StarFox 64 and showed it to Nintendo but they weren't interested unfortunately.
The CES version was an even older version of Starfox which emphasized two-player co-op, however we dropped that due to performance in the end, and concentrated on the one player game.
On working with Nintendo again and potentially on Switch…
I would love to and I have a few quite original ideas to try out for that style of gaming, but we aren't developing anything yet.
On Super Mario FX…
I think it was just light experimentation, such as the FX chip based Pilot's Wings experiment too, just to see what could be done and was quickly re-worked on the prototype N64 hardware. They were already experimenting with motion capture for better animation in 1995 or thereabouts.
On making Star Fox Command…
That was a ton of fun! Especially as Miyamoto said to take it "elsewhere" rather than just do a copy of the original or the N64 version. So Imamura basically moved into our office and we created something a bit quirkier and hand-held based with a bit of strategy involved as those were the ideas explored in StarFox 2. Eguchi was also involved overseeing the project and he was a driver behind the game going more strategic like that.
On ideas for Switch…
Unfortunately no, we aren't working on anything for Switch right now, but I have some ideas for original titles. I just need to find a publisher crazy enough! 🙂
On how "X" never left Japan and development length…
Well yes, especially as we made and submitted the english version. NOA decided it was too hardcore for the US market… 🙁
It took about a year and a half all in all.
On ideas for Star Fox…
It would have to be epic, the game is always best when it takes on and copies the big classic scenes in science fiction movies such as Independence Day and Star Wars. But at the same time I would want to work on the controls and gaming loops surrounding the player's actions, and arguably this is what I added to the original StarFox too, with the hit-flashes and rings and direction-flickable barriers, that's the stuff that is really good fun.
On Star Fox 2 not being released…
It was very disappointing of course, I had spent two years making the game and put so many ideas into it. I could understand the marketing/publisher logic behind the decision but it was still disappointing.
On the Star Fox Command endings…
Well, it depends on how you play! Imamura designed the endings like an old adventure book so none of them are the actual ending… well, because StarFox will never end right?
Leave a Reply