Adventure Time: Pirates of the Enchiridion update out now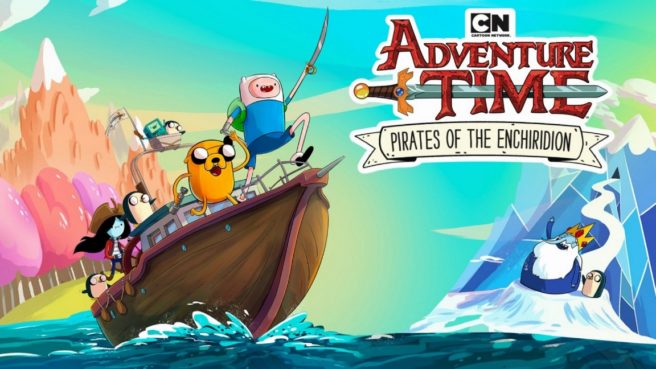 Outright Games and Climax Studios have finally prepared a new patch for Adventure Time: Pirates of the Enchiridion. There are a couple of Switch-specific fixes as well as fixes to combat, exploration, and interrogation.
The full patch notes are as follows:
Switch Only

– Fixed: UI not showing up after applying the day 1 patch.
– Fixed: Progress no longer potentially blocked after updating the game. Improved: Memory usage.

All Platforms

Combat

– Fixed: Backing out of using the backpack after selecting a different item than the healing flasks could cause the menu to lock up during the combat tutorial.
– Fixed: When quitting/closing the game during the combat defeat screen, the health of a player is now restored properly when resuming the game. This now resolves issues when re-engaging in combat.
– Fixed: Game no longer occasionally hangs after defeating bosses in combat.
– Fixed: Game no longer randomly hangs when using abilities/attacks/items during combat.
– Fixed: Defeated Fire Kingdom boss no longer appears in other battle arenas.
– Fixed: Game no longer occasionally fails to load combat scenes.
– Fixed: Removed duplicate sky in training / combat scenes in the Evil Forest.

Exploration

– Fixed: It is no longer possible to pick up an NPC that another party member is already carrying which then leads to gameplay difficulties
– Fixed: Marceline's hat is now placed correctly on the ground when combat starts if a party member is holding it when combat is triggered.
– Fixed: Occasional bug where users can skip the delivery of Marceline's hat cutscene is now fixed. If Jake delivers the hat, the cutscene starts when Finn arrives.
– Fixed: The game no longer crashes during the "Collect the heat cores" quest when the Marceline only section begins.
– Fixed: Switching between party members on the steps of the Candy Kingdom Castle will no longer cause them to fall and get stuck.
– Fixed: Party members no longer sound like they are falling when jumping on treasure chests in the Evil Forest and the Candy Kingdom.
– Fixed: Morphing into Jake's scooter form has extra checks added to prevent it from being pushed out of the world.
– Fixed: Pirate ships won't respawn once they've been defeated.
– Fixed: Kraken music will now always stop playing once the kraken submerges.

Interrogation

– Fixed: Reduced random hangs and loading issues that happen in the game after an interrogation has been completed.
Leave a Reply