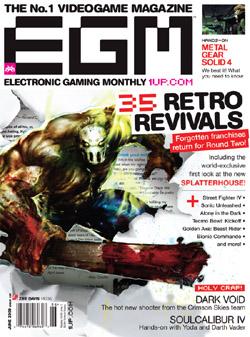 Remakes and revivals are never out of the question anymore, as seen with NiGHTS and hopefully Kid Icarus. Splatterhouse is another title that will be coming back from the dead – literally. In the latest issue of EGM, readers can expect to read about a new iteration of Splatterhouse. Information about the game is currently mum, as the latest issue of the magazine has yet to hit mailboxes.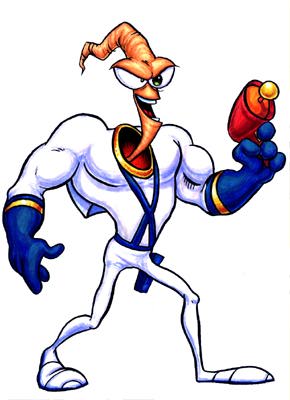 In what seems to be a bombardment of Earthworm Jim goodness, Interplay has announced that a new game, cartoon, and film will all be releasing in the future in an attempt to resurrect the series. As with most initial game announcements, little to no details are known about the Earthworm Jim game. A tentative title was given – Earthworm Jim 4 – and Interplay revealed that Doug TenNapel will be on the staff list as a consultant.


Nintendo is giving Seattle Mariners fans a gift at every home game this year: free access to the Nintendo® Fan Network. Fans who bring a Nintendo DS™ to Safeco Field can log on wirelessly to the Nintendo Fan Network to access a wide variety of baseball-related content. Some of the many features include access to player statistics, scores from other MLB games in progress, current team standings, chat with other fans and the ability to compete in trivia and other mini games. Additionally, fans can watch the in-stadium live broadcast video and use the Nintendo DS touch screen to order ballpark food and beverages delivered right to their seats.

The Nintendo Fan Network made its debut at Safeco Field during the 2007 season. Thousands of fans tried the Nintendo Fan Network for a minimal fee during the 2007 season trial, but fans attending Mariners home games during the 2008 season can access an even wider variety of features for free, just by bringing a Nintendo DS to Safeco Field. Fans can download the Nintendo Fan Network at one of the two kiosks located near sections 127 and 143 or at one of the 15 download stations throughout the stadium.

The Nintendo Fan Network will get an additional workout this week, when the Mariners begin a six-game home stand. Nintendo is always adding new features, so every time fans download the service, they might see something new and experience a whole new way to enjoy the game.

For more information about the Nintendo Fan Network, please visit the Nintendo Fan Network kiosks at Safeco Field.
Source: Nintendo Press Room


According to The Financial Times, the Nintendo Wii has become the sales leader of its generation. In fact, the system is so popular that even now it can be hard trying to purchase one. Yet, such success still doesn't change the fact that it is lagging behind in software that pushes the system's hardware capabilities, especially in terms of its graphics and overall gaming technology.

High Voltage Software, a prominent video game developer, strives to change this trend by creating Nintendo Wii games that look like Xbox 360 or PS3 titles. It is one of the few developers able to accomplish such a feat, since others tend to concentrate more on the system's unique style of gameplay.

"We think it's a real shame that publishers and developers aren't taking advantage of the technical possibilities of the Wii platform. Most Wii games don't even look as good as the later day PS2 titles and that's a real slap in the face to consumers. We believe that third-party developers need to step up to the plate and deliver. The Wii platform is capable of a lot more than what consumers have seen so far. We're hoping to raise a new bar." Noted Kerry Ganofsky, company CEO, in a recent IGN exclusive.


In what seems to be a huge screw up by the people at Capcom, on their latest Wii game Okami, The IGN website logo seems to be just visible on the front cover box art. Did they not have their own artwork to work with or something?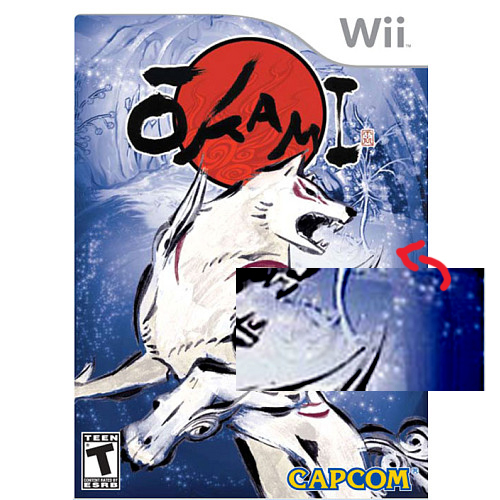 American Nintendo fans have begged for it, envied it, and prayed for it. Yup – it's none other than Club Nintendo! Club Nintendo originally started in Japan and offered some of the most to-die-for goodies, which has included small DS games, soundtracks, and accessories. The program has been partially emulated in Europe, and is now going to be heading to Australia and New Zealand. Starting next Thursday, Club Nintendo will be launching in those territories, coinciding with the launch of Mario Kart Wii. As with other versions of Club Nintendo, exclusive offers and items not purchasable in stores will be available.
Now, we just need Club Nintendo to hit stateside…I'm still jealous of that Super Mario Galaxy soundtrack!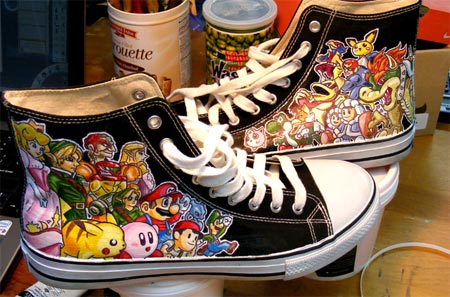 Want to celebrate the belated release of Super Smash Bros. Brawl? These shoes may set you back a few hundred dollars – as, currently, the eBay bidding price is up to $255 – but, it may be worth it. What you'll be bidding for, is, essentially, more of a promise. The picture shown is a pair of shoes that the seller made for a friend, but a guarantee is given to the winner of the auction that he or she will be able to choose the details, size, and color, of the hand painted "Nintendo All-Stars" Converse Chuck Taylor All-Stars Hightops shoes.


Child abuse is no laughing matter and is, without a doubt, a severe problem in the United States. There are a few out-of-the-ordinary cases in which violence and videogames become interrelated in tragic events. Unfortunately, the two have come together once again, but not for the reasons you may think. A 2-year-old girl was beaten to death on Tuesday by her mother's boyfriend with a videogame controller. It was not the first time the young child had been abused – due to injuries and bruises on the girl's body, it was obvious that she had been abused before. Although this case was, most likely, not a result of video game violence, it's a shame that videogames were involved, even in the slightest, in this saddening affair. Why on Earth anyone would harm a child – especially with a videogame controller – is beyond me.


* ALPHA PROTOCOL
* BEIJING 2008
* EMPIRE: TOTAL WAR
* GOLDEN AXE BEAST RIDER
* NEW ETERNAL ARCADIA (TENTATIVE)
* NEW NiGHTS (TENTATIVE)
* SAMBA DE AMIGO 2008 (TENTATIVE)
* SONIC CHRONICLES: THE DARK BROTHERHOOD
* SONIC UNLEASHED PREVIEW
* SPACE SIEGE
* STORM CHASER
* SUPER MONKEY BALL FOR iPhone (TENTATIVE)
* THE CRUCIBLE: EVIL WITHIN
* THE INCREDIBLE HULK — THE VIDEOGAME
If this list is to be believed, it'll be great to finally see a bit more of Sonic Chronicles. Looks like Sonic Unleashed is on that list as well…


Tanya Bryon, a physcologist, and the Prime Minister of Britain, Gordon Brown, have conducted a six month review which has been primarily centered around a new videogame rating system. Brown has recommended a more in-depth classification system so that ratings would be similar to movies. Moreover, Brown suggested a major change in regards to the ways in which videogames should be advertised and advised that the selling of games to a child younger than the rating of a title should be illegal. The ultimate goal of of these proposals is to protect children.