VANCOUVER, April 17 /CNW/ – Nintendo's Wii(TM) console has reached another milestone by becoming the top selling next generation home console video game system in Canada. According to the latest data from independent market research firm The NPD Group, Inc, total life to date sales of the Wii console in Canada have now surpassed the previous home console system leader with lifetime sales of 813,000 units. The Wii console launched in November 2006.

"Since launch, the Wii console has consistently been a top seller in the Canadian market," said Darrel Ryce, Director for The NPD Group, Inc. "Seventeen months after the launch of the system and it still remains one of the hottest items at retail, selling out almost as quickly as it hits retail shelves".

Additional Canadian sales figures, according to NPD, include:

– The Wii console was the number one selling home console system for 13 of the past 17 months
– Since the launch of the Wii console, Nintendo's Wii Play(TM) has become the number one selling title in the market, while Super Mario Galaxy(TM) lands in the number three position across all platforms
– Super Smash Bros.(R) Brawl, launched in March 2008, sold nearly 200,000 units in that month alone and is the number one selling title in 2008
– Despite the unprecedented demand for Wii consoles, Nintendo DS(TM) continues to be the number one selling video game system in Canada
(2006/2007)

Nintendo's momentum in the Canadian market is expected to continue with the upcoming launches of two highly anticipated games, Mario Kart(R) Wii and Wii Fit(TM). Launching April 27, Mario Kart Wii is a high-speed game, which allows up to four players to race simultaneously as their favourite characters from the Mario franchise, or up to twelve players remotely, thanks to the game's online capabilities. Mario Kart Wii also comes with a wireless Wii Wheel(TM) accessory and features new and classic tracks as well as never-before-seen motorbikes for special tricks and racing techniques.

Wii Fit, available in stores on May 21, offers players a unique experience by incorporating the Wii Balance Board(TM) accessory and challenging physical movements in 40+ different activities including yoga, aerobics, strength training and balance exercises. Wii Fit helps set fitness goals, track progress and work with a virtual trainer to do activities and
exercises every day. Wii Fit and the innovative Wii Balance Board accessory will be bundled and sold together at a suggested retail price of $89.95 Canadian dollars.


In March, Nintendo again defined industry momentum in both home and portable video games sales, according to the independent NPD Group, which monitors retail activity in the video game industry. More than 720,000 Wii™ systems sold in March, representing the highest monthly sales total outside of holiday months (November or December) to date, while Nintendo DS™ also sold through nearly 700,000 systems.

Nintendo also finished with the top-selling U.S. game of March. Super Smash Bros.® Brawl, which launched March 9, came in at No. 1 with 2.7 million units sold.

"Nintendo systems represented 58 percent of all video game hardware sold in March in the United States," said Cammie Dunaway, Nintendo of America's executive vice president of Sales & Marketing. "We expect our momentum to continue with big upcoming game launches like Pokémon Mystery Dungeon, Mario Kart Wii and Wii Fit."

Other March U.S. statistics, according to NPD, include:

* Three Wii games finished in the top 10, including Super Smash Bros. Brawl at No. 1, Wii Play™ at No. 4, and Guitar Hero III: Legends of Rock at No. 7.
* Nintendo DS has now sold more than 19 million units in the United States alone since it launched in November 2004.


Industry Sales
Mar-07 Mar-08 CHG
Total Video Games $1.1B $1.7B 57%
Video Games Hardware $377.9M $551.3M 46%
Video Games Software $579.1M $945.6M 63%
Video Game Accessories $139.5M $220M 58%
HW Sales
Hardware Mar-08
PlayStation 2 216K
PlayStation 3 257K
PlayStation Portable 297K
Xbox 360 262K
Nintendo DS 698K
Wii 721K
SW Sales
Top-Selling VG Software – March 2008
Platform Title Publisher Release Date March Units
WII SUPER SMASH BROS: BRAWL NINTENDO OF AMERICA Mar-08 2.7M
360 *TOM CLANCY'S RAINBOW SIX: VEGAS 2 UBISOFT Mar-08 752.3K
360 ARMY OF TWO ELECTRONIC ARTS Mar-08 606.1K
WII PLAY W/ REMOTE NINTENDO OF AMERICA Feb-07 409.8K
PSP GOD OF WAR: CHAINS OF OLYMPUS SONY Mar-08 340.5K
PSP CRISIS CORE: FINAL FANTASY VII SQUARE ENIX INC Mar-08 301.6K
WII GUITAR HERO III: LEGENDS OF ROCK ACTIVISION Oct-07 264.1K
360 MAJOR LEAGUE BASEBALL 2K8 TAKE 2 INTERACTIVE Mar-08 237.1K
360 *CALL OF DUTY 4: MODERN WARFARE ACTIVISION Nov-07 237K
PS3 ARMY OF TWO ELECTRONIC ARTS Mar-08 224.9K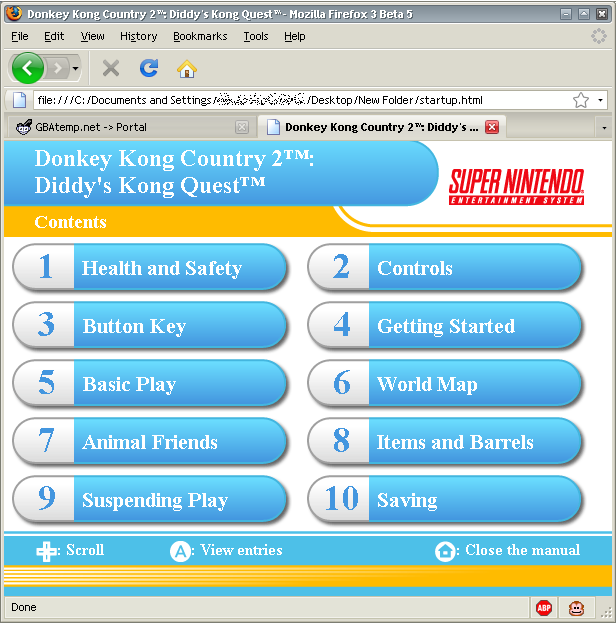 Although not particular surprising, someone was able to completely decrypt a Virtual Console game. In doing so, they were able to discover the nitty-gritty details of the files that make up a typical game on the Wii Shop Channel. It was determined that Virtual Console games generally seem hold a ROM and HTML file. The purpose of the ROM file is blatant, though some may find it interesting that the help documentation for the Wii is just an HTML file. Also, each Virtual Console game comes with its own emulator. I suppose that means the Wii itself does not have any emulation capabilities until you download a Virtual Console title.
I personally would not get involved in these types of activities, but the discoveries the decryption has brought to the table is interesting. The fact that someone was actually able to do this is an indication that the homebrew/hacking scene continues to progress and is a troubling sign for Nintendo. As a result, it's possible that Nintendo may continue to change their Virtual Console system with additional patches and updates.


Top 10 game sales
New Super Mario Bros. – 5,174,163 units sold
Brain Age 2 – 4,835,159 units sold
Animal Crossing DS – 4,693,662 units sold
Brain Age – 3,771,440 units sold
Mario Kart DS – 3,042,753 units sold
Pokemon Diamond – 3,005,505 units sold
Pokemon Pearl – 2,490,564 units sold
English Training DS – 2,216,322 units sold
Mario Party DS – 1,706,506 units sold
Big Brain Academy – 1,654,285 units sold
– Took 3 years, 5 months for DS
– Took 4 years, 3 months for PS2
– 922 available titles
– 21 games hit 1 million sold


SAN MATEO, California – April 17, 2008 – D2C GamesTM, Inc. a premier developer and publisher of mass-market downloadable interactive entertainment, today announced SPOGS RacingTM, a frenzied, arcade-style racing game set to hit WiiWareTM. The game features high-speed arcade racing and Crash 'N GrabTM battling action as players dash around a dozen unique and challenging tracks.

Race along in distinctively unique SPOGS Racers that can be personalized, customized and modified with in-game images and vehicle parts. Gamers will control their SPOGS as they try their best to smash into their opponents to steal upgraded parts on-the-fly in the title's innovative Crash 'N Grab gameplay. Featuring several game modes, a variety of track types including outrageous stunt tracks with loops and jumps, multiple difficultly modes and control schemes, racing power-ups, weapons, and head-to-head multiplayer, SPOGS Racing offers plenty of fun for gamers of all ages and experiences.

"As a long-time game designer, I've learned that there's one defining factor behind a successful game – is it fun?" said D2C Games founder and CEO Scott Orr. "That question directs our entire strategy at D2C, and SPOGS Racing is a great example of that commitment."

For more information, visit www.spogsracing.com.
Source: GamesPress


01./00. [WII] Mario Kart Wii (Nintendo) – 594,000 / NEW
02./01. [PSP] Monster Hunter Portable 2nd G (Capcom) – 222,000 / 1,590,000
03./02. [PS2] Musou Orochi: The Evil King Returns (Koei) – 56,000 / 283,000
04./07. [WII] Wii Fit (Nintendo) – 31,000 / 1,865,000
05./06. [NDS] Pokémon Ranger: Batonnage (Pokémon) – 30,000 / 436,000
06./08. [NDS] Tottado! Yowiko's Deserted Island Life (Bandai-Namco) – 26,000 / 65,000
07./04. [PS2] Pro Baseball Spirits 5 (Konami) – 22,000 / 102,000
08./03. [PSP] Star Ocean 2: Second Evolution (Square-Enix) – 18,000 / 108,000
09./10. [WII] Deca Sporta (Hudson) – 17,000 / 133,000
10./09. [WII] Super Smash Bros. Brawl (Nintendo) – 14,000 / 1,563,000


American Nintendo fans have begged for it, envied it, and prayed for it. Yup – it's none other than Club Nintendo! Club Nintendo originally started in Japan and offered some of the most to-die-for goodies, which has included small DS games, soundtracks, and accessories. The program has been partially emulated in Europe, and is now going to be heading to Australia and New Zealand. Starting next Thursday, Club Nintendo will be launching in those territories, coinciding with the launch of Mario Kart Wii. As with other versions of Club Nintendo, exclusive offers and items not purchasable in stores will be available.
Now, we just need Club Nintendo to hit stateside…I'm still jealous of that Super Mario Galaxy soundtrack!


1 (1) Super Mario Bros 3
2 (2) Super Mario Bros
3 (3) Mario Kart 64
4 (5) Super Mario 64
5 (6) Super Mario World
6 (8) The Legend of Zelda : Ocarina of Time
7 (9) Super Street Fighter 2
8 (4) Cruis'n USA
9 (7) Bomberman 93
10 (10) Super Mario Bros 2
11 (13) The Legend of Zelda : A Link to the Past
12 (11) Sonic 3
13 (18) Paper Mario
14 (12) Pac-Man
15 (14) Sonic
16 (16) 1080 Snowboarding
17 (E) California Games
18 (19) Kirby's Adventure
19 (R) The Legend of Zelda
20 (E) Wonder Boy