Well, it looks like the time has come… and sooner than I originally anticipated. I think it's time to disconnect the forum and main site. Some important aspects can't be fixed until that connection is broken, so now's as good a time as any!
The forum's news sub-board will still exist. When everything is finished, I'm considering opening it fully so that anyone can post a topic. If it becomes superfluous or you guys think it's silly, I'll remove it.
No exact timetable for the disconnect since I have a lot of items to take care of beforehand, but I wanted to give everyone a heads up as to what our plans are. What we'll likely end up doing is implementing Disqus for comments going forward. It works well enough on GE, and a lot of people already have accounts since it's a widely-used comments system.
Thoughts, complaints, or anything else? Post in the comments, forum, or send us an email!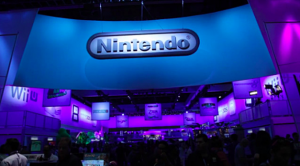 ---
We've put up a lot of E3 coverage for you… have you missed any of it?
---
On the off-chance that you missed any of the podcasts, in-depth impressions, or videos we put up of our experience at E3 2013, I've decided to compile a hub-article for you to view everything in one place. It's pretty straightforward, so check it out and read anything you think might be interesting! We have more coverage coming in the next day or two as well, so stay tuned and watch for updates.
Podcasts
---
---
Here's a Podcast – E3 2013, Day One Spectacular
The gang craps all over Super Mario 3D World, loves Pikmin 3, praises Platinum Games, and gets into the most intense laughing fit the world has ever known. We'd like to apologize in advance for the length, the content, and the potentially loud snores from Laura as she fell asleep halfway through.
---
Here's a Podcast – E3 2013, Day Two Spectacular
The second of our E3 2013 podcast specials is slightly more focused… but still a little odd. We give our impressions of Phoenix Wright: Dual Destinies, Killer is Dead, Bayonetta 2, and Batman: Arkham Origins (which we liked), as well as some thoughts on Mario 3D World, LEGO: Friends, and Deus Ex: Human Revolution, (which we were more tepid towards). Your listener mail rounds out this one.
---
Here's a Podcast – E3 2013, Day Three Spectacular
This final E3 2013 episode has impressions of Killer is Dead, The Legend of Zelda: A Link Between Worlds, some final thoughts on Super Mario 3D World, and much more. As always we get your listener mail and go over some categorized favorites at the end of the show, like our favorite booth attendants!
---
---
Hands-On Impressions
---
---
The Legend of Zelda: A Link Between Worlds
A direct sequel proves to be the freshest handheld Zelda game in years.
---
Phoenix Wright: Ace Attorney – Dual Destinies
The Ace Attorney makes his return to court.
---
"It's just probably not going to be a great game. Not if the demo is any indication anyhow."
---
"I see it as a spiritual sequel, a continuation, refinement, and extrapolation of what was established in Sonic Colors."
---
Mario & Sonic at the Sochi 2014 Olympic Winter Games
The blue blur and his plump plumbing rival return to The Olympics, but it's not as exciting as Nintendo and SEGA might want you to believe.
---
The latest entry in the Pikmin series has been in the works for nearly 9 years, and it shows.
---
Our Five Favorite Games from E3 2013
The on-site staff from E3 give their five best games from the show floor.
---
Video Content
---
---
An Interview with Game Composer Grant Kirkhope
---
Off-screen Zelda: Wind Waker HD footage with GamePad
---
Off-screen Bayonetta 2 footage with GamePad
---
Off-screen Sonic Lost World Wii U footage
---
---


There won't be a Nintendo press conference at E3 2013 today, but Nintendo is holding a few major events that you should be aware up.
First up is the Nintendo Direct, which will take place at 10 AM ET / 7 AM PT. We'll be getting first looks at Smash Bros., new 3D Mario and Mario Kart titles for Wii U, and a lot more. These three games alone should be better than Nintendo's past two E3 events put together! You'll want to visit Nintendo Everything during the Nintendo Direct for live news updates and trailers, and we'll continue with our coverage once the presentation ends.
Next up will be Nintendo's "Wii U Software Showcase" at 1:30 PM ET / 10:30 AM PT. This won't be live-streamed, and it's not really a conference, as its mainly an opportunity for the press to try out new games. But Reggie Fils-Aime and Shigeru Miyamoto will be in attendance, so there could be a few interesting nuggets.
Nintendo's last major event is the Pokemon X/Y roundtable at 9 PM ET / 6 PM PT. We'll be covering this one as well as things happen. Expect a healthy dose of news regarding Pokemon X/Y.
Oh, and there's also GameTrailers' "Nintendo Power Hour" at 2 PM ET / 11 AM PT!
If that wasn't enough, we'll be having extensive original content for all of the big Nintendo games – podcasts, previews, videos, and photos – throughout the show. You can find all of our plans here.
Should be a fun few days ahead.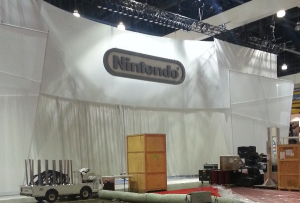 ---
If you listen to our podcast, you're probably well aware that we will be attending E3 this year. Laura, Jack, and myself (your regular podcast crew, as it were) will be walking the show floor, playing games, and causing trouble all three days of the show, with the sole purpose of trying to provide an entertaining and informative (risky, eh?) look at what the heck is going on there.
If you want to know how to follow the action, hit the break. I've made it easy enough to read through our plans.


When I started Nintendo Everything in 2007, I didn't really know what I was getting myself into or what I was doing. In many ways, that still holds true. But I can say that the daily routine of updating the site (and later two sites when GE launched) brought me great joy – there's something about sharing news updates with other enthusiastic gamers that never gets old.
Since joining the blogosphere, I unfortunately haven't been able to fully devote myself to NE or GE due to other obligations. My time has been sapped away time and time again. But for the first time in, well… ever, I'm free to dedicate my complete and total effort to both sites. These years have been filled with an insane amount of rushing and lack of time needed to make NE and GE the best they can be, but the situation is much different now.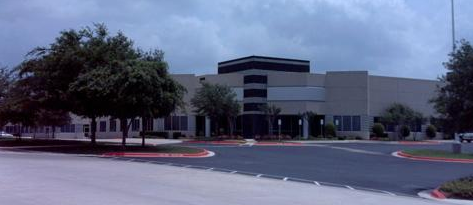 ---
This building is basically the 'Area 51' of gaming at this point.
---
This is a survey that requires no signing up, accounts, clicking through ads, or anything. Just answer a required question, answer a non-required question (if you want) and make your voice heard in yet another NintendoEverything reader survey poll thing! Results will be read in the form of our top ten list on the next podcast, and if you opted to answer the written question your answer could be read on the show! So don't say anything ridiculous.
Thanks very much. As stated above the topic for you guys this week is "What is Retro Studios working on?"
Take the survey here! (more details inside if you're confused)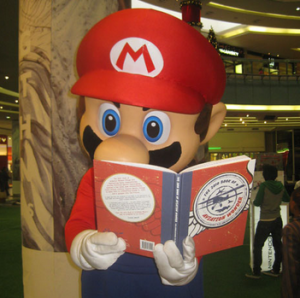 ---
edit: An incredibly close race has ensued! Only one vote separates the current leader from the second place contender!
So there you go. We conquered Super Mario RPG: Legend of the Seven Stars for our first ever NintendoEverything Book Club, and now it's time to start thinking ahead! We won't be playing the next game until next weekend (and we won't be discussing it until two weeks from now) but today we need to get the voting part out of the way!
You've got six games to choose from this time around, all of which are hand-picked to suit a shorter play session compared to the 20-odd hour Mario RPG since we want to wrap up Book Club #2 by the time E3 rolls around. Your options are as follows:
---
---
– Mole Mania (GB/3DS VC) follows a mole named "Muddy Mole" whose wife and children have been stolen by the farmer, Jinbe. Muddy has to go find his wife and children by finding his way through puzzle based worlds. Cost: $3.

– Zombies Ate My Neighbors (SNES/Wii VC) is a run and gun video game developed by LucasArts and originally published by Konami for the Super Nintendo and Sega Mega Drive/Sega Genesis consoles in 1993. The object of the game is for one or two players to take control of protagonists Zeke and Julie to rescue the titular neighbors from monsters often seen in horror movies. Cost: $8.

– ActRaiser (SNES/Wii VC) is a 1990 Super Nintendo Entertainment System action and city-building simulation game developed by Quintet and published by Enix (now Square Enix) that combines traditional side-scrolling platforming with urban planning god game sections. Cost: $8.

– Pokémon Snap (N64/Wii VC) is a first-person rail shooter and simulation video game developed by HAL Laboratory with Pax Softnica and published by Nintendo for the Nintendo 64 video game console. The objective of the game is to take pictures of Pokémon, using items such as apples and "pester balls" to achieve better shots. After each round, players are judged based on the quality of their screenshots. Cost: $10

– Luigi's Mansion (GCN) is an action-adventure game published by Nintendo for the GameCube. The game takes place in a haunted mansion when Luigi wins a contest that he never entered. He told his brother to meet him there to celebrate his victory. Luigi is searching for his brother Mario, who came to the mansion earlier, but went missing. Cost: $50+

– The Starship Damrey (3DS eShop) is a mystery and survival horror game designed by Kazuya Asano and Takemaru Abiko. The game throws players into a suspenseful environment with no tutorials or hints to guide them. Cost: Probably ~$10.
---
Vote here!


Just a quick note for those playing Super Mario RPG alongside us for the NintendoEverything Book Club: We're only going to be getting the sixth Star this week, so if you're struggling to try and get the seventh, you may cease! The reason for this is two-fold:
1) The sixth one takes a really long time to get.
2) The seventh is tied to the final boss, which we want to do on a separate day.
Thanks!
~Austin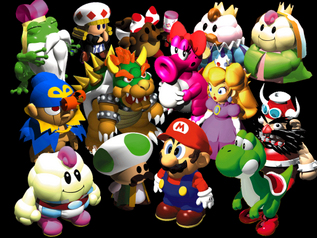 ---
Week 2: Complete! Onwards to this place… whatever it is!
---
---
If you want to play along and discuss during the week, check out our forum thread here. If you missed out on the first week but you still want to participate, you're looking at a total of about 11 hours of game-time this week to catch up!
---
"How far do I have to get this week?"
Deadline for email submissions this week: May 4th
Since last week we obtained the fourth and fifth Stars (out of seven!) in the game, this week we're just going to gather up the last of the seven stars! Don't beat the final boss yet though– we'll do that last section and a post-mortem on the game next week!
Also, please do not send us emails discussing portions of the game beyond where the book club is. We want to avoid spoilers and we don't want to feel unable to answer your questions/respond to your comments, so if you've gotten ahead of everyone (which is fine!) do your best to only talk about the parts that we've all agreed upon. :]
---
Hit the break for info on how to participate in a discussion, plus other 'Frequently Asked Questions'!


Sorry gang, despite our best efforts to organize a podcast for this weekend things just didn't work! We may have to skip the week entirely, but with any luck we can do a Monday or a Tuesday episode. Fingers crossed! If you submitted a question, answered our reader poll, or offered up commentary on Super Mario RPG for the Book Club we'll still use it as planned– it'll just be later on in the week. From Laura, Jack, and myself, many apologies!
There is a silver lining though: I worked out our issues with our podcast hosting service and all retro episodes (from episode 11 onward– none of the awful early junk) will be available starting later tonight, with a few exceptions for files I no longer have. We're missing episodes 16, 25, and 32. If anyone has those files, let me know so I can get them from you and upload them back to our servers!
~Austin