Software
1. Pokedex 3D Pro
2. Paper Mario: Sticker Star
3. Pokemon Dream Radar
4. Mario's Picross
5. Liberation Maiden
6. Super Mario Bros.
7. 3D Classics: Kirby's Adventure
8. The Legend of Zelda: link's Awakening DX
9. Photo Dojo
10. Super Mario Land 2: 6 Golden Coins
11. Cut the Rope
12. The Legend of Zelda
13. Pushmo
14. The "Denpa" Men: They Came by Wave
15. Colors! 3D
16. Plants vs. Zombies
17. Heavy Fire: Special Operations 3D
18. NightSky
19. New Super Mario Bros. 2
20. Mario Clock
Videos
1. Nintendo Show 3D: November 8, 2012
2. Pokedex 3D Pro Video
3. Paper Mario: Sticker Star October 25, 2012
4. Paper Mario: Sticker Star Video
5. Kirby 20th Anniversary Dream Collection Trailer
6. Adventure Time Video
7. Hotel Transylvania Video
8. Liberation Maiden Video
9. Myst Video
10. Ninja Gaiden Video
11. Nintendo Show 3D: October 25, 2012
12. Pokemon Dream Radar Video
13. NSMB2 Course Packs Oct 25, 2012
14. Zelda II – The Adventure of Link Video
15. Mario Kart 7 Video
16. Freakyforms: Your Creations, Alive! Video
17. Style Savvy: Trendsetters Video
18. Professor Layton and the Miracle Mask Video
19. Epic Mickey: Power of Illusion Video
20. New Super Mario Bros. 2: Coin Rush
Source: 3DS eShop


SEGA has announced the first entry in its own lineup of classic 3D games for the 3DS eShop. Space Harrier, a title originally released on arcades over 25 years ago, will be revamped in 3D. Widescreen support will be offered as well.
3D Space Harrier is just the beginning of SEGA's plans for classic games on the eShop. More 3D titles will be revealed in the future.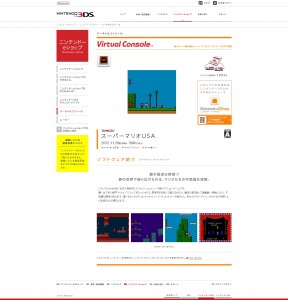 Super Mario Bros. 2 will be hitting the Japanese eShop as a Famicom download on November 28 for 500 yen. Screenshots of the game can be found above.


This week's European Nintendo Downloads are as follows:
3DS retail
Pilotwings Resort – £39.99 UK Only
3DS Download
Dress To Play: Cute Witches! – £3.59
PIX3D – £3.59 UK Only)
3DS DLC
New Art Academy – £1.79 each
Drawing Birds lesson
Illumination lesson
DSiWare
Spirit Hunters Inc: Shadow -£7.19 / 800 points
Spirit Hunters Inc: Light – £7.19 / 800 points
Wii VC
The King of Fighters '96 – 900 points
Source: Nintendo PR


The next entry in the Guild01 series, Aero Porter, will be hitting the North American and European 3DS eShops later this month. In both continents, the game launches on November 29.
Aero Porter is priced at $4.99 / €4.99 / ₤4.49.
Source: Level-5 PR