Disney Infinity team on how they managed to include a lightsaber in the first game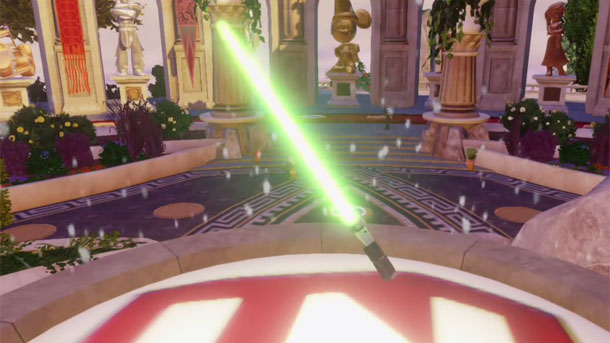 Back in late 2012, Disney purchased the Star Wars franchise. Avalanche was also hard at work on Disney Infinity at the time. Although the team wasn't able to create anything too significant surrounding Star Wars, they did want to include a treat for the fans. This ended up being the lightsaber, which players could unlock by owning all Disney Infinity 1.0 characters.
Disney Infinity vice president of production John Vignocchi was able to get in touch with one of his friends from Lucas before hearing about the Stars Wars acquisition, and after the deal went through, he began making calls.
Vignocchi told Game Informer:
"We want to do an ultimate unlock in the game. We'd like to put a lightsaber in the game. Here's what we're thinking: If you own all the figures then this is like this super-secret end of the end – the Yoshi on top of the Princess' castle."
Vignocchi also mentioned how the team needed to scramble in order to get the lightsaber in the game. Rather than sending it out via an update, they wanted it to be included as part of the game that shipped to stores.
Interestingly, the lightsaber pack began with a different design. As Vignocchi explained:
"The pack initially was shaped like Yoda playing off of the Luke and Yoda thing, and then you pulled the lightsaber out from the backpack, but it eventually became the Rebel alliance logo. It's the ultimate unlock in the game. It does the most damage of any weapon in the game."
Avalanche general manager John Blackburn also spoke about how the team wasn't sure how to approach the lightsaber initially:
"Back then all the characters just had a three-hit combo when you put something in their hand. We didn't go through and decide what all the damage should be against every enemy and in every playset, so I think we made it do like 10 damage, 10 damage, 1,000. The last hit always blows everything apart."
Leave a Reply