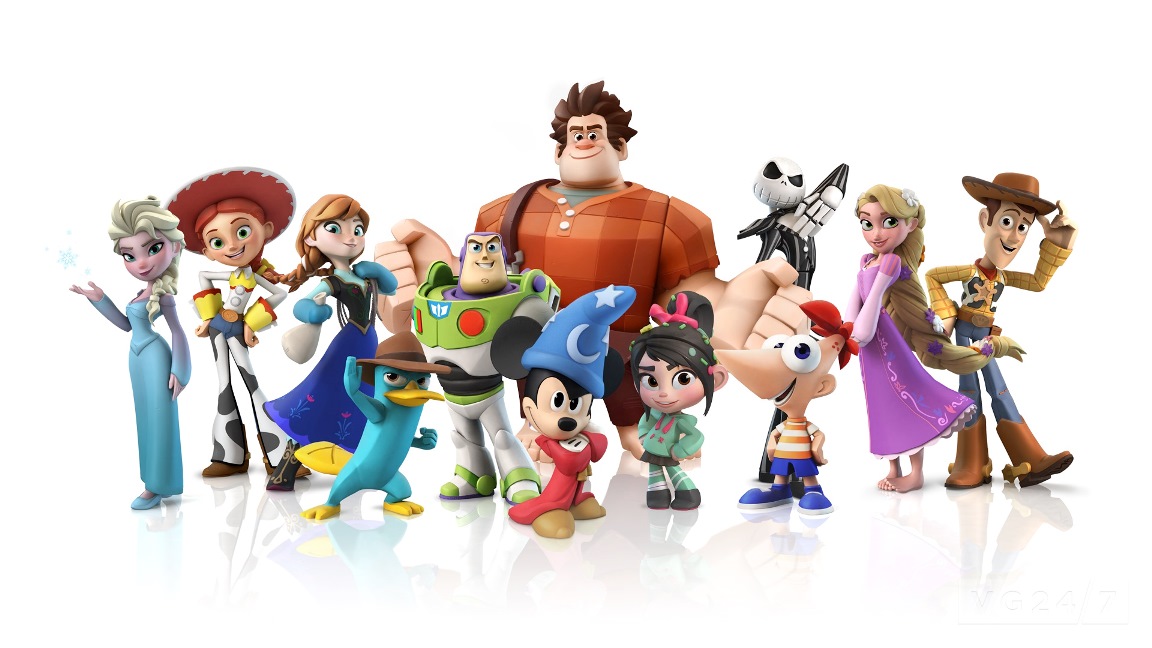 The end of Disney Infinity continues, with it being announced today that "All Disney Infinity online services and community features for all versions will be discontinued" on March 3, 2017. Toy Boxes can be downloaded until that date. However, the Disney Infinity Community team will no longer accept new Toy Boxes as of September 30.
Even after March 3 approaches, Disney Infinity players will still have "full access to figures and play sets only with the exception of community content features and online multiplayer".
Here's the full timeline for the discontinuation of Disney Infinity's online services:
Since announcing that we will discontinue the production of Disney Infinity, we've been exploring timelines for the closure of the game's online versions and community features. Our goal has been to offer extended access to these services, while also providing clear communication about what you can expect. It's important to note that: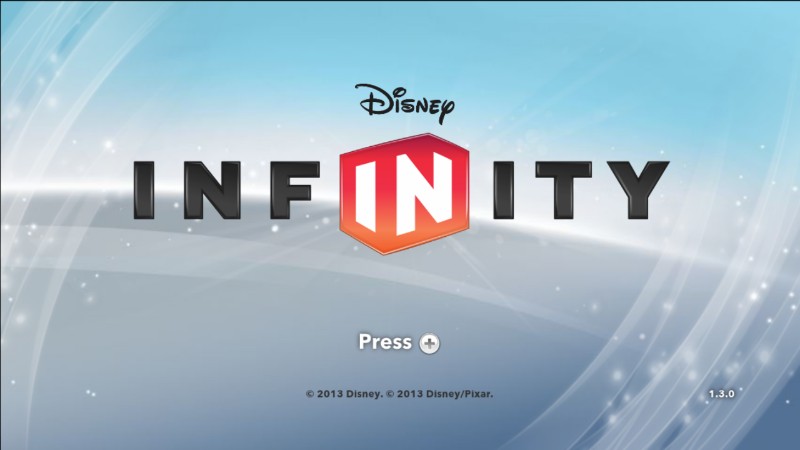 Disney delivered some surprising news about its gaming business this past week. Disney Infinity is now no more, and Disney Interactive is no longer publishing titles.
Kotaku has now spoken with two sources about the situation, and has rumored details about scrapped plans pertaining to new Disney Infinity figures, Disney Infinity 4.0, and why the series was cancelled. You can find some of the information below, with even more at the source link.
– Numerous new level packs were planned
– One of these was based on Rogue One: A Star Wars Story
– Would have been accompanied by a new line of 12-inch figures
– Disney Infinity 4.0 would have been released next year
– This would have intertwined the adventures of characters from Star Wars, Marvel, Disney in a Toy Box story mode
– Plans for 12-inch figures: Buzz Lightyear, Elsa, Hulk, Hulkbuster, Jack Skellington, Darth Vader
– These figures were slated for this fall
– Each would have been $45, more detail, lit up, act differently in-game
– Ninja Theory was working on Rogue One: A Star Wars Story content
– Studio Gobo was working on the upcoming Disney film Moana
– Disney Infinity 4.0 material planned for Cars 3, Star Wars VIII, Pirates of the Caribbean: Dead Men Tell No Tales, Coco, Guardians of the Galaxy 2, Thor: Ragnarok
– Unconfirmed plans that Disney had a plan to salvage things by having a deal with Hasbro to help with the manufacturing of toys
– Issues with figure shortages with the first game, then overproducing figures after that
– Also had to deal with competition in the toys-to-life space and balance collaborating with the other Disney-owned stakeholders Marvel and LucasFilm that led to overreach
– Yondu figure was apparently a flop
– Unexpected competition from Star Wars: Battlefront, the latter of which was successful with kids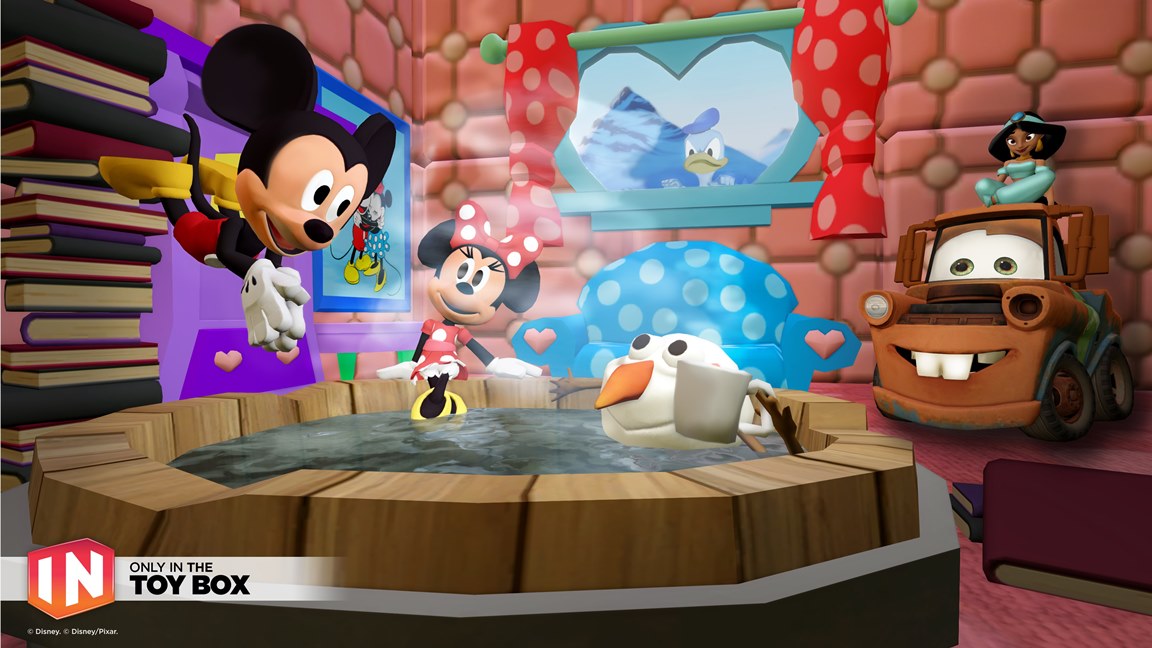 Disney is making massive changes to its video game business going forward, and is signaling the end of Disney Infinity.
Disney Infinity is coming to an end this summer after the release of three new characters from Alice Through the Looking Glass later this month, and the Finding Dory Play Set in June. There will be no more content after this.
Avalanche Software, the team behind Disney Infinity, will be closed. Disney Interactive as a whole is also no longer making games, and will instead "transition exclusively to a licensing model."
An official statement reads:
"After a thorough evaluation, we have modified our approach to console gaming and will transition exclusively to a licensing model. This shift in strategy means we will cease production of Disney Infinity, where the lack of growth in the toys-to-life market, coupled with high development costs, has created a challenging business model. This means that we will be shutting down Avalanche, our internal studio that developed the game. This was a difficult decision that we did not take lightly given the quality of Disney Infinity and its many passionate fans."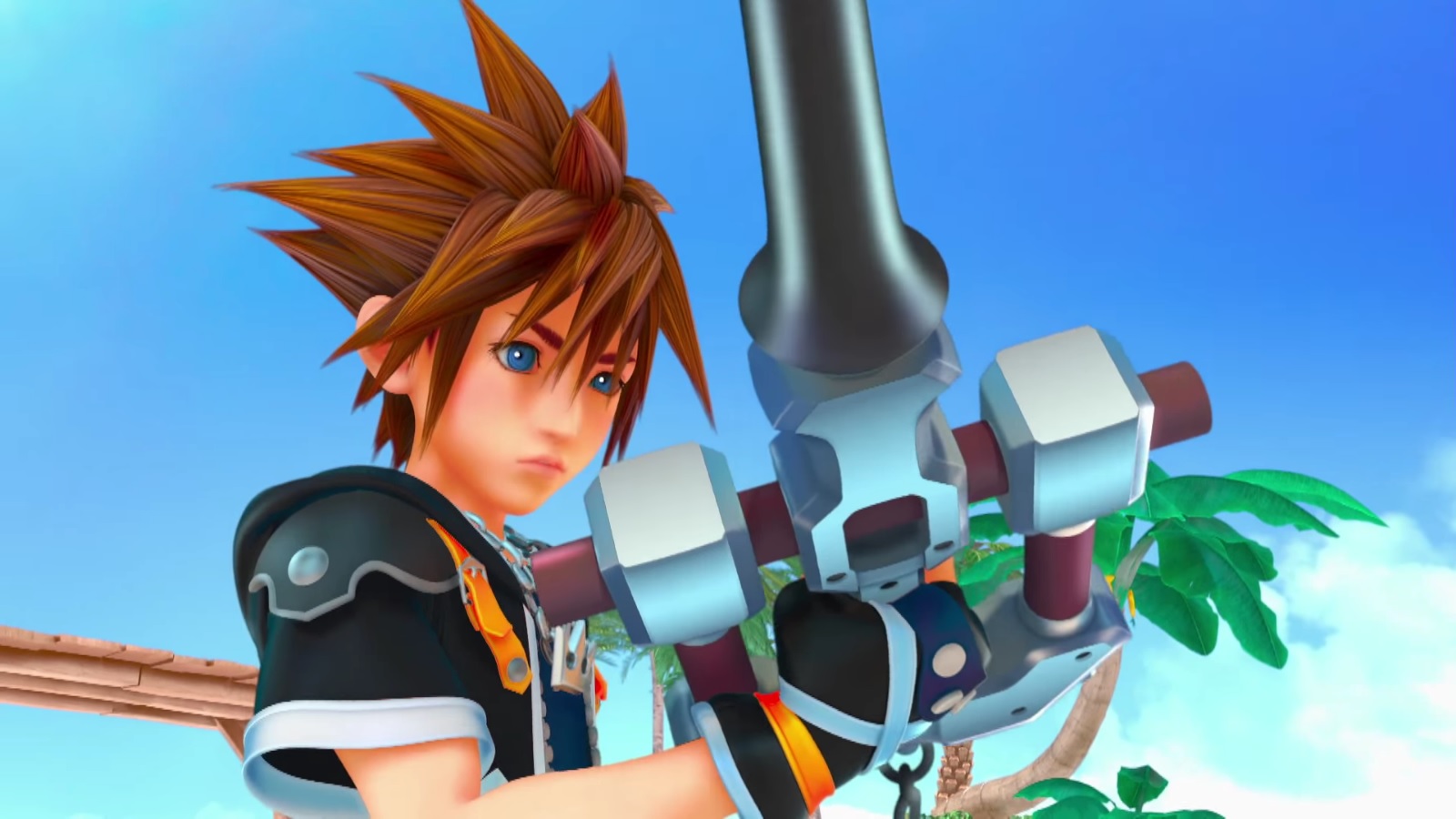 Could Sora from Kingdom Hearts make his way into Disney Infinity? Perhaps. If nothing else, Disney Interactive executive John Vignocchi seems interested in the idea.
While interacting with fans on Twitter, Vignocchi said:
JV: Wouldn't that be cool? https://t.co/NSwPQthK4Q

— John Vignocchi (@JohnVignocchi) July 8, 2015
@mike_brach Hang tight!

— John Vignocchi (@JohnVignocchi) July 8, 2015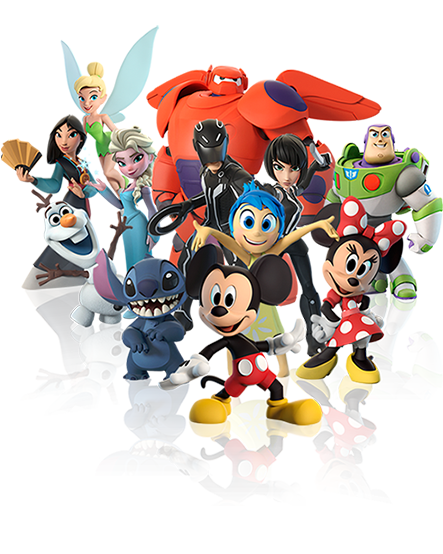 Could we ever see Howard the Duck or Secret of Monkey Island in Disney Infinity? While Disney says that nothing's off the table, the developers are instead choosing to focus on newer content.
Ada Duan, vice president of business and franchise management at Lucasfilm, and Disney Interactive's John Vignocchi told Polygon:
"In terms of Star Wars content, there's definitely more Star Wars coming out. What these guys have been saying is that Disney Infinity is a platform for all the IP across the company, Star Wars being part of that. You'll see more. As more movies and TV shows come out and there's evaluation of what we can support, I think Infinity is going to support all the IP across the company. As Lucas comes out with more IP and more Star Wars." – Duan

"I'll be like, please, can we do Secret of Monkey Island? And she'll say, 'Can we talk about how relevant this is? There are so many other things we could do.' We have so much new content coming out." – Vignocchi

"It's natural that we're going to want things to be supported coming up. It's not out of the question [that we'd approve something from the archives], but I feel like there's so much new that that's probably going to be the focus." – Duan

"We're listening to the fans. We do the Facebook fan stuff all the time. We do these informal polls, and they wind up in the senior executive meetings with guys throwing stuff around and yelling at each other. 'OK, this is what the fan poll said we should be doing, these characters.' That's how I lost Darkwing Duck to Olaf this year. That would have been awesome, right?" – Viggnocchi
There have been two Disney Infinity games thus far, with a third following this year. Disney Infinity 2.0 introduced Marvel characters while the 2015 edition is featuring Star Wars for the first time.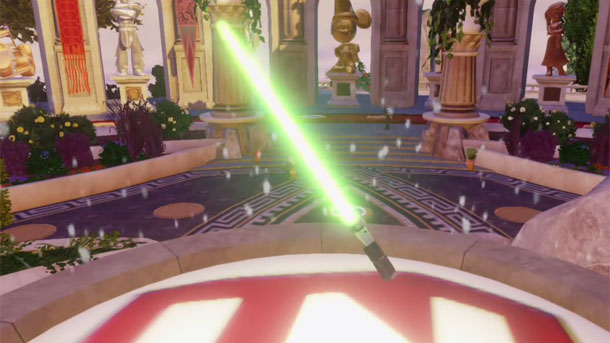 Back in late 2012, Disney purchased the Star Wars franchise. Avalanche was also hard at work on Disney Infinity at the time. Although the team wasn't able to create anything too significant surrounding Star Wars, they did want to include a treat for the fans. This ended up being the lightsaber, which players could unlock by owning all Disney Infinity 1.0 characters.
Disney Infinity vice president of production John Vignocchi was able to get in touch with one of his friends from Lucas before hearing about the Stars Wars acquisition, and after the deal went through, he began making calls.
Vignocchi told Game Informer:
"We want to do an ultimate unlock in the game. We'd like to put a lightsaber in the game. Here's what we're thinking: If you own all the figures then this is like this super-secret end of the end – the Yoshi on top of the Princess' castle."
Vignocchi also mentioned how the team needed to scramble in order to get the lightsaber in the game. Rather than sending it out via an update, they wanted it to be included as part of the game that shipped to stores.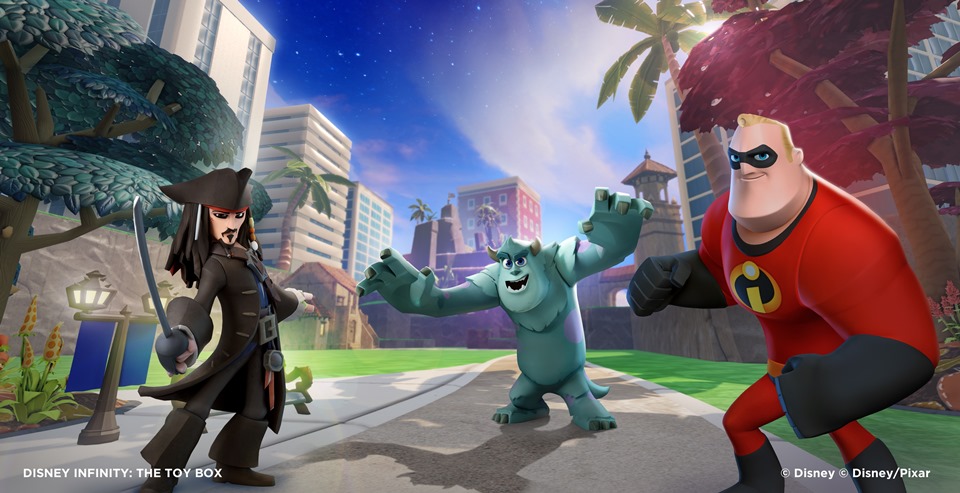 Game Informer shared another Disney Infinity-centric video today. Below, Avalanche Software's general manager discusses the struggles of the licensed games industry and the birth of the Infinity series.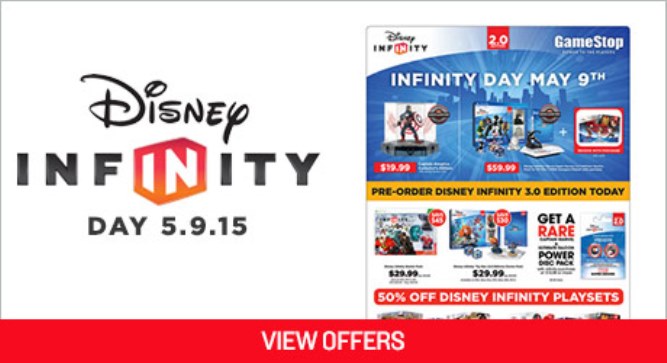 It's Disney Infinity Day over at GameStop today. The retailer is discounting various items relating to the series, including Starter Packs, figures, and more. We've attached the full ad below.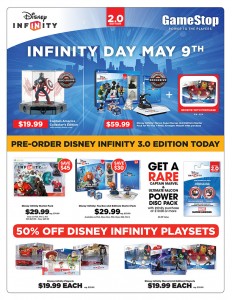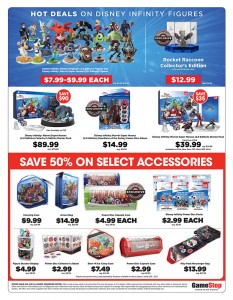 Head on over to this page to see if you have a GameStop location nearby hosting Disney Infinity Day.
A free version of Disney Infinity launched on the Wii U eShop in North America yesterday, and it's a pretty big download. The game requires 10.4 GB just to grab from the store. The total size does at least drop to about 9.33 GB once installed!
Disney Interactive posted a $58 million loss last year. For this financial year, however, the company experienced a turnaround with $29 million in earnings.
Disney Infinity helped improve Disney Interactive's fortunes. Free-to-play mobile releases like Disney Tsum Tsum and Frozen Free Fall also proved successful.