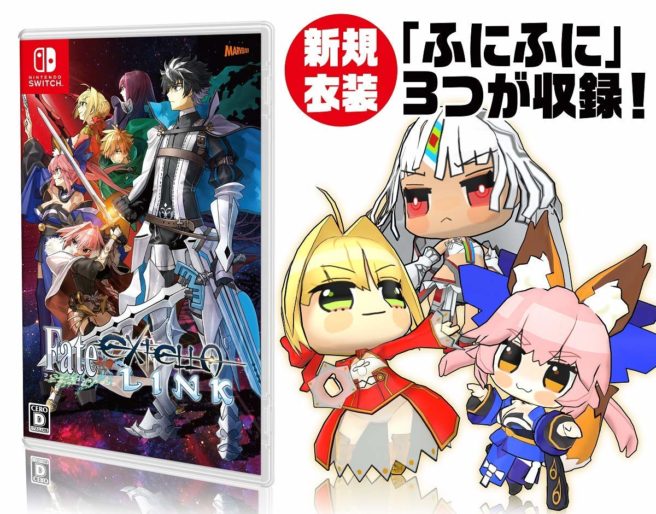 Update: An official website for the Switch version of Fate/Extella Link has been opened by Marvelous. From this page, it is confirmed that the game will support English, traditional Chinese, and Hangul subtitle options. The first trailer for the game has been added below.
---
Original: Fate/Extella Link will be released on Switch, a listing on Amazon Japan reveals. The page has it down for January 31.
A followup to Fate/Extella: The Umbral Star, Fate/Extella Link is an action game with more Servents, online multiplayer, and more. The Switch version will support local multiplayer through 4v4 battles along with plush/chibi costumes for Nero, Tamamo-no-Mae, and Altera that resemble Kigurumi in appearance.
Here's an overview for Fate/Extella Link along with first Switch screenshots:
Picking up right where the 2017 smash hit Fate/Extella: The Umbral Star left off, Fate/Extella Link adds 10 Servants to the original roster of 16. The high-speed action gameplay has been refined, and players will battle their way through massive invading armies to protect the virtual world of SE.RA.PH from an invading force. Players on can now engage in massive four-on-four online battles with up to seven other players. Foes will quiver at the True Name of players' Noble Phantasms as they assume the role of their favorite Servant.

Key Features

– Combatants from Across the Fate Universes Join the Fray – In addition to the 16 original Servants from Fate/Extella: The Umbral Star, 10 characters from other Fate series will enter battle as playable Servants, including Astolfo, Scathach, and Francis Drake.
– Hunker Down in Base Camp – Players can move freely around their army's base camp – a medieval cathedral raised into the sky – and interact with their Servants to build meaningful bonds.
– Polished Graphics and Battle Mechanics – Players can experience refined combat mechanics and graphics through the game.
Fate/Extella Link is coming west in Q1 2019 thanks to XSEED and Marvelous, though it's unclear if the Switch version will also be localized.
Leave a Reply