Hoopa Unbound officially shown in CoroCoro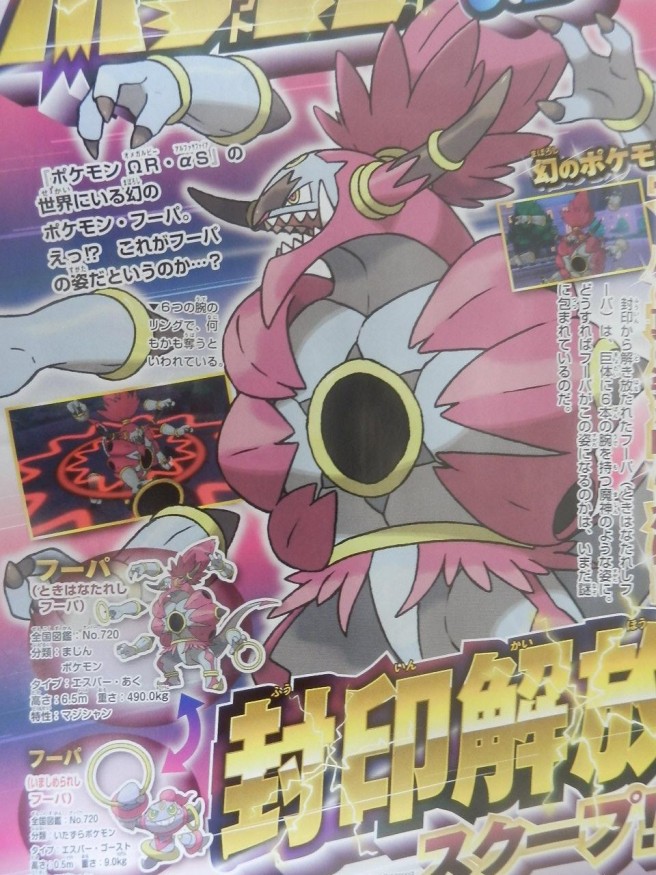 Not too long after Pokémon's sixth generation, Pokémon X and Pokémon Y, released back in 2013, fans who are also modders/hackers wasted no time trying to data mine what they could from the new entries into the series. They did not come out empty handed. One of the Pokémon revealed when all of this went down? Hoopa.
Though at the time it was simply its normal form we knew about (also known as Hoopa Confined), it wasn't until the third generation remakes came along where we found out that Hoopa could transform into a much more powerful version of itself – Hoopa Unbound.
Fast-forward years later to January 2015 when CoroCoro officially revealed Pokémon #720 from its February 2015 issue, also listing that it'd be starring in its own movie, The Archdjinni of the Rings: Hoopa, slated for release this July in Japan.
Hit that fast-forward button one more time to today, where CoroCoro officially revealed its Unbound form that we've known about for a while now. Hoopa Unbound is VERY powerful, let it be known. How Hoopa Unbound works is once you've obtained the Prison Bottle – which is obtainable simply by walking into a PokéMart with Hoopa in your party – have Hoopa hold it, and watch the magic happen in battle as it transforms into its Unbound form. After three days, it will revert back to its confined form. If you can't wait three days, simply drop it in the PC and it'll be back to good ol' Confined Hoopa.
I've used Hoopa Unbound, and it's legitimately terrifying what it's capable of. Its signature move is Hyperspace Fury, which is just as mental as it sounds. Being both Psychic and Dark type, the only types Hoopa's Unbound form is weak against are Bug and Fairy. You guys better start training your Klefki's and Wurmple's to put up with this one.
Leave a Reply