Image & Form: "SteamWorld Heist has done quite a bit better for us than SteamWorld Dig"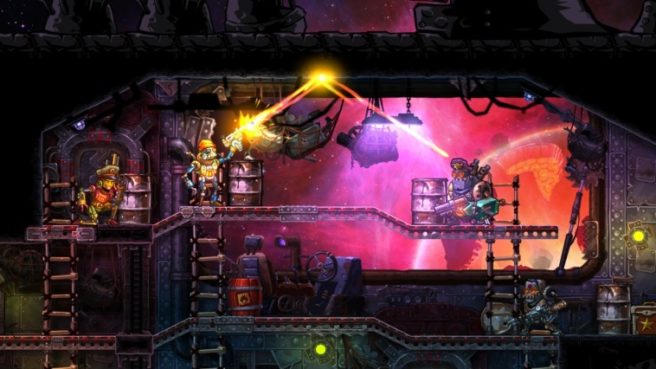 Image & Form appears to be pleased with SteamWorld Heist thus far. Not only has the game been received well, but it's selling quite alright, too. Image & Form CEO Brjann Sigurgeirsson told Nintendo Life that "SteamWorld Heist has done quite a bit better for us than SteamWorld Dig".
When asked about SteamWorld Heist's sales performance on 3DS, Sigurgeirsson said:
I'm happy to say that SteamWorld Heist has done quite a bit better for us than SteamWorld Dig, and it's been the follow-up that we hoped for! We obviously felt the pressure after Dig did so well both in terms of sales and reception. Expectations from fans and pundits, as well as our internal drive to "use the window of opportunity" we created with Dig, were quite present at times. We really wanted to prove ourselves, that we could make something completely different and way better than Dig, that we could make games that were truly world-class.

And we succeeded; Heist both feels bigger and scores way better than Dig. On Metacritic SteamWorld Heist is, together with Xenoblade Chronicles and Monster Hunter 4, the highest-scoring 3DS original title of 2015.

But it wasn't easy; we had to make some tough decisions. One of them was releasing Heist in December 2015 rather than wait until February/March 2016.

Like we're used to, we had bet the farm on Heist and were running out of cash (again). We could really use getting the game out in time for the holidays. The game didn't suffer – it was ready. But many of us thought that we had already spent 22 months making Heist, we could probably wait another 2-3 months to polish some detail or other. Nintendo offered to include us in a Nintendo Direct in November last year on the condition that we released the game before the end of 2015, and that made up our minds for us.

Making Heist was incredibly hard, partly because it is so much more complex than Dig. We can see this when porting Heist – it takes much longer than porting Dig every time, even though we're much more familiar with the porting processes this time around. But another part of the difficulty was that, although we were inspired by particularly XCOM and Worms, no one had really made a game like Heist before. We spent much of the dev time experimenting, backtracking, pulling out our hair when stuff wasn't working or wasn't fun, and for long spells it felt like we weren't making progress.

It's holding up very well. I'm beginning to think there's now a crowd – a good chunk of the Nintendo community – that buys our games because they're made by us. They're confident our games are a cut above the rest and worth playing. Also due to the staggered release schedule – 3DS in December, Steam/PSN in June – Steam and PSN sales are playing catch-up. When we look back at SteamWorld Dig, which had a similar stagger, we see that 3DS, Steam and PS4/Vita are now roughly equal in sales. So far Heist has fared better on 3DS and Steam than on PSN.
Leave a Reply