[Interview] Inti Creates on Azure Striker Gunvolt – scrapped ideas, amiibo interest, may revisit Mighty Gunvolt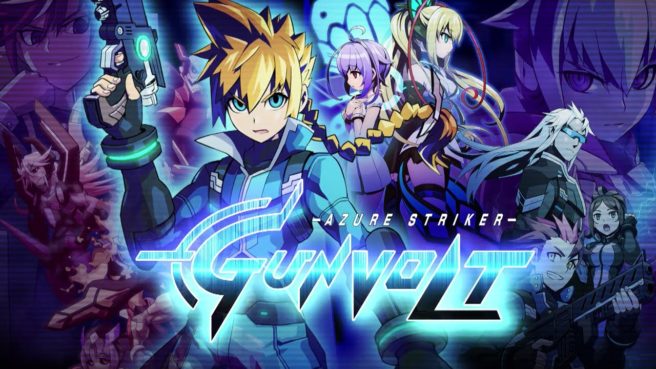 Nintendo Everything recently caught up with Inti Creates for a chat about the Azure Striker Gunvolt franchise. We sent some questions to director Yoshihisa Tsuda and producer Takuya Aizu.
During our discussion, we talked about Azure Striker Gunvolt's origins, scrapped ideas from the sequel, and the series' we future. We even snuck in some questions about a potential amiibo and the anime OVA.
Continue on below for our full interview with Tsuda and Aizu.
Going back to the origins of Azure Striker Gunvolt, where did the concept come from? What were you hoping to achieve with that game?
Tsuda: Gunvolt was our contribution to the effort of reviving the 2D action game genre. We've had a lot of ideas for action games that built up over the years, so you could say that Gunvolt is a combination of those ideas. I played a lot of games in the past, and when playing these games I would always think "how would I take this one step further to make this even cooler?". A bunch of those ideas went into the Gunvolt games. So, rather than creating a completely original type of game, you could say that I wanted to take the evolution of action games to the next level.
As for the concept of Gunvolt, on one front, I wanted it to be a side-view style action game that reflects the kind of fun that could be had from those types of games from the 1980s that sent a message to the gamers of today, particularly elementary-school aged kids, based on the worldview that we created for the game. (Although, it seems that our original targeted audience didn't seem to be fans of the game, hehe…)
The Japanese Voice Mode will be included in the Striker Pack, but do you have an update regarding its availability for the standalone eShop release of Azure Striker Gunvolt (note: this is now available)? It was initially announced last year, so have you been encountering any specific difficulties with bringing the patch out to players?
Tsuda: The Japanese Voice Mode update for the digital version of Azure Striker Gunvolt on the eShop should be arriving shortly.
At first, we thought that most players from outside of Japan wouldn't be interested in such a feature, but after receiving countless emails and tweets from people who expressed a strong desire for this, here we are. Due to many factors like the simple fact that the Gunvolt development team is rather small, the update is coming later than we would like. We apologize for making you all wait.
At what point did development begin on Azure Striker Gunvolt 2? Were you waiting to see what the reception would be like for the first game, or did you know right away that a sequel would be happening?
Tsuda: I'm happy to say that because of the positive results we achieved with Gunvolt 1 we decided to make Gunvolt 2. There's nothing that spreads good will and powers up the development team quite like getting positive messages on our Twitter, blog, etc. Seeing messages like "Gunvolt is so much fun!" or "Gunvolt is so awesome!" truly makes our day, and we want to sincerely thank our fans for that.
However, while the the book is still not quite closed on Gunvolt 2, we really gave it our all when we developed Gunvolt 1 and used up all the ideas we had for the game at the time, so at the time when we finished the development for Gunvolt 1 we had no idea what we would do next.
If by chance Gunvolt 1 was a failure, at the very least I would have retired from game development. So with that being said, there is always a possibility that Gunvolt 2 could be the last one.
With Azure Striker Gunvolt 2, what led to the addition of Copen as a playable character?
Tsuda: Since gamers got the full experience playing as Gunvolt himself in the first game, we needed something new in Gunvolt 2 that would be able to catch people's attention.
For Copen, as players got to see in Gunvolt 1, he was an enemy character that could copy the abilities of other characters, so at the very least, we knew we would be able to create playability that was very similar to another certain action game character. Another reason for his inclusion as a playable character was because Toshiaki Tai, our scenario writer, was a big fan of him, so we knew that if we made a story that features Copen, he would be in good hands.
Was there anything in particular you were looking to address from the first game? What would you say are the biggest additions/changes aside from Copen?
Tsuda: The addition of Copen (and Lola) is obviously the biggest change we made, but allow me to talk about some of the other changes we made too.
Despite the fact that we created a lot of vocal tracks for Lumen (The Muse), according to the way the game was designed, since you had to do pretty well in the first game to hear her songs, many players lamented that it was too hard for them to hear Lumen's songs. We listened to that, and because of that feedback we created the system that allows players to choose one of three types of ways of accumulating Kudos. Whether you're a casual a player, a hardcore one, or somewhere in between, being able to choose how you accumulate Kudos anytime you want is a pretty big change. We created a lot of new vocal tracks for Gunvolt 2 as well, and we think you'll be able to enjoy them all this time around.
Just like with the original, Keiji Inafune acted as executive producer and action supervisor on Gunvolt 2. What was it like working with him during development? How much was he involved?
Tsuda: For Gunvolt 1, Mr. Inafune did not have a very deep involvement in the development of the game itself.
However, we did listen closely to the advice he gave us for Gunvolt 1. Furthermore, when I was at Capcom I worked with him on Mega Man X2 and Mega Man 7, and then of course once we founded Inti Creates we worked on the Mega Man Zero series and Mega Man 9 & 10, so the bountiful experiences I got from working on those games with him definitely have an influence on Gunvolt 2, that much is certain.
He checked over the ROM numerous times during development and never once came back with any big strikes against the game. It was hard to tell if he just thought the game was OK or if he was genuinely impressed, hehe.
Head on to page two for Azure Striker Gunvolt 2's scrapped ideas, amiibo talk, the series' future, and more.
Leave a Reply