Mario Golf: Super Rush giving NES Open Tournament Golf Luigi outfit as Ranked Match reward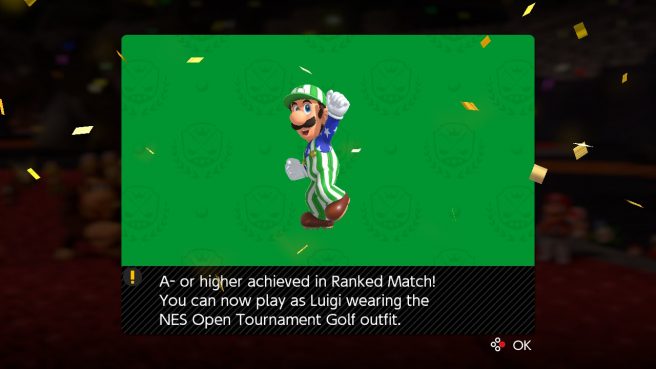 Mario Golf: Super Rush is offering up a new reward for its Ranked Match mode, and players can earn a new outfit for Luigi from his look in NES Open Tournament Golf.
There's not much required to add the new Luigi variation to your game. By reaching the rank of A- or above before February ends, the outfit can be yours. Points can be accumulated by playing matches online in Ranked Match, doing well against others, and taking down higher ranked opponents. Once the NES Open Tournament Golf outfit has been unlocked, it can be used by going to the select screen in Mario Golf: Super Rush, hovering over Luigi, and pressing the "L" button in order to swap outfits.
The Ranked Match feature and new costume rewards were added to Mario Golf: Super Rush last September. There have been a number of different outfits over the past few months, including a Boo visor, a few new colors for Toad, new colors for Koopa Troopa, Mario's classic overalls, and a NES Open Tournament Golf outfit for Mario.
Mario Golf: Super Rush first landed on Switch in June 2021. For more information about the game, head on over to the official site here.
Leave a Reply