Mario Golf: Super Rush giving Shy Guy colors as Ranked Match reward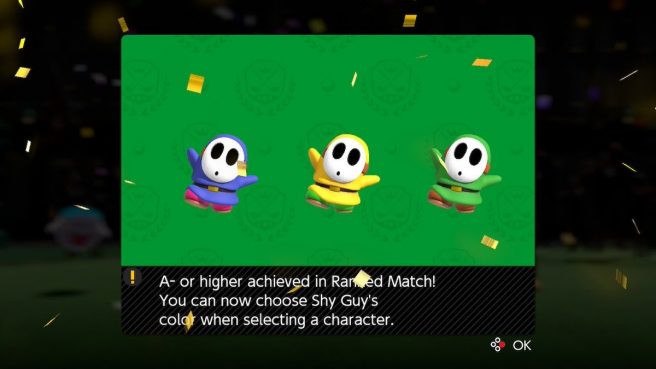 Mario Golf: Super Rush is kicking off March with a new reward, with players now being able to unlock new colors for Shy Guy.
The new colors are pretty straightforward and easy to obtain. Over the next month, players simply need to hit the rank of A- or above in the online Ranked Match mode by earning points. Nintendo provides points by playing online matches, doing well, and defeating higher ranked opponents. The Shy Guy colors can then be used once unlocked by accessing the screen in Mario Golf: Super Rush, hovering over the character, and hitting the "L" button to swap variations.
This marks one of just several new costume rewards that have come to Mario Golf: Super Rush since the middle of last year. We've seen a variety of outfits, including a Boo visor, a few new colors for Toad, new colors for Koopa Troopa, Mario's classic overalls, and a NES Open Tournament Golf outfit for Mario (plus one for Luigi as well).
Mario Golf: Super Rush is out now on Switch having first released in June 2021. You can learn more about the game on the official website here.
Leave a Reply