Mario + Rabbids creative director confirms no touchscreen usage, teases surprises, more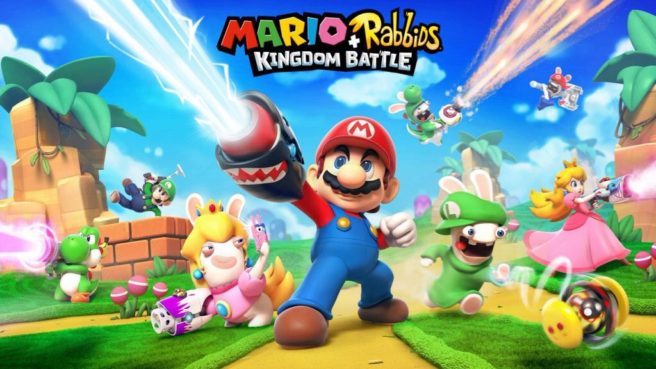 NDTV has a new interview up with Mario + Rabbids Kingdom Battle director Davide Soliani. Among other things, Soliani confirmed that the game won't make use of Switch's touchscreen, and also teased some surprises.
Find the various comments from Soliani below. You can read the full interview on NDTV here.
On early days of development…
"It was Mario + Rabbids first. Because, when we closed ourselves in a room with five designers an spent two weeks and a half brainstorming, we came up with 13 ideas. The first thing we wanted was to play around with this contrast, and to propose something completely new. As we were big tactical players, we started to scratch off all the other ideas until we kept this one."
"Our first reference was, okay if we are going to do a tactical game we should bring something new to the genre, to refresh it a little bit. So, I wanted something dynamic in the combat, something like Mario Kart. So, we thought about 'Mario Kart without the Kart', or 'Mario Kart on foot'. The second reference we had was Worms."
On making the game accessible…
"We wanted this game to be truly accessible, and I always say that for me this game is like an onion. So, you start with the first layer, but as soon as you peel off the different layers you discover new things, new levels of depth. But the first impact the player should have is the accessibility part, that's why our way to refresh the genre was to add the dynamism."
"So, if you play you will notice that, for example Rabbids Yoshi, can run, do a triple dash and then team jump, go behind cover and still the player has a different action to perform. Maybe the camera is following the sequence with different angles, in an action-oriented way. All of that, even if it looks complex, is done within the simple impression of a battle, because we are a turn-based game."
"We are removing the situation of a real-time game where the player needs to be synchronised with the movement of the character and the camera, because they can spend their time observing the situation, and planning their moves, then press the button to see their execution. And we wanted to do it in a way that was really visually rewarding."
On running "many, many playtests", so that the game is a fair experience for all who play it….
"We were balancing the game throughout a huge Excel file with all the parameters, comparing them. It takes a lot of time and a lot of effort because we have eight characters on the roster, multiple enemies, multiple super effects, multiple weapons with different statistics, and multiple skill trees to compare."
On having guns in the game…
"[Regarding the gun] we were the first and biggest filter before reaching Nintendo. The whole presentation of the weapons happened in Kyoto, but before going there we knew that it was the first time Mario was holding a weapon, we knew that it was possibly working only if it was merging well with the tone of voice, the light-hearted kind of aspect. We used a lot of disproportion to create our weapons, we didn't want them to look real, but at the same time we wanted the player to understand the function by just seeing the visual. When we arrived [at Nintendo] we had a vision of the weapons that was almost final, and they accepted our intention."
On lack of touchscreen usage…
"At some point, we talked about using the touchscreen, but we said it was not really the experience that players will have with our games. If we implemented the touchscreen, the whole selection of the game would have been different, and we were not willing to implement it only for the sake of doing it. So, we said no."
On whether the game could have post-game support and online services, like Ubisoft's other games…
"I cannot answer right now, but what I can tell you is that we are working hard to prepare a few surprises."
Leave a Reply