Mew, Dodrio, and Scizor announced for Pokemon Unite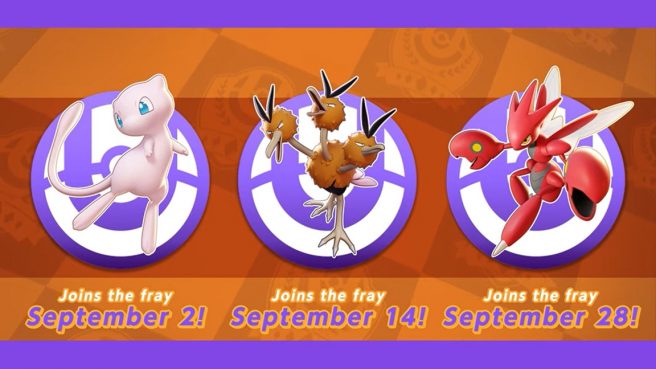 Original (8/25): Another round of characters have been revealed for Pokemon Unite, with Mew, Dodrio, and Scizor soon joining the game. All three are joining in September.
Mew is first up on September 2. We'll then see Dodrio on September 14. Lastly, Scizor will arrive on 28.
Mew has more learnable moves than other Pokemon. Additionally, it can forget and relearn moves during battle. Players can collect mural fragments for the chance to battle as Mew.
Also revealed for Pokemon Unite is the Legacy Trainer Showdown, in which players can take on powerful legacy trainers from different generations. This will be held between September 9 and October 6.
Don't forget that the game is also set to add Theia Sky Ruins as a new battlefield. Many Legendary Pokemon will be appearing here.
Below is a trailer showcasing Mew, Dodrio, and Scizor for Pokemon Unite as well as the Legacy Trainer Showdown event:
Pokemon Unite is out now on Switch via the eShop as well as mobile via iOS and Android.
---
Update (8/31): A new trailer has now come in for Mew in Pokemon Unite – check it out below.
---
Update (9/13): We have a trailer for Dodrio in Pokemon Unite below.
---
Update (9/27): A new trailer for Scizor in Pokemon Unite is available below.
Leave a Reply