Update: Screenshots – Monster Hunter Stories details – Kupni Village, characters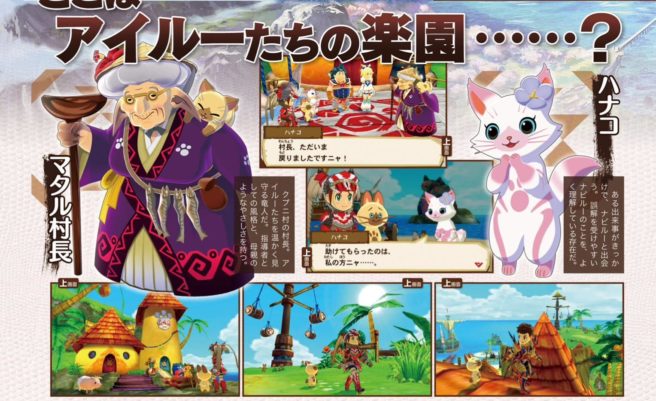 Update: Bumped to the top. We now have screenshots based on Famitsu's latest coverage.
---
Original (9/28): Monster Hunter Stories is set for launch in Japan next week, so it makes sense that the latest Famitsu contains another feature on the game. There are eight pages in total, though quite a bit is recap. Still, Famitsu did manage to put in some new information as well.
First up, we have some news about Kupni Village. It's an idyllic village where many kinds of felynes live. It has a warm temperature, so many of them also visit for vacations. On the sea there are also two rocks that are shaped after felynes.
Village Chief Matar is the chief of Kupni Village. She's a wyverian who looks after the felynes warmly. She has both the personality of a leader, and the kindness like a mother.
Hanako met Nabiru thanks to a certain happening. She can understand Nabiru well, as the latter tend to be misunderstood easily (as in other felynes tend to misunderstand Nabiru).
Torao and Kagishippo are two felynes who also live in Kupni Village just like Hanako. Torao has a scar on his forehead and looks like a gang leader, and Kagishippo is his underling. They always move together as a pair.
Finally, it's worth noting that a lot of felynes who live in Kupni Village do recognize Nabiru. And it also seems like this place is also very deeply related to him. Torao and Kagishippo do not seem to like Navirou due to a certain happening in the past. The reasons why the protagonist and Nabiru get to visit this village are unclear as of now.
Leave a Reply