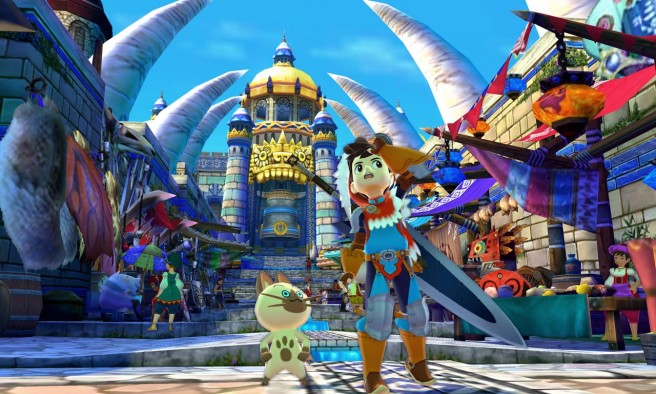 The latest issue of Famitsu contains a ton of details about Monster Hunter Stories. We shared information translated from the magazine earlier this week based on the article, but now we have details from the developer interview as well.
Development on Monster Hunter Stories began two years ago. However, it's a project that's been five to six years in the making, and it's something that came about due to some fans wanting an RPG.
Monster Hunter has focused on strengthening the player character, but it's about monsters. In this game, as there are plenty of people who like monsters, it is more of a sport to use them. The team took an approach to allow those who love the Monster Hunter world itself to experience it.
Monster Hunter Stories is targeted at players of all ages who think they will enjoy the game. It's for both series veterans and newcomers alike. Stories has pleasing visuals with a plot that never gets too serious, and features catchy designs with a simple approach to help achieve this.
As previously mentioned, Monster Hunter Stories makes use of a Triangle Battle System thanks to "Power," "Technique," and "Speed" commands. Originally, the commands were like "Fight", "Run", etc. However, at one point, the staff took a simpler approach with turn-based combat and decided to base it on a triangle.
Monster Hunter Stories' battles aren't just based on luck to win. Monsters have unique traits and capabilities. For instance, Velociprey has a "speed" habit. Often, there is a link between the monsters' image and resulting special habit. Monster Hunter Stories is true to an RPG, yet keeps that flavor of developing strategies to hunt monsters by researching them in previous games.
One topic brought up in the developer interview is how the protagonist can battle alongside monsters named "Otomon". Although the protagonist can collect many monsters, he/she only fights with one in a battle each time. You'll have the ability to change the monster (in the party) that is battling, though. While the protagonist battles with the monster, in the end the Otomon does the brunt of the battle. It's said that if the Otomon is the "attacker," then the protagonist is the "Almighty Supporter".
Riding monsters will be possible in Monster Hunter Stories. If bonds are high enough, this element of the game is possible. All Otomon have their own distinct traits and personalities. Players can build bonds by traveling together, playing with the monsters, and using them. There will be new locations to stay true to the adventure in an RPG.
In Monster Hunter Stories, the protagonist will form bonds with monsters as a Rider. "What would he think of Hunters?" will be a problem and question often addressed, a depiction of their different viewpoints of the matter within the Monster Hunter universe. The story is about the protagonist's growth to adulthood within a world of monsters in a changing environment. The plot also involves how Hunters and Riders will cope with each other. The mainline Monster Hunter games deal with monster quests, but what if the monsters were starting to disappear? There are people who think life would be easier, and those that do not.
As a final message, the developers ask fans to look forward to a game that series veterans and aficionados of the series can enjoy. This title brings the world of Monster Hunter to all ages. It was an action game before, but now it's an RPG. Whatever the pillar of focus, they will put all their effort into it.
Monster Hunter Stories is due out in Japan sometime in 2016. The game will be playable at the Tokyo Game Show later this month. At present, development is 30 percent complete.
Leave a Reply