New details on Project Valkyrie, Metroid Prime prototypes that eventually morphed into Federation Force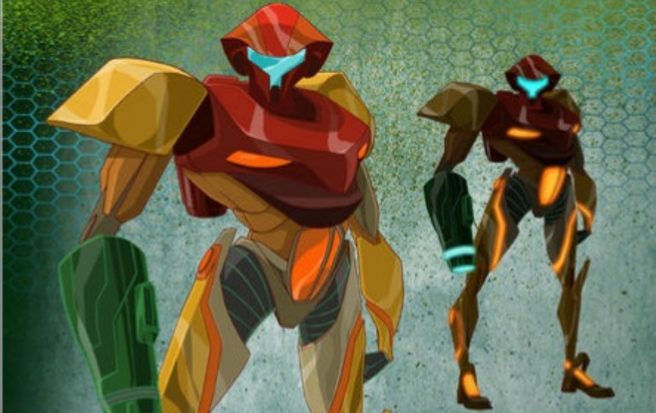 Did You Know Gaming has secured new details on Project Valkyrie, a number of prototypes for the Metroid series that eventually turned into Metroid Prime: Federation Force.
You may recall that there was talk of a cancelled Metroid 3DS project in 2014 and 2015 that tied in with some pieces of concept art shared by a Next Level Games employee. Much was made of the image for Samus pictured above at the time.
According to Did You Know Gaming, development for Project Valkyrie actually started off on the DS. In its earliest days, one dev told the outlet that it was a "pretty straightforward multiplayer deathmatch" made by just a handful of employees at Next Level Games over four months or so. What the team was going for here was to create something that was like a standalone version of the multiplayer modes in Metroid Prime Hunters and Metroid Prime 2. Players would control a different colored Samus – panels were added to the suit so they more easily could see each other at a distance. Bosses were planned, but the primary goal was to kill your opponents.
After those few months of development, Nintendo cut the cord on the project and had Next Level Games work on Luigi's Mansion: Dark Moon. However, after the Luigi's Mansion sequel was done, the Big N asked the studio to work on a few projects, including the resurrection of Project Valkyrie. Despite throwing out the original code, the title was still four-player online deathmatch. It sounded like Wii U could have been its target system, with a 3D modeler told Did You Know Gaming: "It wasn't clear what the platform was yet but it wouldn't been vastly more powerful than the original DS". This allowed the team to pursue a more ambitious scope and enhanced graphics. The same modeler created one boss that was similar to the tripods from War of the Worlds. Also included at this point were upgrades, some destructible parts of the stage, and more.
Things took yet another turn with the upcoming launch of the New 3DS and the interest Nintendo's Kensuke Tanabe had in wanting to make a story-based game focusing on Federation soldiers. That meant Next Level Games needed to rework the graphics for a different piece of hardware that wasn't as powerful. It also needed to be a four-player Metroid Prime co-op game rather than deathmatch, which is what we eventually saw with Metroid Prime: Federation Force. After seven years of on and off development, this is what Project Valkyrie became.
You can find more on Project Valkyrie in Did You Know Gaming's video here.
Leave a Reply