[Nintendo Everything Podcast] – episode #48 – Why Nintendo Didn't Bail AlphaDream Out of Bankruptcy, Pokemon Gym Drama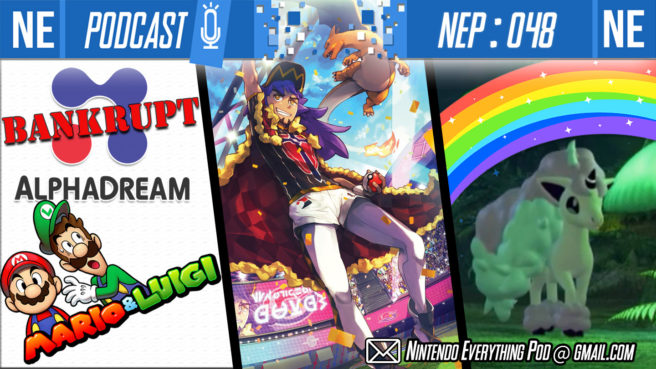 Hello, my major and minor league gym leaders! This week on NEP, we're going over all the new Pokemon details—including the controversies… We also break down the AlphaDream bankruptcy story, and Oni Dino has dug through some Japanese language reports and is bringing that straight to your ears. We also muse on our ideas for Nintendo skins for Overwatch characters, thanks to some lovely listener mail.
If you're enjoying NEP, please consider giving us a 5 star review on Apple Podcasts, aka new iTunes. It's incredibly helpful in getting us exposed to new listeners through algorithms, so we would greatly appreciate your help. Thank you for listening!
Timestamps
07:40 – Adventure Log: Super Kirby Clash, Borderlands 3, Untitled Goose Game
36:06 – Pokemon Sword Shield news, changes, updates, controversy… Can this game ever escape it? Game Informer releases info but then Pokemon Company backtracks on it. 18 gyms? 16? Only 8? Masuda also teases new systems for Sword Shield that they haven't revealed yet. Helps to remove tedium? And Zamazenta and Zacian names finally make sense, but Galen and Oni Dino are still not impressed. They sound like Kingdom Hearts villains.
1:05:03 – Big story: Mario & Luigi RPG series developers, AlphaDream, have filed for bankruptcy. What does this mean? Why didn't Nintendo bail them out? We talk fan reactions, misconceptions and the business side of things. And of course we bowtie the discussion with a reminder of Oni Dino's idea for a brand new Mario RPG series with a job system. It's such a good idea!
1:19:28 – Additional DLC
1:24:12 – Listener mail: Nintendo skins in Overwatch! Who should be whom?
Send us an email and we'll discuss it!
[email protected]gmail.com
Additional DLC
Listener Bonus: Help the show grow and support us by giving us ☆5 STAR☆ iTunes review! Thank you!
YouTube
Apple Podcasts / iTunes: https://apple.co/2xLl0C5
Spotify: https://spoti.fi/2Gdgoch
Direct Download
PocketCasts: https://pca.st/IQVa
Stitcher: https://bit.ly/30uxOZR
PlayerFM: https://bit.ly/2yfCu9P
ListenNotes: https://bit.ly/2SINTbG
PodTail: https://bit.ly/2yfDgDL
Oni Dino's YouTube "Gayme Married": https://bit.ly/2JK21xd
Oni Dino's Twitter: @Oni_Dino
Oni Dino's Insta: Oni__Dino
Galen's Twitter: @mobius087
Galen's Insta: true_mobius
HUGE thank you to Headphones of Listening for NEP's intro music! Check him out on soundcloud!
Leave a Reply