[Nintendo Everything Podcast] – episode #63 – Nintendo "lied": Smash Bros. Direct, Byleth backlash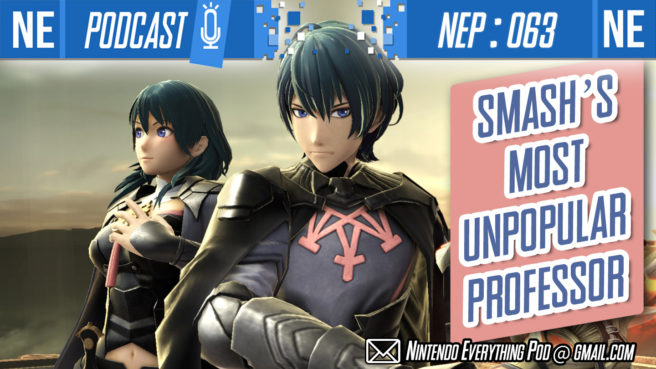 This week on NEP, we're covering the Super Smash Bros. Ultimate Direct and the collective meltdown over the professor. Plus more Star Ocean talk, Killer Queen Black, and the new indie cutie, Super Crush KO. Plus, listener response to Galen's "Pokemon is games-as-a-service" claim.
If you're enjoying NEP, please consider giving us a 5 star review on Apple Podcasts, aka new iTunes. It's incredibly helpful in getting us exposed to new listeners through algorithms, so we would greatly appreciate your help. Thank you for listening!
Timestamps:
07:00 – Adventure Log: Star Ocean: First Departure R, Killer Queen Black, Super Crush KO
48:01 – News: Fire Emblem Three Houses' Byleth joins Super Smash Bros. Ultimate as DLC fighter #5, Cuphead and more; FE3H DLC 4: Cindered Shadows and the Ashen Wolves,
1:21:59 – Additional DLC
1:24:47 – Listener Mail: Pokemon DLC and games-as-a-service and Galen's wrong
Additional DLC:
Business inquiries and listener mail contact:
[email protected]gmail.com
#nintendopodcast #gamingpodcast #podcast
Listener Bonus: Help the show grow and support us by giving us ☆5 STAR☆ iTunes review! Thank you!
YouTube
Apple Podcasts / iTunes: https://apple.co/2xLl0C5
Spotify: https://spoti.fi/2Gdgoch
Direct Download
PocketCasts: https://pca.st/IQVa
Stitcher: https://bit.ly/30uxOZR
PlayerFM: https://bit.ly/2yfCu9P
ListenNotes: https://bit.ly/2SINTbG
PodTail: https://bit.ly/2yfDgDL
Oni Dino's YouTube "Gayme Married": https://bit.ly/2JK21xd
Oni Dino's Twitter: @Oni_Dino
Oni Dino's Insta: Oni__Dino
Galen's Twitter: @mobius087
Galen's Insta: true_mobius
HUGE thank you to Headphones of Listening for NEP's intro music! Check him out on soundcloud!
Leave a Reply