[Nintendo Everything Podcast] – episode #69 – GDC A No-Go, Samurai Jack is back, Shovel Knight treasures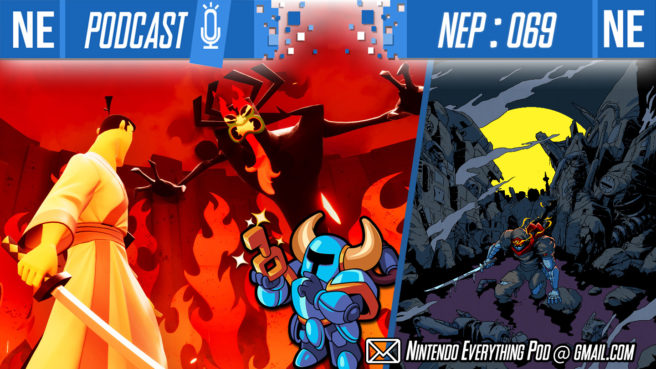 This week on NEP, we're all over the Yacht Club Presents video unveiling Shovel Knight Pocket Dungeon, and further details on Shovel Knight Dig, Cyber Shadow and more! Also, how about this new Samurai Jack game. Kinda… a few years late, no? Plus, we discuss the news of GDC 2020 being postponed, Platinum Games' newest announcements, and so many more games to share our impressions. Come hang out.
If you're enjoying NEP, please consider giving us a 5 star review on Apple Podcasts, aka new iTunes. It's incredibly helpful in getting us exposed to new listeners through algorithms, so we would greatly appreciate your help. Thank you for listening!
Timestamps:
05:02 – Adventure Log: Goblin Sword. Breath of Fire II style art direction with horrid audio looping.
13:10 – Adventure Log: Pokemon Mystery Dungeon: Rescue Team DX demo. Not the one.
22:07 – Adventure Log: Warriors Orochi 4 Ultimate and butts
24:30 – Adventure Log: The Snack World's battle system. FASHION FIGHTER.
36:34 – Adventure Log: Kemono Heroes! Gorgeous SNES art direction with arcade-y gameplay.
54:10 – News: GDC 2020 postponed until Summer.
1:01:16 – News: Samurai Jack 3D hack n slash video game announced.
1:07:14 – News: Platinum Games big announcements, Project G.G. and The Wonderful 101 Remastered release date.
1:18:26 – News: Yacht Club Presents! Cyber Shadow, Shovel Knight Dig, Shovel Knight Pocket Dungeon and much more!
1:29:14 – Additional DLC
1:34:20 – Listener Mail
Additional DLC:
Business inquiries and listener mail contact:
NintendoEverythingPod@gmail.com
Listener Bonus: Help the show grow and support us by giving us ☆5 STAR☆ iTunes review! Thank you!
YouTube
Apple Podcasts / iTunes: https://apple.co/2xLl0C5
Spotify: https://spoti.fi/2Gdgoch
Direct Download
PocketCasts: https://pca.st/IQVa
Stitcher: https://bit.ly/30uxOZR
PlayerFM: https://bit.ly/2yfCu9P
ListenNotes: https://bit.ly/2SINTbG
PodTail: https://bit.ly/2yfDgDL
Oni Dino's YouTube "Gayme Married": https://bit.ly/2JK21xd
Oni Dino's Twitter: @Oni_Dino
Oni Dino's Insta: Oni__Dino
Galen's Twitter: @mobius087
Galen's Insta: true_mobius
HUGE thank you to Headphones of Listening for NEP's intro music! Check him out on soundcloud!
Leave a Reply