[Nintendo Everything Podcast] – episode #77 – Evolving Nintendo Switch games and desperate weirdos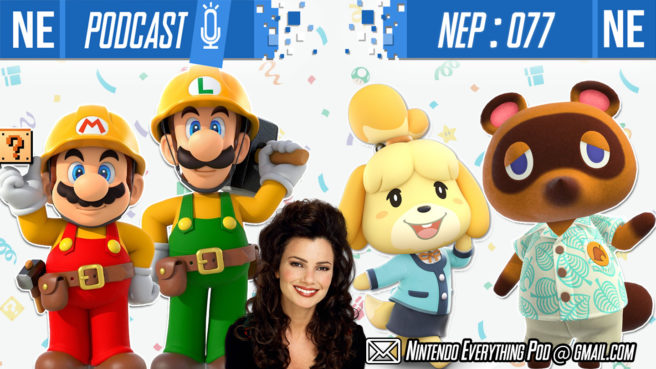 Hello my lovely listeners-as-a-service! This week on Nintendo Everything Podcast, we're bringing up the topic that Galen dubs, "evolving games". These are games like Splatoon 2 and Super Mario Maker 2 that are back-loaded with post-launch content. Is this new release and marketing strategy to keep a game topical good or bad? Why is it done? Is this a model that can sustain itself for years to come? We also have more Final Fantasy VII Remake impressions now that Oni Dino has beaten the game, and we go hypothetical in our listener mail segment with dream studios working on dream IPs.
If you're enjoying NEP, please consider giving us a 5 star review on Apple Podcasts, and share us with a friend. It's incredibly helpful in getting us exposed to new listeners through algorithms, so we would greatly appreciate your help. Thank you for listening!
Timestamps:
05:00 – Adventure Log: Galen plays a child's game: New Super Lucky's Tale
18:11 – Adventure Log: Soni Dino talks Final Fantasy VII Remake, battle system shining during boss battles, differences between Japanese and English dialogue, and spoilers from 29:40. Critiquing the story-telling, set-up, context.
44:25 – News: Evolving Games: Animal Crossing, Ninjala and Super Mario Maker 2 updates—Galen asks the questions and Oni Dino yells back.
1:13:05 – News: Some Nintendo Accounts illegally accessed through Nintendo Network IDs. What's the deal here? We break it down, and what you should do to protect yourself.
1:17:16 – News: Future Games Show, presented by Gamesradar, to replace E3's week with game announcements.
1:23:37 – Additional DLC
1:28:55 – Listener Mail: Our dream studios working with dream IPs
Additional DLC:
Business inquiries and listener mail contact:
[email protected]gmail.com
#nintendopodcast #gamingpodcast #podcast
YouTube
Apple Podcasts / iTunes: https://apple.co/2xLl0C5
Spotify: https://spoti.fi/2Gdgoch
Direct Download
PocketCasts: https://pca.st/IQVa
Stitcher: https://bit.ly/30uxOZR
PlayerFM: https://bit.ly/2yfCu9P
ListenNotes: https://bit.ly/2SINTbG
PodTail: https://bit.ly/2yfDgDL
Oni Dino's YouTube "Gayme Married": https://bit.ly/2JK21xd
Oni Dino's Twitter: @Oni_Dino
Oni Dino's Insta: Oni__Dino
Galen's Twitter: @mobius087
Galen's Insta: true_mobius
Leave a Reply