[Nintendo Everything Podcast] – episode #79 – Zelda and Mario Kut Koncepts, MK11 Aftermath pushback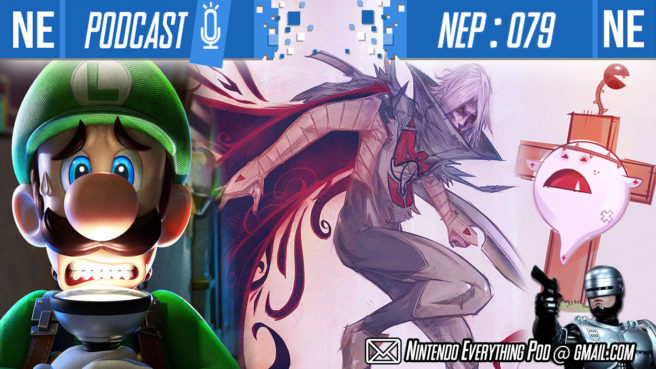 Hello my lovely Boos and Sheikah! This week on Nintendo Everything Podcast, we muse over Retro Studios' old concept art for Sheik and Boo projects—we really get excited about the Boo one. We cover the Switch's growing success with the 2019 financial briefings, then talk Mario Kart Mortal Kombat 11 Aftermath and the bitter reaction online to the pricing structure. This evolves into a larger discussion of these trends in the gaming industry among many publishers. Is the industry incentivizing consumers to wait to buy their games until after all post-launch content is available? And to respond to this situation they've created, do they exploit consumers' dedication to franchises and FOMO? And finally, we theorize how we could've saved the console that was met with a terrible fate: the Wii U.
Check our links and timestamps below, and come hang out.
If you're enjoying NEP, please consider giving us a 5 star review on Apple Podcasts, and share us with a friend. It's incredibly helpful in getting us exposed to new listeners through algorithms, so we would greatly appreciate your help. Thank you for listening!
Timestamps:
04:51 – Adventure Log: Luigi's Mansion 3 overstays its welcome.
28:19 – Adventure Log: Good Job! Good game!
40:15 – News: Retro Studios' Sammy Hall shares concept art on Sheik and Boo projects from late 2000's. We really brainstorm and run with the Boo project in particular.
53:45 – News: Nintendo's financial briefing shows big rupees and coins in the past year. Animal Crossing success—50% digital. Future plans.
1:01:08 – News: Mortal Kombat 11 Aftermath announced. Early adopters aren't pleased with the pricing structure. Also, a general conversation about buying games early VS waiting for "complete" editions.
1:24:37 – Additional DLC
1:28:03 – Listener Mail: We SAVE the Wii U!
Additional DLC:
Business inquiries and listener mail contact:
NintendoEverythingPod@gmail.com
#nintendopodcast #gamingpodcast #podcast
YouTube
Apple Podcasts / iTunes: https://apple.co/2xLl0C5
Spotify: https://spoti.fi/2Gdgoch
Direct Download
PocketCasts: https://pca.st/IQVa
Stitcher: https://bit.ly/30uxOZR
PlayerFM: https://bit.ly/2yfCu9P
ListenNotes: https://bit.ly/2SINTbG
PodTail: https://bit.ly/2yfDgDL
Oni Dino's YouTube "Gayme Married": https://bit.ly/2JK21xd
Oni Dino's Twitter: @Oni_Dino
Oni Dino's Insta: Oni__Dino
Galen's Twitter: @mobius087
Galen's Insta: true_mobius
HUGE thank you to Headphones of Listening for NEP's intro music! Check him out on soundcloud!
Ending song by Note Block.
Leave a Reply