[Nintendo Everything Podcast] – episode #87 – Embarrassing childhood shenanigans, Paper Mario frustrations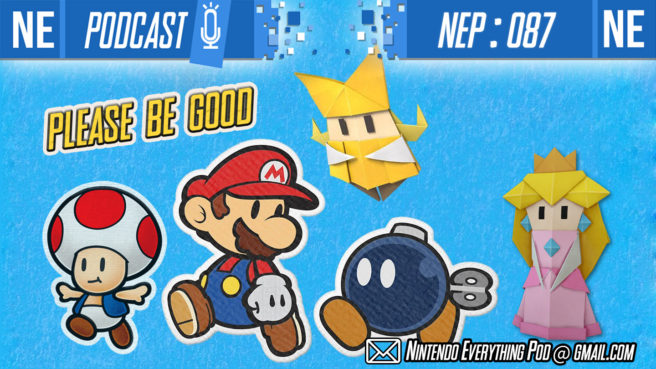 This week on Nintendo Everything Podcast, we start off with a melodramatic anime opening about Galen traveling during the pandemic. Galen has survived (for now…) and has horrible puns and impressions on Min Min in Smash Bros., while Oni Dino can't get enough Xenoblade. We then cover recent news, including new details on the soon-to-be-released Paper Mario: The Origami King. Will Origami King avoid gameplay flaws of the past two entries, Sticker Star and Color Splash? We also discuss what frustrations long-time fans feel with modern Paper Mario games. Is the player expectation VS developer intent unfair? And lastly, we share some embarrassing things we did as kids, inspired by video games.
Check out links and timestamps below, and come hang out.
If you're enjoying NEP, please consider giving us a 5 star review on Apple Podcasts, and share us with a friend. It's incredibly helpful in getting us exposed to new listeners through algorithms, so we would greatly appreciate your help. Thank you for listening!
Timestamps:
06:43 – Adventure Log: Super Smash Bros. Ultimate with Min Min
14:17 – Adventure Log: Gettin' stuck in with Xenoblade's bespoke writing in NPC quests
24:21 – News: Serious allegations of sexual abuse against many public figures across all kinds of media, video games being one of them. EVO canceled. Competitive Smash communities also affected.
27:12 – News: Paper Mario: The Origami King new details
43:50 – News: Devolver Direct 2020 happening July 11th. And Nintendo Direct rumors? Whatevs.
52:01 – Additional DLC
56:32 – Listener Mail: Stupid stuff games made us do as children. We basically created Resident Evil 7 a good 20 years earlier than Capcom.
Additional DLC:
Business inquiries and listener mail contact:
#nintendopodcast #gamingpodcast #podcast
YouTube
Apple Podcasts / iTunes: https://apple.co/2xLl0C5
Spotify: https://spoti.fi/2Gdgoch
Direct Download
PocketCasts: https://pca.st/IQVa
Stitcher: https://bit.ly/30uxOZR
PlayerFM: https://bit.ly/2yfCu9P
ListenNotes: https://bit.ly/2SINTbG
PodTail: https://bit.ly/2yfDgDL
Oni Dino's Twitter: @Oni_Dino
Oni Dino's Insta: Oni__Dino
Galen's Twitter: @mobius087
Galen's Insta: true_mobius
HUGE thank you to Headphones of Listening for NEP's intro music! Check him out on soundcloud!
Ending song by BotanicSage on YouTube!
Leave a Reply