[Nintendo Everything Podcast] – episode #89 – Paper Mario: The Calgon King, take me away!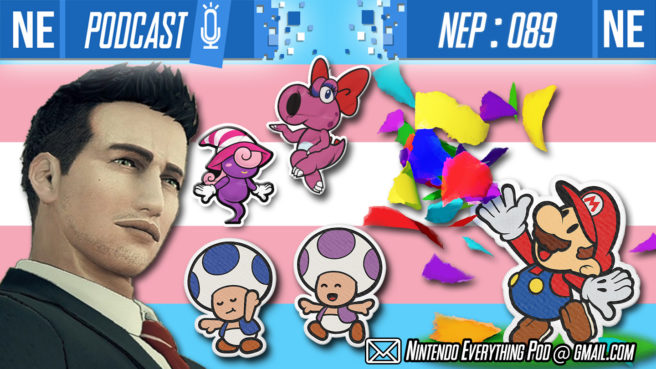 This week on Nintendo Everything Podcast, it's Super Mario's uneventful 35th birthday. But Paper Mario is out, and Oni Dino has first impressions. Galen loves his shlooters, so there's a brief talk about that and the inability to "preserve" the experience. In the news, we've got lots of small topics. The big one worth celebrating is Swery's (Deadly Premonition 2) apology and excellent response to dead-naming a transgender character in his game. Oni Dino applauds his caring response. Then, there's not one, but two video games being adapted into television series, Atelier Ryza 2 got outed by the Australian ratings board, and a brief discussion on why the lack of local co-op in Final Fantasy Crystal Chronicles Remastered is not a deal-breaker. Hop on the caravan, and check out links and timestamps below.
If you're enjoying NEP, please consider giving us a 5 star review on Apple Podcasts, and share us with a friend. It's the best way to support the show, as it gets us exposed to new listeners through algorithms. Thank you for listening!
Timestamps:
05:50 – Adventure Log: a discussion of games as a service a FOMO.
17:29 – Adventure Log: Paper Mario: The Oaxaca King
35:21 – News blast: Swery apologizes for dead-naming a transgender character in Deadly Premonition 2 and will rewrite scenes. Dragon's Dogma Netflix show. Indivisible TV show. Atelier Ryza 2 outed by Australian ratings board. Final Fantasy Crystal Chronicles doesn't support local multiplayer. Paper Mario devs say no more creative characters. Mario's depressing 35th
1:17:47 – Additional DLC
1:21:35 – Listener Mail: Crying at video games
Additional DLC:
– 10 things I Love/Hate About Deadly Premonition 2 – Matt McMuscles
https://youtu.be/1CsqdTne8I4
– A Message from Swery
https://youtu.be/vW0eQ6UQgGo
– DC Animated Harley Quinn
https://youtu.be/mT7A5-oxR3o
Business inquiries and listener mail contact:
#nintendopodcast #gamingpodcast #podcast
YouTube
Apple Podcasts / iTunes: https://apple.co/2xLl0C5
Spotify: https://spoti.fi/2Gdgoch
Direct Download
PocketCasts: https://pca.st/IQVa
Stitcher: https://bit.ly/30uxOZR
PlayerFM: https://bit.ly/2yfCu9P
ListenNotes: https://bit.ly/2SINTbG
PodTail: https://bit.ly/2yfDgDL
Oni Dino's YouTube "Gayme Married": https://bit.ly/2JK21xd
Oni Dino's Twitter: @Oni_Dino
Oni Dino's Insta: Oni__Dino
Galen's Twitter: @mobius087
Galen's Insta: true_mobius
HUGE thank you to Headphones of Listening for NEP's intro music! Check him out on soundcloud!
Ending song by jnWake feat. UV Sir J, XPRTNovice
Leave a Reply