[Nintendo Everything Podcast] – episode #90 – Desperate weirdos talk Nintendo Direct and Nintendo leaks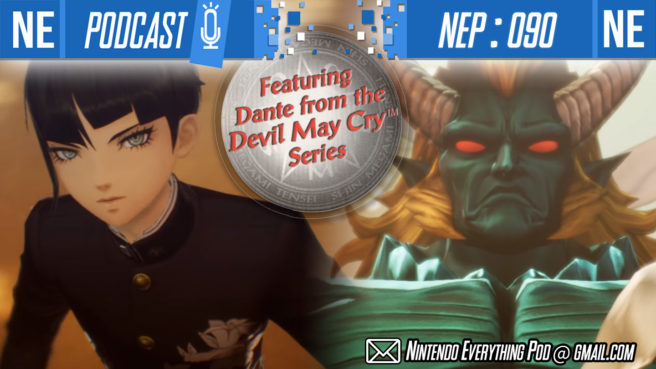 This week on Nintendo Everything Podcast, Oni Dino is blown away by unexpected character writing in Paper Mario. Then, the two desperate weirdos cover the Nintendo Direct Mini: Partner Showcase, aka a full meal for Shin Megami Tensei fans. Also in the news: Square-Enix and Yuuji Naka bring us a nightmare wonderland with Balan Wonderworld; the Suikoden spiritual successor that we desperately need, Eiyuuden Chronicle, is among us; and yet another leak springs of Nintendo source code, including a Pokemon GBA/PC game.
Check out links and timestamps below, and come hang out.
If you're enjoying NEP, please consider giving us a 5 star review on Apple Podcasts, and share us with a friend. It's incredibly helpful in getting us exposed to new listeners through algorithms, so we would greatly appreciate your help. Thank you for listening!
Timestamps:
– 07:46 – Adventure Log: Paper Mario actually goes places.
– 30:03 – News Blast: F-Zero twitter fake, Pokken Tournament DX free, Nintendo Direct Mini and Shin Megami Tensei, Balan Wonderworld, Suikoden spiritual successor "Eiyuuden Chronicle", Nintendo source code leaks
– 1:19:24 – Additional DLC
– x – Listener Mail: Games for hypothetical limited situations
Additional DLC:
– Kokoro Clover
https://store.steampowered.com/app/1353120/_Kokoro_Clover_Part1/
– Mighty Vibes Vol 3: Chill Tunes to drink Tea & Meditate to
https://youtu.be/8xz9s_-sO1I
Business inquiries and listener mail contact:
#nintendopodcast #gamingpodcast #podcast
YouTube
Apple Podcasts / iTunes: https://apple.co/2xLl0C5
Spotify: https://spoti.fi/2Gdgoch
Direct Download
PocketCasts: https://pca.st/IQVa
Stitcher: https://bit.ly/30uxOZR
PlayerFM: https://bit.ly/2yfCu9P
ListenNotes: https://bit.ly/2SINTbG
PodTail: https://bit.ly/2yfDgDL
Oni Dino's YouTube "Gayme Married": https://bit.ly/2JK21xd
Oni Dino's Twitter: @Oni_Dino
Oni Dino's Insta: Oni__Dino
Galen's Twitter: @mobius087
Galen's Insta: true_mobius
HUGE thank you to Headphones of Listening for NEP's intro music! Check him out on soundcloud!
Leave a Reply