Pokemon president on the Let's Go games, 2019 entry, Poke Ball Plus, Pokemon GO, more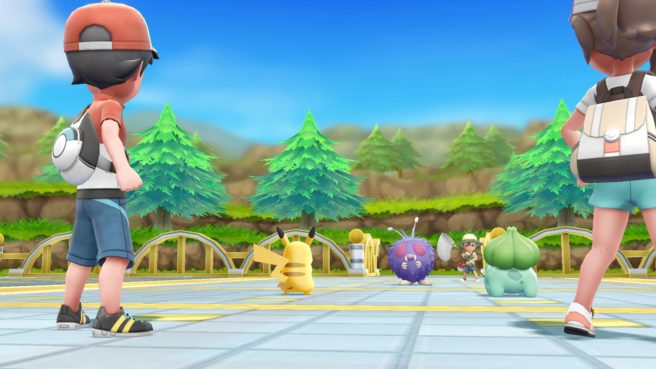 In a recent issue of Famitsu, the Japanese magazine published a pretty lengthy interview with Pokemon president Tsunekazu Ishihara. Ishihara had plenty to say about Pokemon: Let's Go: Pikachu and Pokemon: Let's Go, Eevee as well as the 2019 entry, the Poke Ball Plus, Pokemon GO, and more.
We've gone ahead and prepared a full translation of Famitsu's interview. Read the full discussion with Ishihara below.
Expanding the Pokemon games to the Nintendo Switch has a big impact, but how do you feel about the current state of the Nintendo Switch platform itself?

Ishihara: I don't know if this has the ability to persuade the people who said a year ago that the Nintendo Switch wouldn't sell [laughter], but up until that point a machine that integrated both handheld functionality and a home console was unheard of, so to be honest it was hard to know how it would sell. I didn't see it selling. However, the overwhelming fun of The Legend of Zelda: Breath of the Wild made it popular. I think that had a big impact.

For a launch title it was outstanding, wasn't it? A good game really boosts a platform.

Ishihara: Yes. Mario Kart 8 Deluxe and Super Mario Odyssey as well as other titles also had great timing and is helping widespread adoption. On top of that there are games like Nintendo Labo that include elements you don't normally see in games, so it's the ideal environment for a platform. I think this is a great opportunity for us to introduce new games and bring new experiences that will earn even more fans.

My impression is that Pokemon games up until this point have also been introduced at a point where the hardware already had a certain popularity and in turn accelerates adoption. Would now also be that kind of timing?

Ishihara: Exactly. However, the reason that we can release a title at this point in time is that we already had begun development at the time that the Nintendo Switch launched. That's the point where thoughts like "maybe the hardware won't sell?" changed to a feeling of "our game will give the platform traction". In a way, our second title this time around will be one of the driving factors behind that.

The Pokemon series has been focused on handheld devices for many years, so I'm very interested to see how the Nintendo Switch game will turn out. Will the play mechanics change?

Ishihara: Like you said, Pokemon: Let's Go, Pikachu and Let's Go, Eevee will be the first Pokemon entries for a stationary device. The Nintendo Switch does have the ability to play games on the go, but it was necessary to rethink development compared to how we've been doing it so far. That's where starting with Masuda-san there was a bit of trial and error. What should we attempt when deploying the Pokemon series to Nintendo Switch? Apart from improving the experience through graphics and sounds, what we decided on was the attempt connectivity with the Pokemon GO smartphone application.

It's a surprising idea, but that allows for expanding the play mechanics a lot, doesn't it?

It was the element that Game Freak has struggled with the most. By connecting the Nintendo Switch and smartphones, we created many technical challenges for both Nintendo and Niantic, and they were kind enough to listen to many unreasonable requests.

[The Pokemon: Let's Go, Pikachu / Eevee games are] very innovative and something we look forward to following the trends on after launch. By the way, what is your target audience?

Ishihara: Of course we'd like every fan to play our games, but we are especially interested in appealing to gamers who first encountered Pokemon in Pokemon GO and would like this to be the next Pokemon game that they play.

I see. Sort of an introduction to home console gaming, right? Hence a catching mechanic that's familiar to Pokemon GO players.

Ishihara: Yes. Masuda-san was deeply involved with the design and layout In Pokemon GO, so I was wondering what would happen if we import the same play style into the Pokemon series. Rather than battling a Pokemon, weakening it and catching it, you time your throw with the shrinking rings and catch the Pokemon. I feel like that would be the most natural way of catching Pokemon for Pokemon GO players. However, apparently there were comments like "That's not the Pokemon way" and expressions of discomfort from various people. [laughter]

But once they got to experience encountering a Pokemon, throwing the Poke Ball and saw the 'Excellent!!!" wording appear many of them changed their opinion.

There was also some discussion about the balancing and difficulty of catching Pokemon, but in the end we decided to adopt the Pokemon GO system.

There has been dramatic change in the Pokemon series, but is there an intent behind making challenging titles?

Ishihara: Thanks to Pokemon GO, there is new awareness of Pokemon from players who have never played those games before. All over the world parents and grandparents are playing Pokemon GO with their children. Those people are still at the entry stages of Pokemon and we'd like to take it up a notch. That being said, to suddenly go from Pokemon GO to the Pokemon series might be too big of a step for some people. I'm sort of repeating myself, but I'd like people to progress from Pokemon Go to Let's Go, Pikachu and Let's Go, Eevee which has a similar playstyle, before ultimately playing the main title that we are currently developing. That's our way of thinking.

Hence the daring change.

Ishihara: Yes. To sum things up, it's a different game Pokemon games we've had so far.

Changing the topic slightly, what was the reason for choosing Pokemon Yellow as the base for your entry to the home console market?

Ishihara: In Pokemon GO, you can bring a partner Pokemon with you and walk around with it, but if we go back to where that originated from, we arrive at Pokemon Yellow. In Pokemon: Let's Go, Pikachu and Pokemon: Let's Go, Eevee we wanted to expand this component even further. Pikachu is always following Ash around in the anime, and Eevee is popular as well thanks to its ability to involve into many different forms. And as I mentioned before, we want this to be the game that people play after Pokemon GO so since the Pokemon from Pokemon Red, Blue, Green, and Yellow appear in Pokemon GO as well this seemed like a good choice. Based on those things, we decided that Pokemon Yellow would be the perfect choice.

By the way, looking back now at Pokemon Yellow, what kind of game do you think that was?

Ishihara: At the time in 1996, Pokemon Red and Green had been released around the world and we had started working on Pokemon Gold and Silver, but we felt that this wasn't your average run of the mill development cycle, so during all of that, Game Freak worked on Pokemon Yellow. That's just around the time when the anime had begun and many people were seeing Ash's adventures on their TVs at home. We decided that if we were going to make a game for those people, something focused on Pikachu would be best. As you know, this resulted in the first game that allowed you to have Pikachu walking along with you and brought together the games and the TV show.

And now 20 years have passed. With the understanding that Pokemon: Let's Go, Pikachu and Pokemon: Let's Go, Eevee are based on Pokemon Yellow, will there be any differences?

Ishihara: The process of catching Pokemon and the tempo of the game itself has changed a lot. Furthermore, you can now play with just a single Joy-Con and can throw Poke Balls by flicking the Joy-Con as well, so the control scheme has changed a lot too. Being able to use a second Joy-Con to add a second player is also something that wasn't part of the previous game.

What kind of experience should we picture when playing this game in two player mode?

Ishihara: If a second player uses a Joy-Con, a second player will show up in the game and can help out with catching Pokemon and during battles. If you cooperate well together, it should allow players that aren't used to Pokemon games to progress smoothly through the games story as well. Furthermore, for those of you who are aiming to complete the Pokedex, I think this will make it easier and more fun to catch all Pokemon.

It seems like the connection to Pokemon GO might change how you collect Pokemon in game as well.

Ishihara: That is true. There are many players who have caught hundreds, if not thousands of Pokemon in Pokemon GO, so questions like "should we allow players to transfer those to Pokemon: Let's Go, Pikachu and Pokemon: Let's Go! Eevee?" and "how do we accomplish that?" kept piling up, but we're figuring out ways to make sure that everyone can enjoy collecting Pokemon.

Furthermore, since the game is on a home console now, the graphics and the fact that you can play the game on a big screen make this an almost entirely different game to Pokemon Yellow.
Leave a Reply