Pokken Tournament dev tidbits – Wii U reception, making the game approachable, more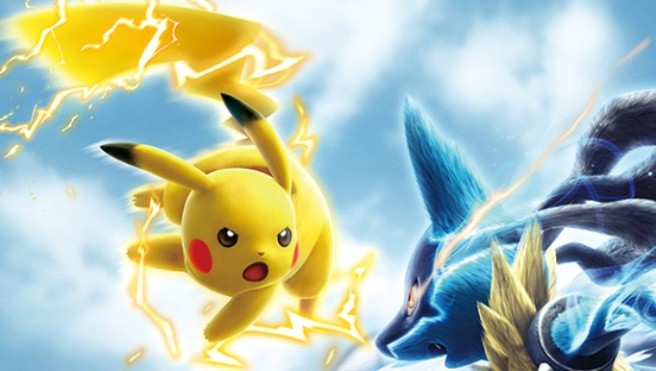 In one of its recent issues, Famitsu published an interview with the developers behind Pokken Tournament. The magazine spoke with director and chief producer Katsuhiro Harada, director Haruki Suzaki, and producer Masaaki Hoshino. Topics include the reception on Wii U, trying to make the game approachable, and more.
We have a summary of the full interview. To read our translation, head past the break.
– About one month has passed since Pokken Tournament was released for Wii U. Reactions from inside and outside Japan have been mostly positive with only a few negatives.
– Many of the comments from players are along the lines of "please keep raising this franchise", which according to Harada has two meanings. The first is to add more Pokemon (which Harada laughed at), while the second one is to continue managing the user base and hold events in the long term.
– With the release of the console version, they're able to reach a broader user base from the Pokemon fanbase. Many of these people are also interested in seeing (non-combatant) Pokemon that appear in stages, or the game itself that doesn't really look like a usual fighting game. When the game was being shown on storefronts in the US, a lot of people were interested when looking at it.
– They developed Pokken Tournament with the aim so that even people who aren't well experienced with fighting games can also have good battles. To accomplish that, the moves were made to be flashy yet simple to execute.
– For example, Pikachu can launch an uppercut that looks like [Kazuya's] Wind God Fist in Tekken. But if the latter required a difficult execution, Pikachu's uppercut can be done by only pushing forward + Y.
– With easy move executions, many players can enjoy battle tactics faster, like when the perfect timing is to launch a move, or whether to guard or not. Foreign players are pleased by this, and they said "It's new as a game, and there are also new people playing it".
– The dev team made a big fuss on making a fighting game (which has a steep entry barrier) for Pokemon (which has a very broad fan base), so they focused on making the game fun to both play and watch. And they were glad that the finished product could be accepted by the players.
– With the release of the Wii U version, players on arcades have also increased. There were people who were afraid to play versus in the arcades before, but after the Wii U version came out, they could have more time to train [at home with Wii U] and feel more confident.
– There are also some people who play the arcade version first, then buy the Wii U version, so there are some reciprocal effects.
– When only the arcade version was out, foreign players were of course disappointed that a console version wasn't released yet, but they still highly valued the game itself, and the team was able to get valuable feedback from them and used this to brush up the console version.
– When the Wii U version was initially out, Braixen was the highest in the Pokemon usage ratio, but recently the usage ratio should be level for all. The team was worried whether there were overpowered Pokemon, but was relieved after this finding.
– After all, the tendency of players in Pokemon games have been about using Pokemon they like the most, not just using strong Pokemon.
– When Harada looked at qualifier tournaments for EVO abroad, a broad variety of Pokemon were used by people. He still would like to see [how the tendencies move] within the next half or full year.
– The Wii U version was released after receiving adjustments from results of past tournaments including Tokaigi 2016, and the arcade version is also receiving regular updates. According to Hoshino, this could be the part Harada mentioned about North American players receiving it well.
– For giving tips to new players, the team puts an emphasis on a 'triangle system' in the attacks. First of all, players are advised to guard well to block enemy attacks and find an opening. However when they keep blocking all the time, the opponent may eventually grapple them, which is actually part of the game's tactics. Eventually they'll also learn that normal attacks have better priority against grapples, which complete the attack triangle system.
– One of Pokken Tournament's characteristics is that it has a very visible hint when a player is guarding, because in usual fighting games, it's hard to determine whether the opponent is guarding or not.
– Unlike other fighting games, Pokken Tournament doesn't have high/mid/low attacks; all attacks can be blocked with a simple push of guard button. However, since the guard sign is lit up, it also gives a clear signal to use grab attacks against them.
– After the Tokaigi tournament in late January, there have been an increase in arcade players, and with the Wii U version out there have been even more people playing it, so they're looking forward to many things, such as the performance of Tokaigi high rankers and Wii U new players alike, or the performances of new Pokemon added in the Wii U version.
– Harada initially thought people who picked Pikachu were weak ones, but he pulled that statement, and instead would like to see a Pikachu or Pikachu Libre performing well in tournaments.
– The team also gives tips to people who want to join tournaments but are afraid to actually join. Especially if they only played in consoles and never in arcades, they could also feel some anxiety, but if they can win one round it can cause a good catharsis, so the team encourages them to join those tournaments casually with heart-throbbing feelings.
– Pokken is also decided to be a part of the Pokemon World Championships 2016. Hoshino is going to heavily root for Japanese players to win, while Suzaki and Harada are more interested in how foreign players, who entered Pokken with the much-later-released Wii U version, can cope with the tournaments.
– Harada shared a special memory. When he attended last year's Pokemon World Championships 2015, he shook hands with a young boy, who thanked him for 'creating this game [Pokken]'. He said he'd like to bring that kid to Japanese arcades, beat up people there in the game, and make him thank Harada again for 'creating a game I [the kid] can become champion of' while laughing.
Final messages:
Hoshino: The dev staff has also injected the Pokemon love into the Wii U version. Other than the added [playable] Pokemon, the Pokemon that appear in stage backgrounds are also created thoroughly, so please take a look at them. Furthermore, Pokemon body details like their muscles and hair are displayed in very high detail with all of our team's technologies unlike anything in past Pokemon series, so we'd also like to recommend this to those who 'want to see cool-looking Pokemon'.
Suzaki: We created it with an emphasis of being fun to touch/play and watch, so by starting from watching the video, if you feel interested in it by even a little bit, you should try touching [actually playing] the game.
Harada: This genre has never been used in past Pokemon games, so there may be some people who wonder 'whether this game fits them or not'. If you're a Pokemon fan, this game will definitely be enjoyable to you, so please try playing it. You can easily launch moves and quickly grasp the exciting parts of the game's tactics. While there are many games that are difficult to reach high-level tactics, this game has content that is simple to grasp.
---
Thanks for making it to the end of this post! If you use any of this translation, please be sure to properly source Nintendo Everything. Do not copy its full contents.
Leave a Reply