Runbow now official for New 3DS and Wii U with retail versions, Shantae collaboration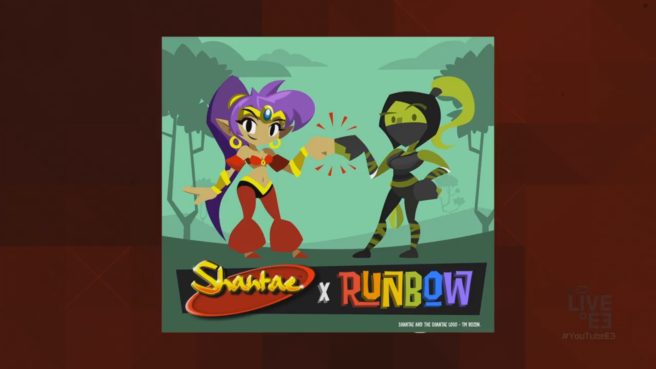 Three announcements pertaining to Runbow were just announced during a Nindies segment on YouTube's E3 stream.
First up, Runbow is officially heading to 3DS – but only on New 3DS. It'll be getting a retail version later this year along with Wii U.
Shantae will also be added to Runbow as the latest indie collaboration character. She'll be made available at no extra cost.
Here's a trailer for Runbow on New 3DS, which carries the "Pocket Deluxe" name:
Head past the break for today's full announcement with a few additional details.
EDISON, New Jersey – June 13, 2016 – Nighthawk Interactive has revealed it will bring independent developer 13AM Games' party platformer Runbow Deluxe to Nintendo's Wii U system and Runbow Pocket Deluxe to the New Nintendo 3DS hand-held system later this year. An updated release of the original Runbow, these new versions include all of the DLC launched for the game since it debuted last year on Wii U, including a new story adventure, levels, costumes, characters and more.

Runbow Deluxe on Wii U supports competitive multiplayer for up to nine players locally and online and comes with a bonus download for the game's two-volume original soundtrack.

Runbow Pocket Deluxe takes all the fun of Runbow on the go with new StreetPass functionality for exchanging information, like favorite character and best Bowhemoth run time. It also comes with an exclusive theme download for New Nintendo 3DS.

Bursting with hundreds of stages, Runbow is a fast and frantic action game featuring multiple gameplay modes and a uniquely challenging mechanic in which platforms and obstacles in the environment appear and disappear in tune with shifts in the world's color palette. The game is drawn with colorful art design inspired by 1960s animation and includes playable guest characters like Shovel Knight (Shovel Knight), Juan (Guacamelee!), Drifter (Hyper Light Drifter), CommanderVideo and CommandgirlVideo (BIT.TRIP RUNNER), Max (Mutant Mudds Super Challenge), Gunvolt (Azure Striker Gunvolt) and many more, including the just-announced addition of Shantae (Shantae Half-Genie Hero).
Leave a Reply