SEGA 3D Fukkoku Archives 3: Final Stage devs on how the included games were chosen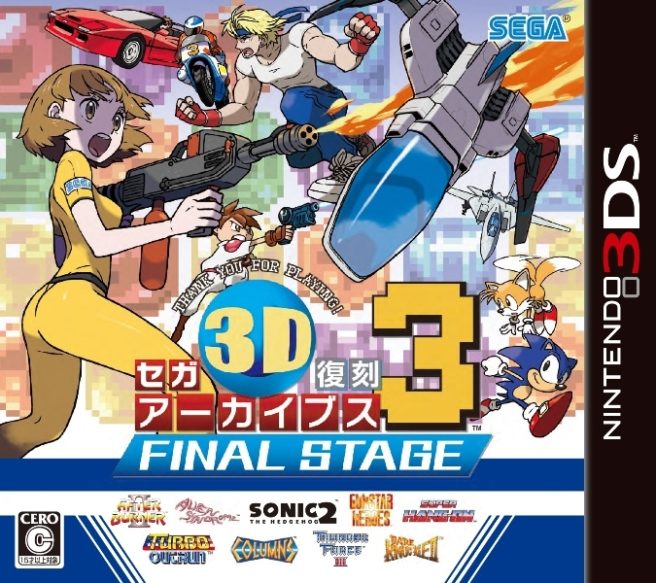 SEGA 3D Fukkoku Archives 3: Final Stage shipped in Japan this week. To mark the game's launch, Famitsu caught up with developers Yosuke Okunari and Kagasei Shimomura for an interview.
During the short discussion, Okunari and Shimomura explain how they settled on the games to include for the latest collection. The two also commented on the additions of Alien Syndrome and Columns as well as why the two bonus games were chosen. If that wasn't enough, Shimomura left the door open to returning to SEGA 3D Classics in the future.
Continue on below for our full translation.
How did you come to decide on the lineup of games for this title?
Okunari – Several of our core members, including Mr. Naoki Horii from M2, settled on them after much deliberation. Someone said, "Get as many in there as we can!" around the start of planning, but they were crazy thinking they could prepare thirty SG-1000 titles in time (laughs).
Shimomura – We promised we'd include the most requested game from the player survey from the previous collection, but we weren't sure if we'd have the winner ready in one year. We expected something like Virtua Racing or Virtua Fighter to win, so we asked M2 to test whether those games would run on the 3DS. But in reality it was Turbo OutRun and Virtua Racing that were the most requested, with Turbo OutRun pulling ahead in the final stretch. We were also
able to acquire the rights from Technosoft, allowing us to to fulfill our long-held wish to include Thunder Force III.
What made you decide to include Alien Syndrome and Columns?
Shimomura – During development we decided that, since the previous title totaled ten games when you included the bonus titles, there was no way we'd have any fewer in this collection. Even though M2 pleaded with us that their hands were full, they had previously examined whether Alien Syndrome would be possible, and we managed to persuade them to include it. We also convinced them to include Columns, which had been a candidate for the previous title.
Okunari – But, while we were in the process of planning the port of the arcade version of that, I suddenly sent them back to the drawing board, telling them "The same devs worked on both, we should use the more complete Mega Drive version!" Despite my absurd request, M2 pulled through and got it done.
And what was your reason for choosing the two bonus titles that you did?
Okunari – As I mentioned, M2 were already working on four different titles, meaning I would have to come up with a reason that would convince them to work on even more. So, I told them we should draw the curtain on this series by including the debut titles from Mr. Yu Suzuki and Mr. Yuji Naka, who were the lead developers at SEGA during the 80s and 90s.
Shimomura – Of course, M2 told us it would be impossible when we first asked them. But Okunari simply said "We have to make the collection complete by including their origins!", and Mr. Horii agreed and made the necessary adjustments within M2.
Okunari – I know I was being unreasonable, so I told them they wouldn't be required to include stereoscopic 3D functionality. However, not only did they include it anyway, they even added extra features! So I have nothing but praise for them. (laughs)
Lastly, do you have any messages for our readers?
Okunari – This title was like the conclusion of all of our work from the last 4 years, which is why we added the "Final" subtitle to the name. The collection is very dense for its price, so I hope that anyone who has been following the series will enjoy its "final stage". People who tend to pick up box sets of shows they like after a series finishes should definitely check out the Triple Pack, which includes all three games!
Shimomura – I say this every time one of our games goes on sale, but the goal of this project was to pour our hearts and souls into each and every title. And I can say that we genuinely accomplished our goal this time. This marks the end of our journey, but since the project goes hand in hand with our customers, if there's great demand we may return to it once again!
—
Champion Boxing
Okunari – "The origin of Virtua Fighter, to some extent"
One of the "Champion" series of sports games by SEGA at the time, Yu Suzuki's debut work. It was originally intended to be a home console game, but due to being such a well-designed game, SEGA rushed to release an arcade version as well. There are a variety of different punches, so you could say it's got some roots in the fighting game genre.
Girl's Garden
Okunari – "A fanciful game aimed at girls/girl gamers"
Yuji Naka worked on this as his sort of introduction to game design within the company, and it was released to the public because of its high quality. His awareness of the importance of having games appeal to girls as well was ahead of the curve. Though he was the programmer for the game, Hiro (known for his musical work in Out Run and other games) worked on its music as well.
---
Massive thanks to Gessenkou and iYakku for their help with this translation!
---
Thanks for making it to the end of this post! If you use any of this translation, please be sure to properly source Nintendo Everything. Do not copy its full contents.
Leave a Reply