Shantae Advance: Risky Revolution, lost Shantae GBA game, finally releasing in 2024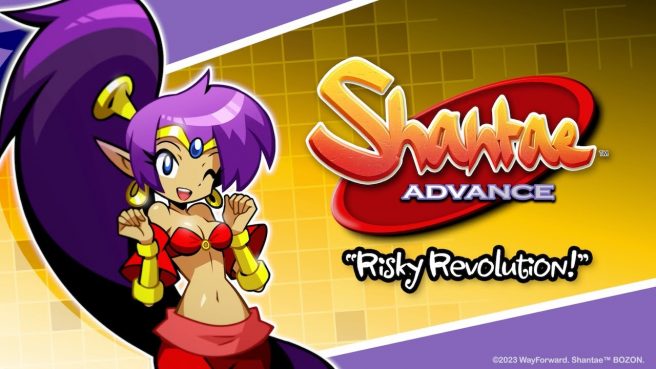 Original (7/12): WayForward has revealed that Shantae Advance: Risky Revolution, a game that was originally in development during the Game Boy Advance era, is finally seeing an official launch. It will be available on an actual GBA-compatible cartridge in early 2024, courtesy of Limited Run Games.
Shantae Advance: Risky Revolution was put on the shelf for nearly two decades. Now, however, the once-canceled title will be completed. Shantae creator Erin Bozon, series director Matt Bozon, and programmer Michael Stragey are using GBA-era development tools to authentically complete the handheld experience. There'll be multiple chapters, numerous towns and labyrinths, six creature transformations, fierce bosses, and a soundtrack from Maddie Lim, plus a four-player battle mode.
Here's some additional information:
Filling in the gaps between the original Shantae (2002) and Shantae: Risky's Revenge (2010), Shantae Advance: Risky Revolution sees Shantae protecting Sequin Land from a twisted new plot orchestrated by her nemesis, the pirate Risky Boots. Using a secret subterranean device, Risky is able to rotate and rearrange the continent, plunging it into chaos and giving her more coastal cities to plunder. Fortunately, by harnessing this technology and the knowledge of the Relic Hunters, players will be able to turn the tables on Risky, giving Shantae new paths through environments and a chance to thwart the villain's scheme.
Bozon said of today's Shantae Advance: Risky Revolution news: "Restoring the lost Shantae sequel has been an incredible adventure! After reuniting as a team, we restored the original game demo, and now are working hard to complete the full game on original hardware! This isn't a demake or a new retro-style game, but an actual GBA-era title that was lost to time. We paused development in 2004, and now we're back at it nearly 20 years later with the same tools, hardware, and Link Cables that we were using back then. It's crazy, it feels impossible, but it's happening! We're on a time-travel mission to save Shantae Advance: Risky Revolution, and finally bring it to the fans!"
Check out the first trailer for the game below.
LRG3 Reveal trailer
---
Update (11/14): Shantae Advance: Risky Revolution has now been officially announced for Switch.
Leave a Reply