Skylanders SuperChargers dev on the Nintendo collaboration and more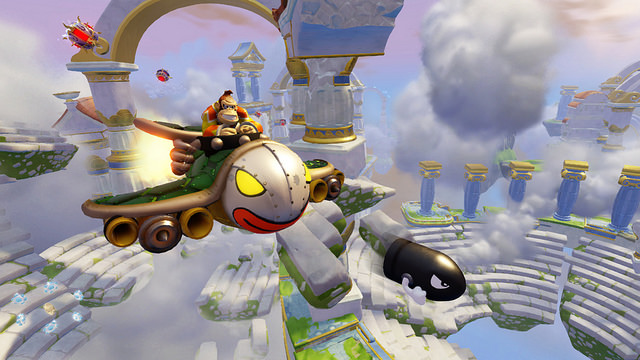 During Gamescom this week, NintendOn spoke with Vicarious Visions co-founder Guha Bala. There was plenty of talk about the Nintendo collaboration in Skylanders SuperChargers, as well as a few other topics such as the decision to continue using a portal rather than the GamePad's NFC functionality.
As always, you can find a few excerpts from the interview below. The full discussion is located here.
On how the concept of casting Nintendo characters in Skylanders came about…
Guha Bala: So for us, we've had creative interactions and collaboration with Nintendo for a long time.
You know, at the very beginning of Skylanders the Nintendo platforms were so important.
That's where our customers have been, and so Wii and the 3DS were very important, we were there at the Wii U launch as well and when we talk about doing vehicles for Skylanders, and when Nintendo announced they were going to do amiibos, [we tought] maybe we could figure something out that makes sense for both of us, and also do something unique and creative and novel as well, and that's how we started.
So I think they came up with the amiibo sometime in the middle of 2014 and they said "what could we do to do something creative together?" and it naturally went to "let's pick a couple of characters that haven't been done in a 3D environmental form and let's take a unique twist on them, and let's do it in a way that we give value to both the amiibo customers as well as Skylanders".
So in that sense picking Donkey Kong, designing him as a Skylanders version of Donkey Kong, 'cause Donkey Kong has really not appeared in a 3D action environment since DK64, he's been more in the sidescrolling interactions for Donkey Kong.
So that's a unique set and totally new upgraded set of moves. And then Bowser, he has never really been playable in 3D before, and especially as an hero. And I think that Smash Brothers and this type of games and other he is appeared in.
…and so Nintendo gave us the opportunity to explore the history of these characters, to put them in Skylanders in a very Skylanders way, and both Nintendo and Activision collaborated to say "how do we come up with unique designs, where you can make each of these characters a Skylander and an amiibo, but in a very simple way so everybody can figure this out?"
On whether it was difficult adapting Bowser and Donkey Kong to the Skylanders style…
GB: Yeah, I think that the actual creative development flowed really naturally, between our character designers and our game designers and the team at Nintendo, the characters designers and game designers at Nintendo.
So we worked with the original creators and designers of Bowser and Donkey Kong, you know with the team at Vicarious Visions, and actually the interesting thing is [that] the creative team at Nintendo has unique ways they wanted to take the characters too, and we were able to collaborate on this, to say "this fits Skylanders, this also is a really nice exploration for Donkey Kong and Bowser", and they were so happy to work on this with us and come to this point. So that worked out really nicely, and one of the best things about Skylanders is finding unique ways to do things, unique original designs.
On whether he believes that amiibo and Skylanders share a common target market…
GB: You know I think that Skylanders appeals to a large Nintendo audience, it always has, of course amiibo is targeted on the Nintendo audience as well, and both set of toys have strong collectability.
I mean, Skylanders unique designs can only be found in Skylanders and certainly many collectors love amiibo so there is some overlap, but there is also a lot of common interest. We can do things in Skylanders that can't be done in any other game.
Skylanders is designed to be played with our toys and also offers unique ways to explore these two particular characters, while the amiibo are more like accessories.
On the decision to keep using the portal, and not the NFC on the Wii U GamePad…
GB: Now with the portal, the portal itself works differently than any other technology allows, and it's about making it so you can put multiple characters and vehicles and bring them to life immediately, you can play with your friends in a very unique way. The fantasy of bringing toys to life, is about the "boom" moment of putting your toy down and seeing it come up, and that experience comes together with the portal.
The portal is… part of the magic, and so it's almost like saying, well you don't need to have a guitar for guitar hero, that doesn't make sense because it is about the feeling of being a portal master: having that magical power.
I remember when I played with my daughter, my daughter is now almost nine but she was almost six when she first started SSA and for her the magic of bringing toys to life, that's what made it so special for her, we never wanna step away from that, that magic is so important.
Leave a Reply