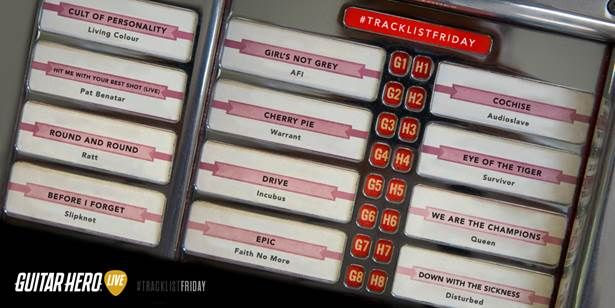 Today, Activision announced another set of songs that will be included in Guitar Hero Live. Each one is listed below.
1. Living Colour – Cult Of Personality
2. Pat Benatar – Hit Me With Your Best Shot (Live)
3. Ratt – Round and Round
4. Slipknot – Before I Forget
5. AFI – Girl's Not Grey
6. Warrant – Cherry Pie
7. Incubus – Drive
8. Faith No More – Epic
9. Audioslave – Cochise
10. Survivor – Eye of the Tiger
11. Queen – We Are The Champions
12. Disturbed – Down With The Sickness
Activision has also announced its official Spotify Playlist, which will be updated as new songs become playable in the game. Fans can subscribe and stay tuned for updates as new tracks become playable in GHTV.
Source: Activision PR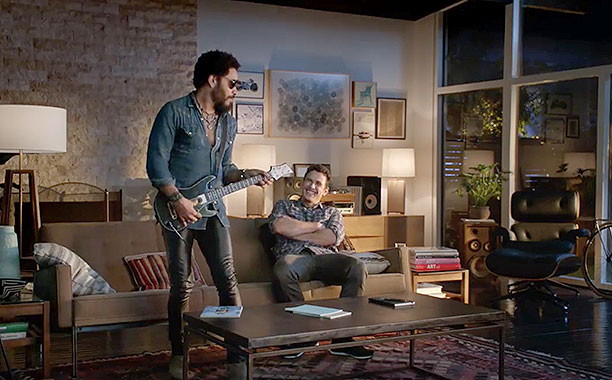 Update: Added in the full trailer.
---
Activision hired a pair of celebrities for its Guitar Hero Live commercial: Lenny Kravitz and James Franco. You can view it below, courtesy of Entertainment Weekly.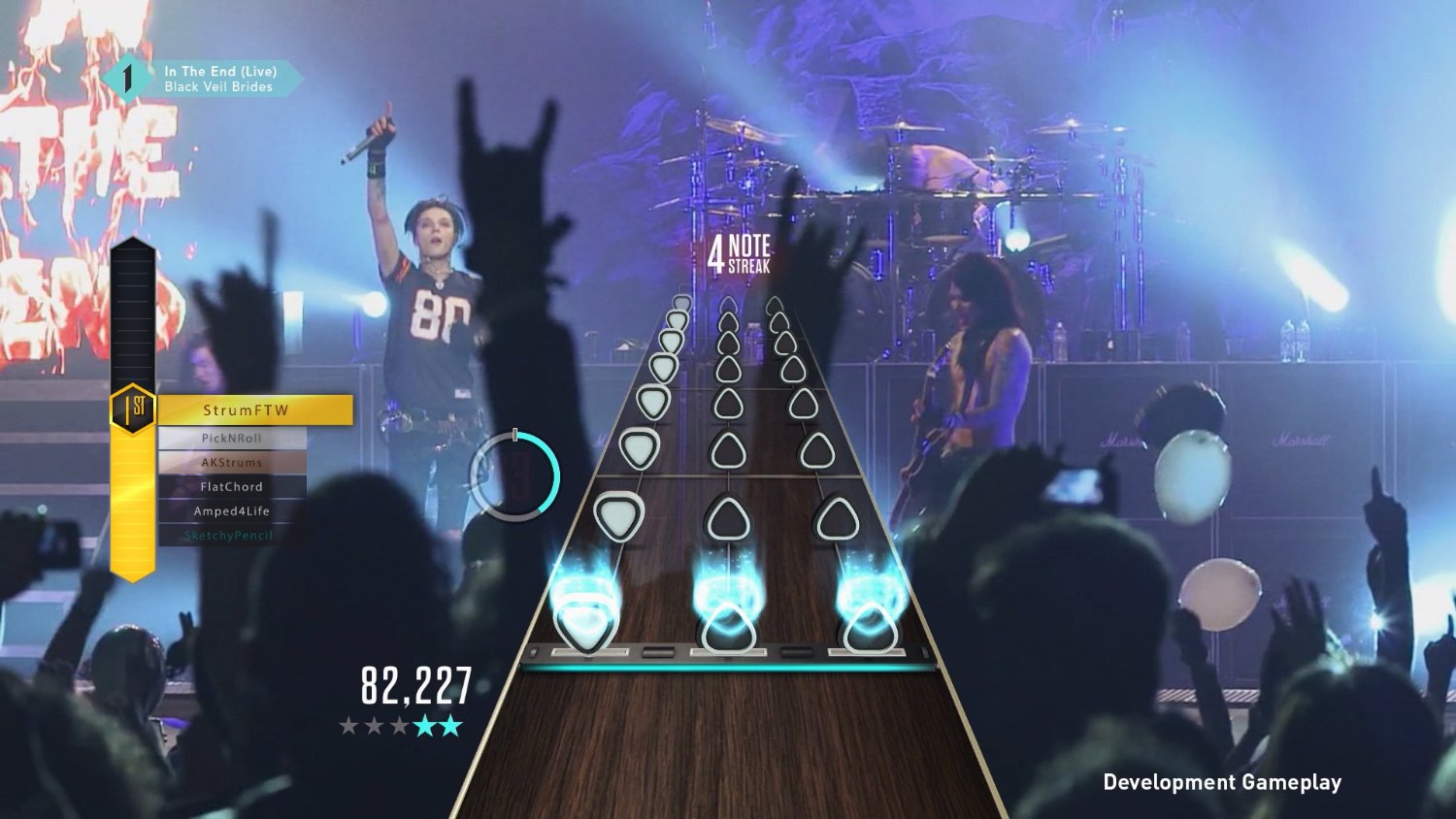 With Guitar Hero Live just a few weeks away, new footage is starting to emerge. You can view four new clips below.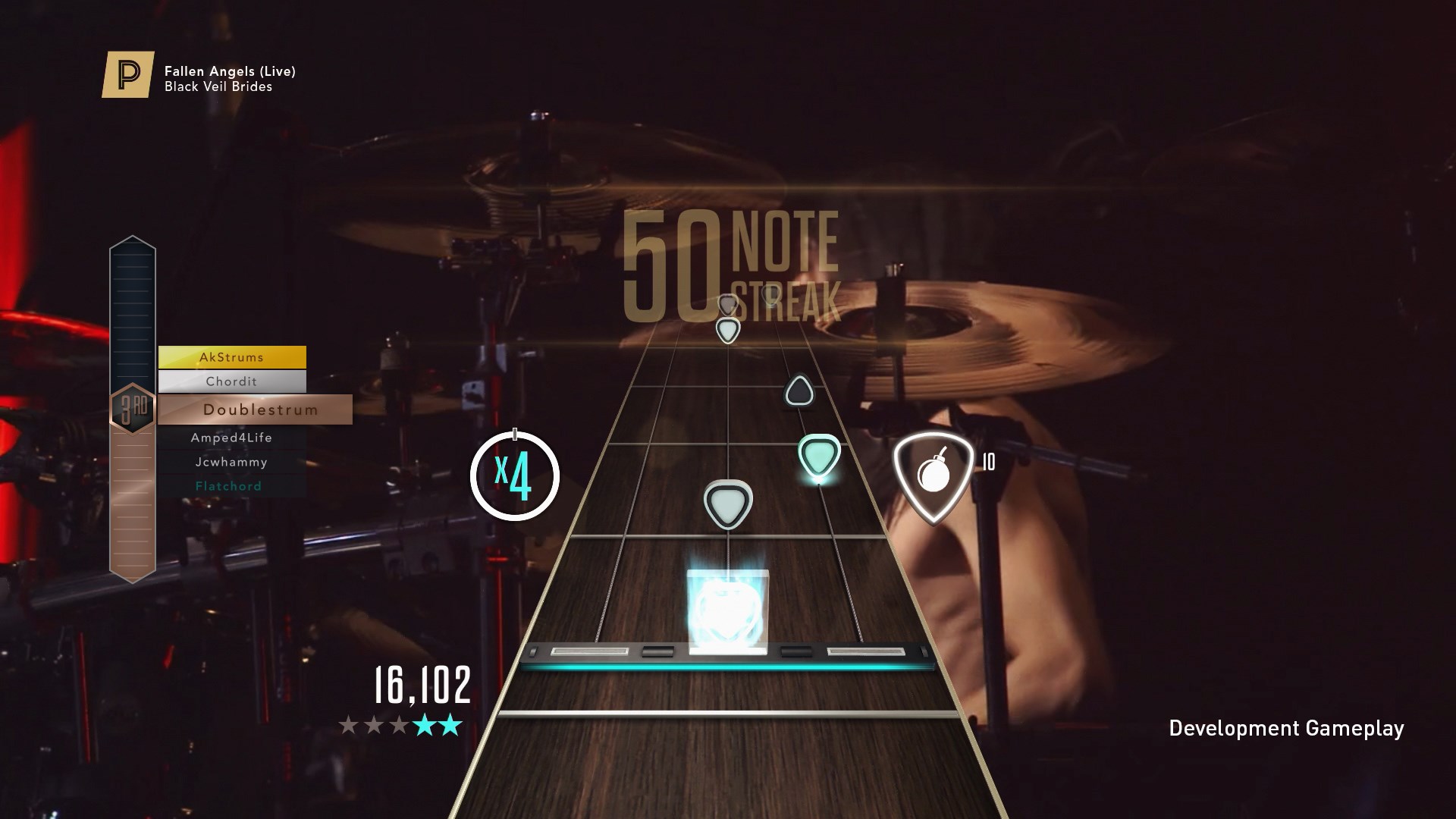 GameSpot has a new video up from Guitar Hero Live showing Guitar Hero TV gameplay. Check out the footage below.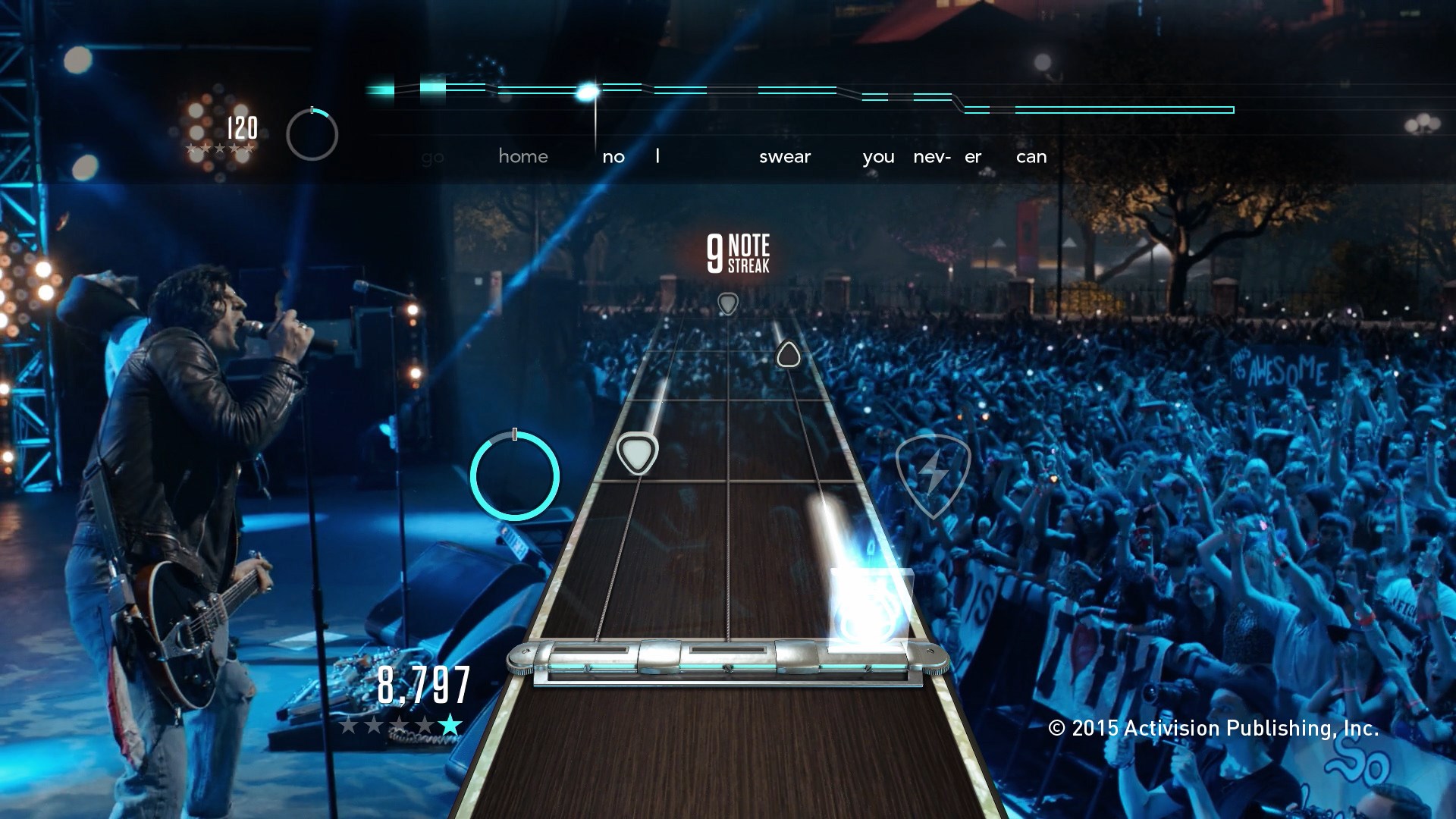 Today, Activision and FreeStyleGames announced the three Avenged Sevenfold songs that will be playable in the GHTV Premium Shows in Guitar Hero Live. Those are as follows:
"Shepherd of Fire"
"Buried Alive"
"Nightmare"
Each one of the Avenged Sevenfold tracks will feature concert footage recorded at the band's headline performance in front of 70,000 fans at England's Download Festival. By pre-ordering Guitar Hero Live, you'll receive access to the bonus Avenged Sevenfold content, which includes this premium show, a custom note highway and more.
Source: Activision PR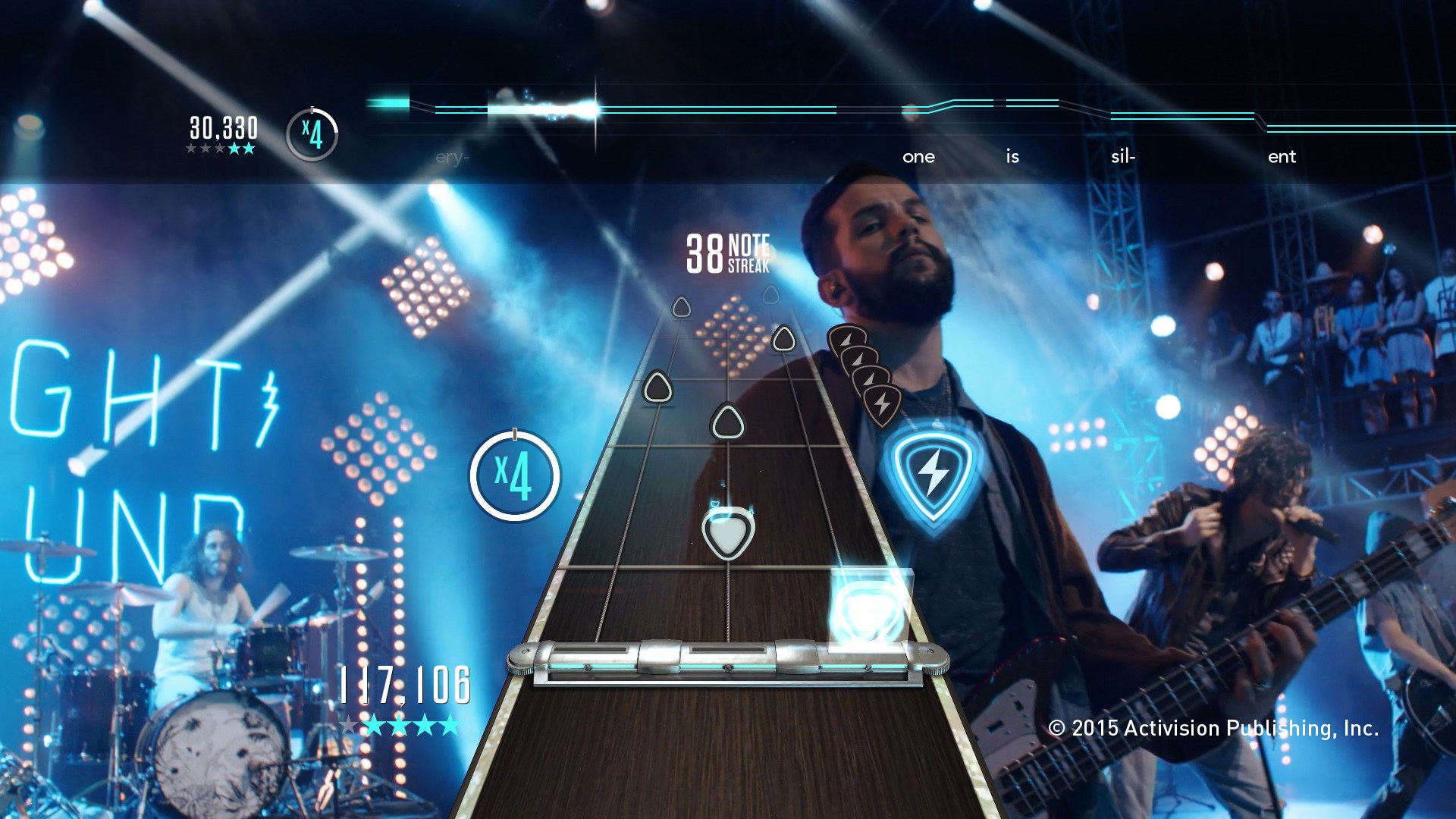 Today, Activision announced another set of songs that will be included in Guitar Hero Live. Each one is listed below.
1. Pearl Jam — "Sirens"
2. Surfer Blood — "Demon Dance"
3. Gerard Way — "No Shows"
4. Orianthi — "According to You"
5. Haim — "The Wire"
6. Tonight Alive — "The Ocean"
7. Lamb of God — "Ghost Walking"
8. 36 Crazyfists — "Also Am I"
9. Wavves — "Demon to Lean On"
10. Passenger — "Let Her Go"
Guitar Hero Live launches on Wii U on October 20.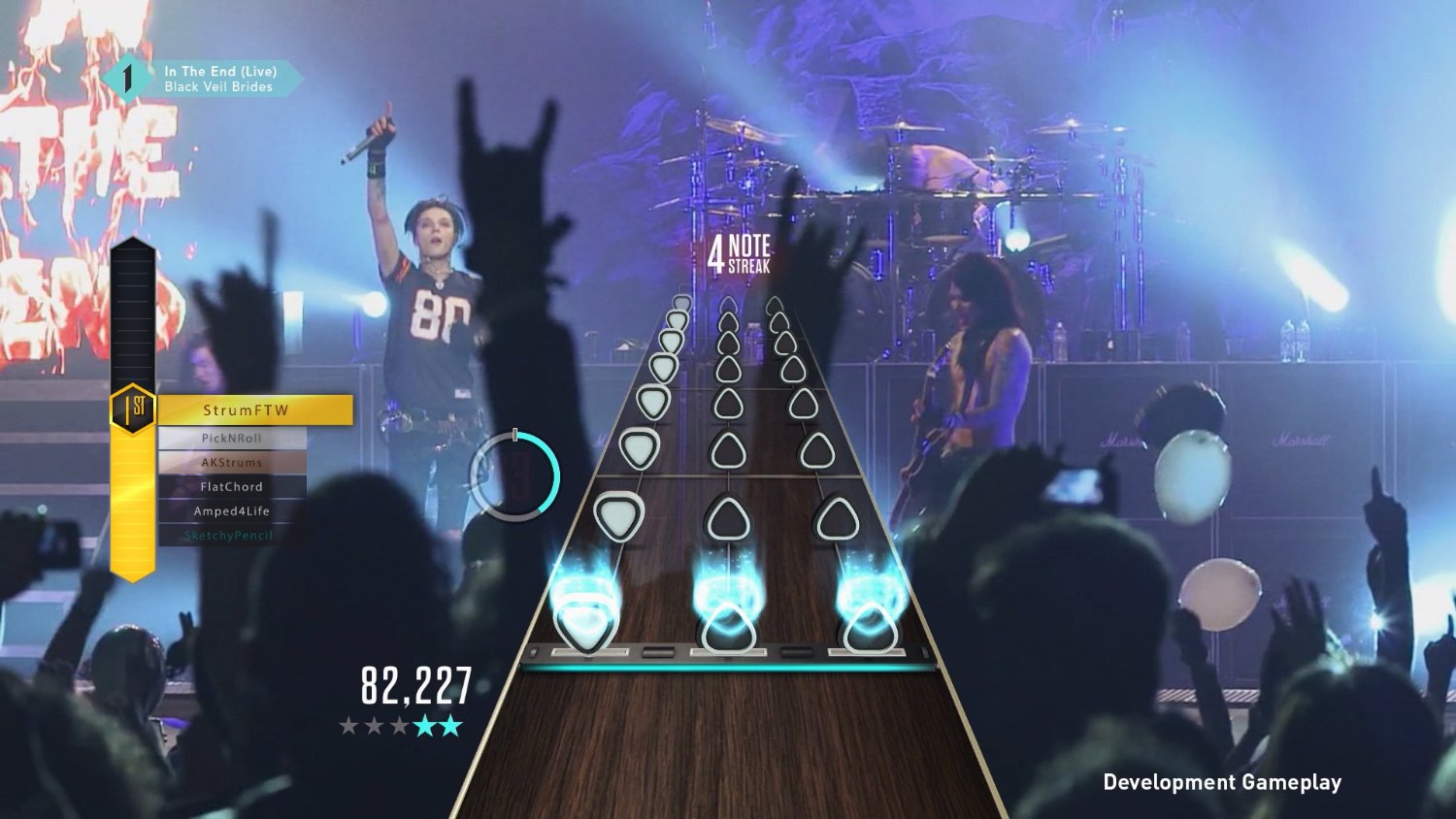 A new video of Guitar Hero Live has been posted by GameSpot from PAX Prime 2015. Take a look at the latest footage below.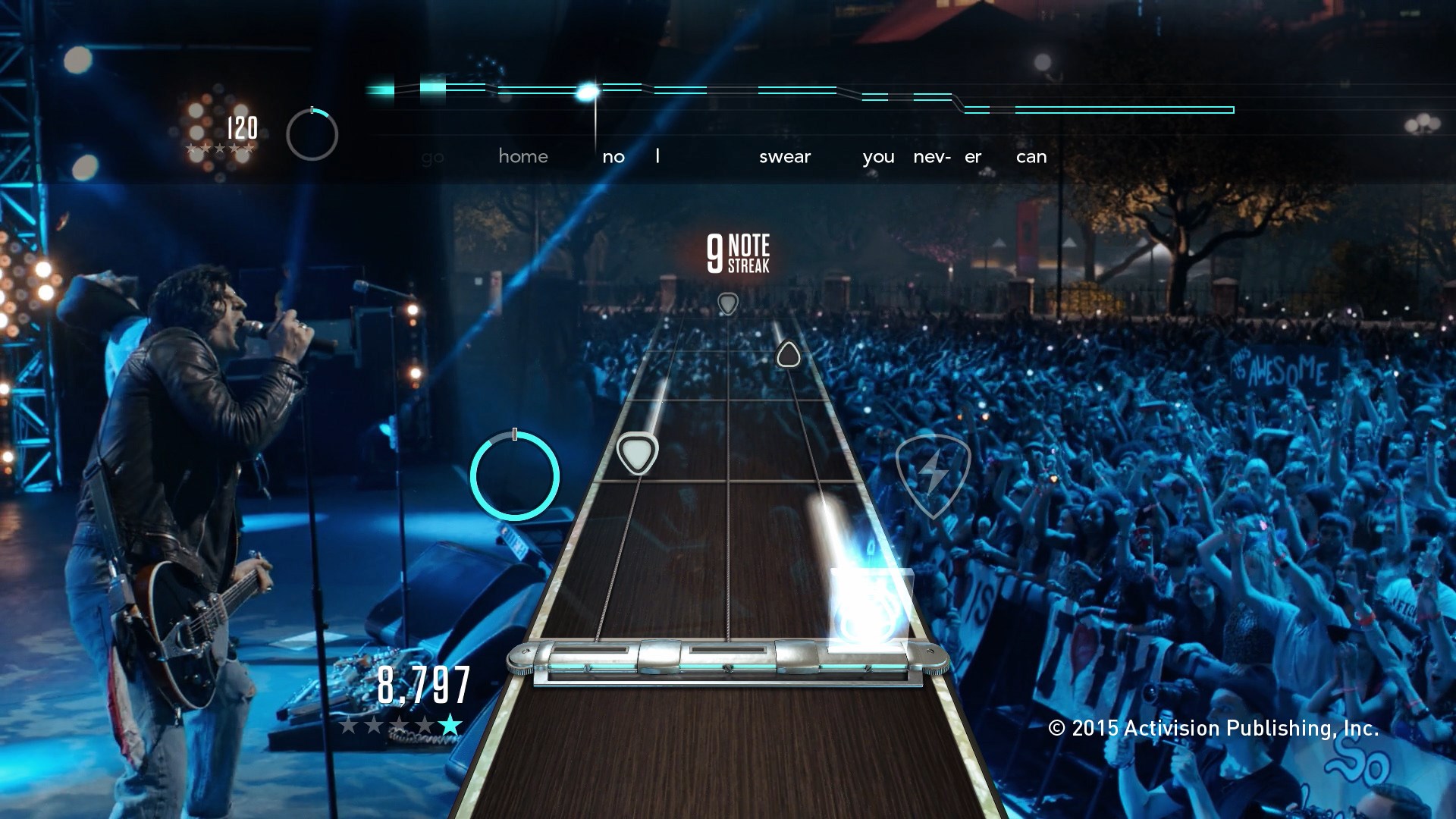 In celebration of Gamescom 2015, Activision announced another 16 songs for Guitar Hero Live. The following new songs brings the total lineup to 100:
1. Megadeth – Hangar 18
2. In Flames – Deliver Us
3. Boston – More Than a Feeling
4. You Me At Six – Lived a Lie
5. Blink-182 – The Rock Show
6. Rush – Limelight
7. Kasabian – Club Foot
8. Dream Theater – The Looking Glass
9. Royal Blood – Come on Over
10. Charlie XCX – Famous
11. Passion Pit – Take a Walk
12. Panic! At the Disco – Girls Girls Boys
13. James Bay – Hold Back The River
14. Echosmith – Cool Kids
15. MGMT – Time to Pretend
16. Kings of Leon – Sex on Fire
There's also news about Guitar Hero Live's second music festival: Rock the Block. Activision shared the following information:
Rock the Block is set in the US and takes place in the heart of an imagined city landscape in the game. With its origins in a number of smaller festivals that used to take place in and around Boulder City, Rock the Block is a spontaneously evolving event that encourages attendees and passers-by to be drawn into the festival experience. Rock the Block joins SoundDial, the previously announced UK-based festival, as the two fictional settings a player will visit in Guitar Hero Live. Within the two festivals fans will play a variety of stages, ranging from small club stages, to headlining massive, open air mainstages.
Source: Activision PR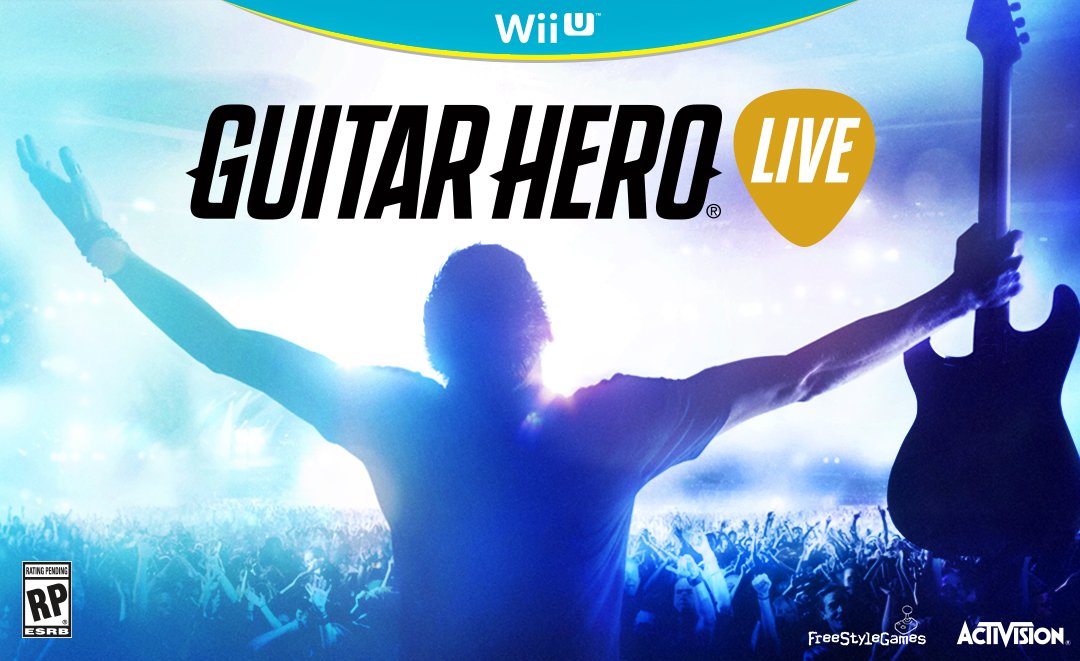 Activision and FreeStyleGames released a new behind the scenes video for Guitar Hero Live today. In the trailer, players can learn more about Rock the Block and SoundDial and the music festivals they'll be playing throughout Guitar Hero Live. There's also a more in-depth look at GHTV. Watch the video below.
Another important note: Activision confirmed that singing will be included in Guitar Hero Live.
Source: Activision PR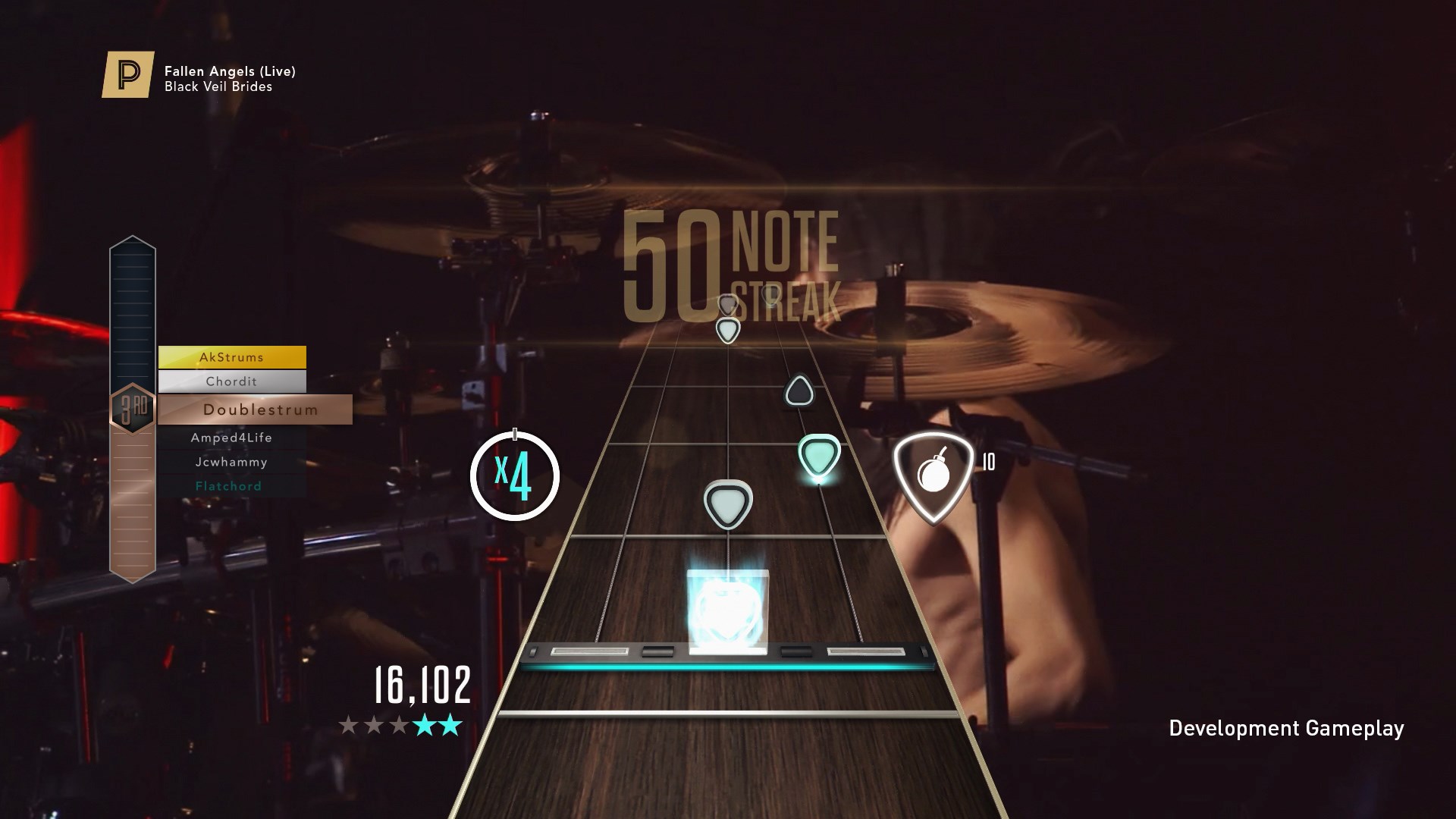 Activision has sent out new information and screenshots pertaining to Guitar Hero Live. Today, we have more on the game's Premium Shows.
Here's the full breakdown:
Premium Shows are another example of how Activision and FreeStyleGames are bringing great new content to Guitar Hero Live. Whether it be playable concert footage, debut music videos and beyond, Premium Shows will give players a unique way to access some amazing gameplay experiences.

By completing various challenges, players will have a chance to play these Premium Shows to win in-game prizes based on the level of difficulty of the show. These prizes can include unique exclusive Note Highways or custom Player Cards that fans can use to show off to the Guitar Hero Live online community. It can also include Status rewards that help players level up faster or boosts that speed up the accumulation of in-game currency.
Black Veil Brides is the first Premium Show announced for Guitar Hero Live. In the gallery below, you can check out screenshots featuring live concert footage of the band.
Source: Activision PR