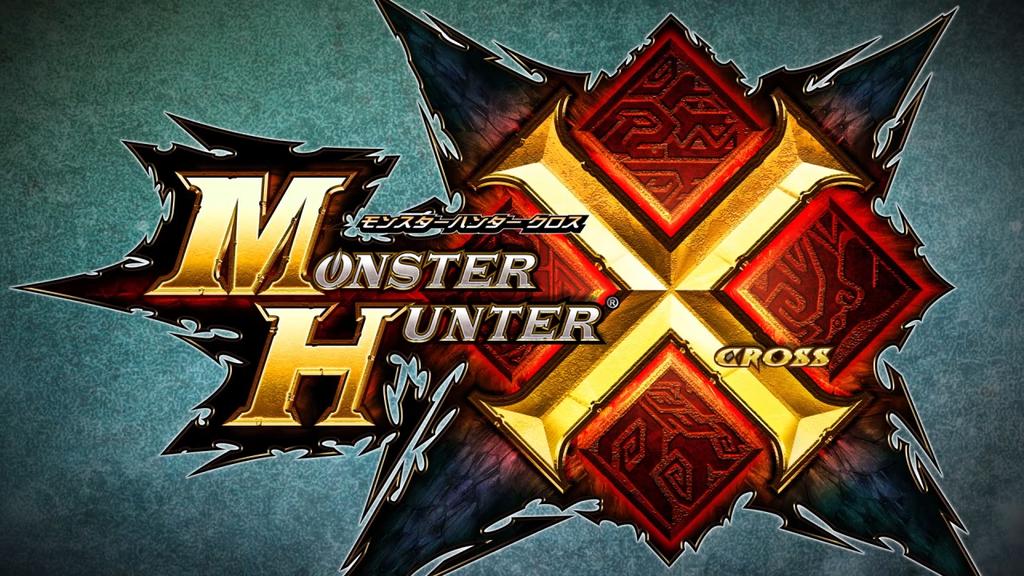 This week's issue of Famitsu has plenty of Nintendo content. The magazine has new looks at Atelier Rorona Plus: The Alchemist of Arland, Fire Emblem If, Monster Hunter Diary Poka Poka Airou Village DX, Monster Hunter X, Stella Glow, and The Great Ace Attorney. Scans of each game can be found in the gallery below, along with a few ads.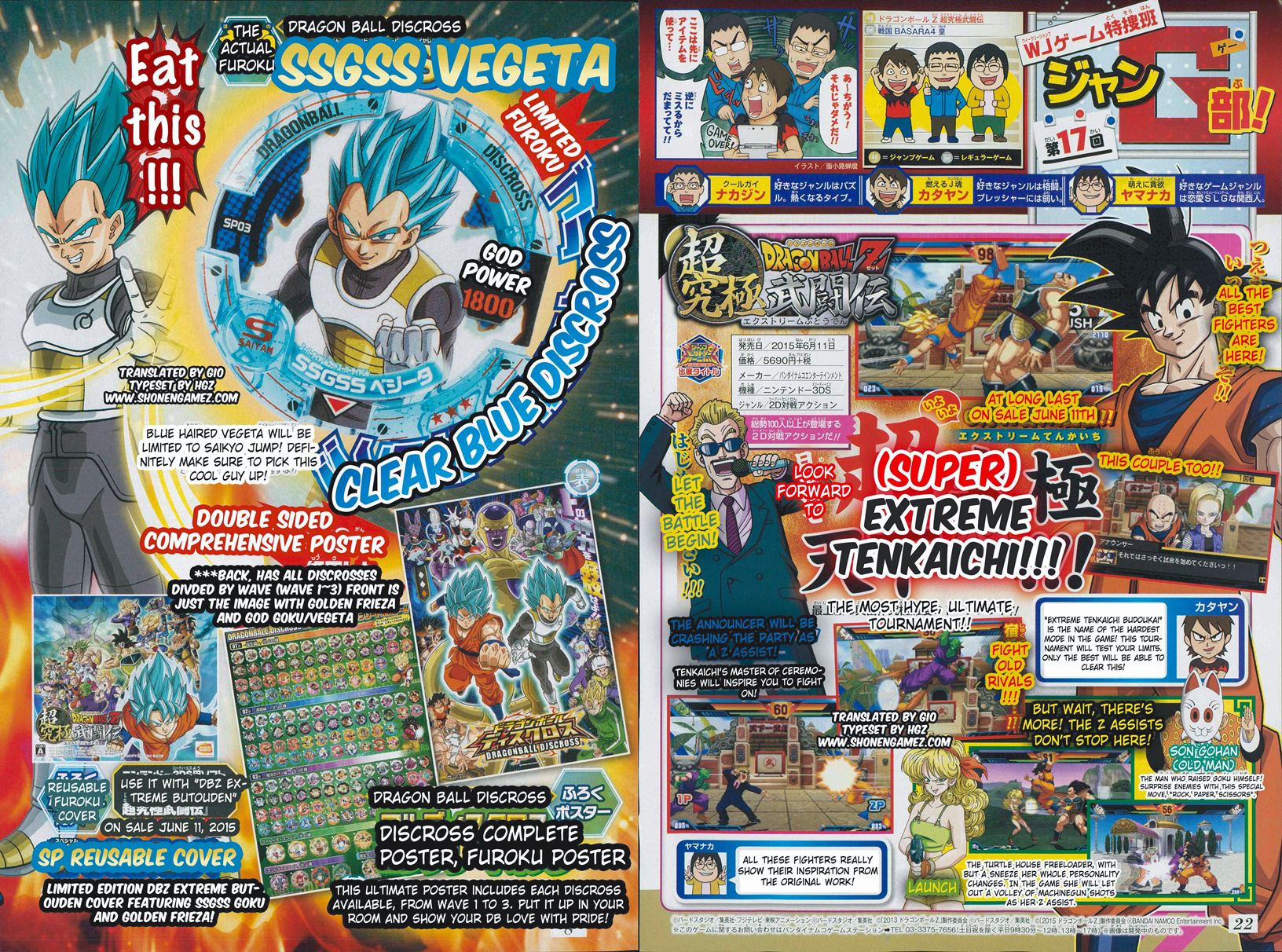 Our latest look at Dragon Ball Z: Extreme Butoden shows three Z-Assist characters. Grandpa Gohan (Son Goku), The World Tournament Announcer, and Launch will be included in the game.
Grandpa Gohan uses his Rock, Papper, Scissors attacks. Meanwhile, Launch can use her Machinegun shots to attack the opponent.
Dragon Ball Z: Extreme Butoden launches in Japan on June 11.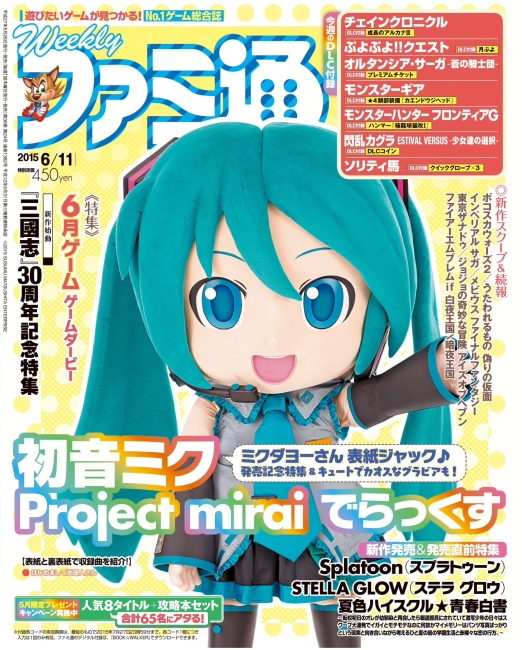 This week's Famitsu scans are now available. The magazine isn't quite as jam-packed as the previous two weeks, but there are still plenty of images to check out. Dragon Quest VIII, Fire Emblem If, Hatsune Miku, Splatoon, and Stella Glow are all featured in Famitsu, which you can check out below.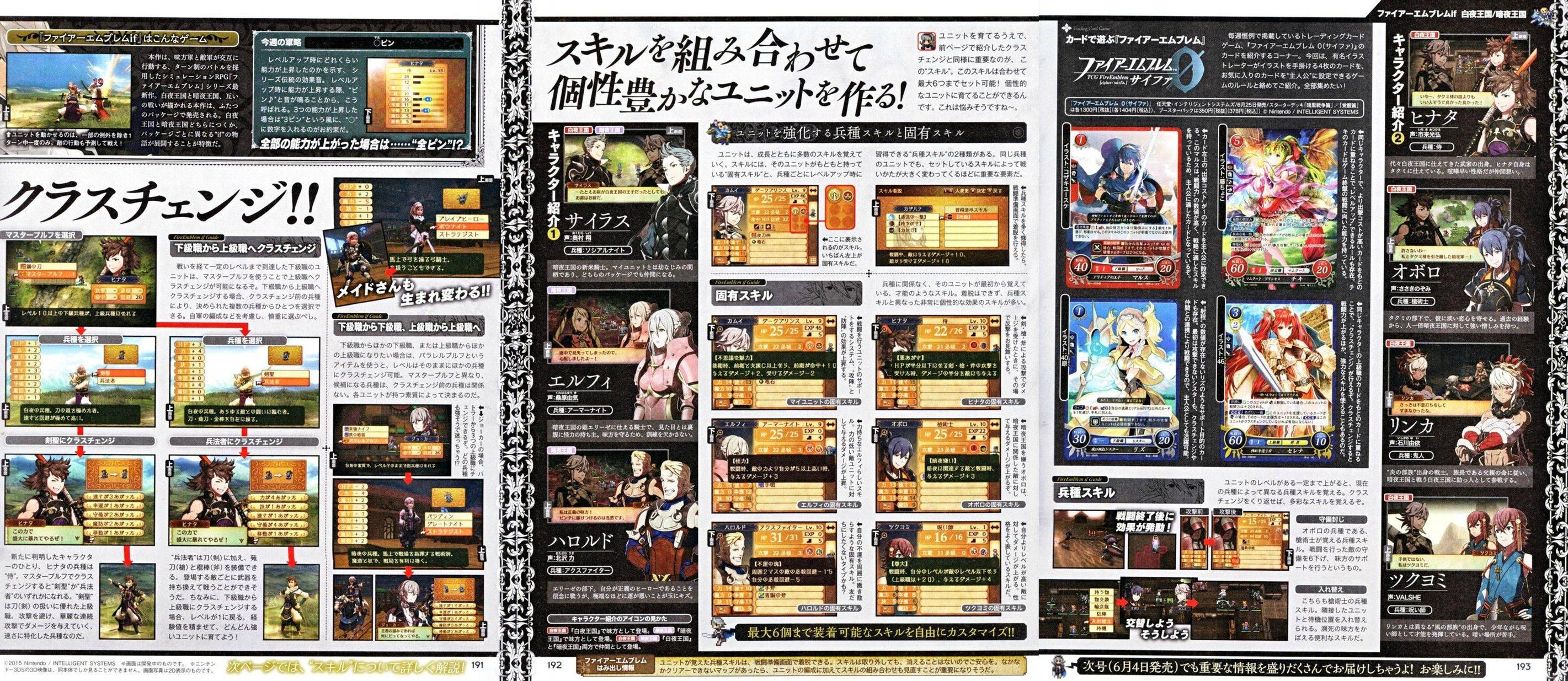 New Fire Emblem If scans have leaked out of Famitsu a bit earlier than expected. That means we have new images from the game, as well as a bunch of new details. The latest scans are posted above, while the information (covering characters and more) can be found below.
New character details
– Cyrus (Cavalier): A fledgling Nohrian knight. Has known the Avatar since childhood; an ally in both campaigns.
– Elfie (Knight): A knight who serves Nohr's princess Elise. Contrary to her appearance, she possesses amazing strength. Never misses training.
– Harold (Brave Hero): Elise's subordinate. He fights with the belief that he's a hero of justice; his drawback is that he's plagued with exceptionally bad luck.
– Hinata (Samurai): Hails from a family of samurais who have served Hoshido for generations. Hinata himself serves under Takumi. Quick to quarrel, but thinks often of his friends.
– Oboro (Lancer): Takumi's subordinate, who harbours a small crush for her liege (Takumi). Because of her past experience, she possesses a stronger hatred for Nohr than most people.
– Rinka (Oni): A fighter born into the "Fire Clan". Following her father–the chieftain's orders, she aids the people of Hoshido in their battle against Nohr.
– Tsukuyomi (Spellcaster): Unlike Rinka, he was born into the "Wind Clan". Despite his young age, a talented spellcaster. Hates dark places.
Skills
– Avatar – Mysterious Charisma – When acting as the support (back unit), if the front unit has a C or higher support, the front unit's Accuracy is boosted by 10, damage by 2 and damage received reduced by 2
– Hinata: When at half HP or lower, damage received by swords, lances and axes is halved
– Elfie: Light-weight – When the enemy's Strength is 5 points higher than this unit, this unit's damage increases by 3
– Oboro: Nohr-hater – When engaging a Nohr-related enemy, damage increases by 3
– Harold: Unlucky Soul – Enemies within a 2 tile radius have their Critical Evade reduced by 15, while the user's Critical Evade is reduced by 5
– Tsukuyomi: Arrogance – When unit's Level is lower than the enemy's (promoted units count as Level +20), damage increases by 4
– Lancer Class: Defence Seal – After damaging an enemy, the enemy's Defence is reduced by 6.
– Lancer Class: Substitute – On the map, the user can select an adjacent target to "substitute". This probably allows the user to take damage instead of their target and useful for protecting weak/wounded allies.
– Kazahana's inactive skill increases Damage by 10, but also increases Damage received from enemies by 10. She also has "Flowing Strike", Vantage and Strength Seal.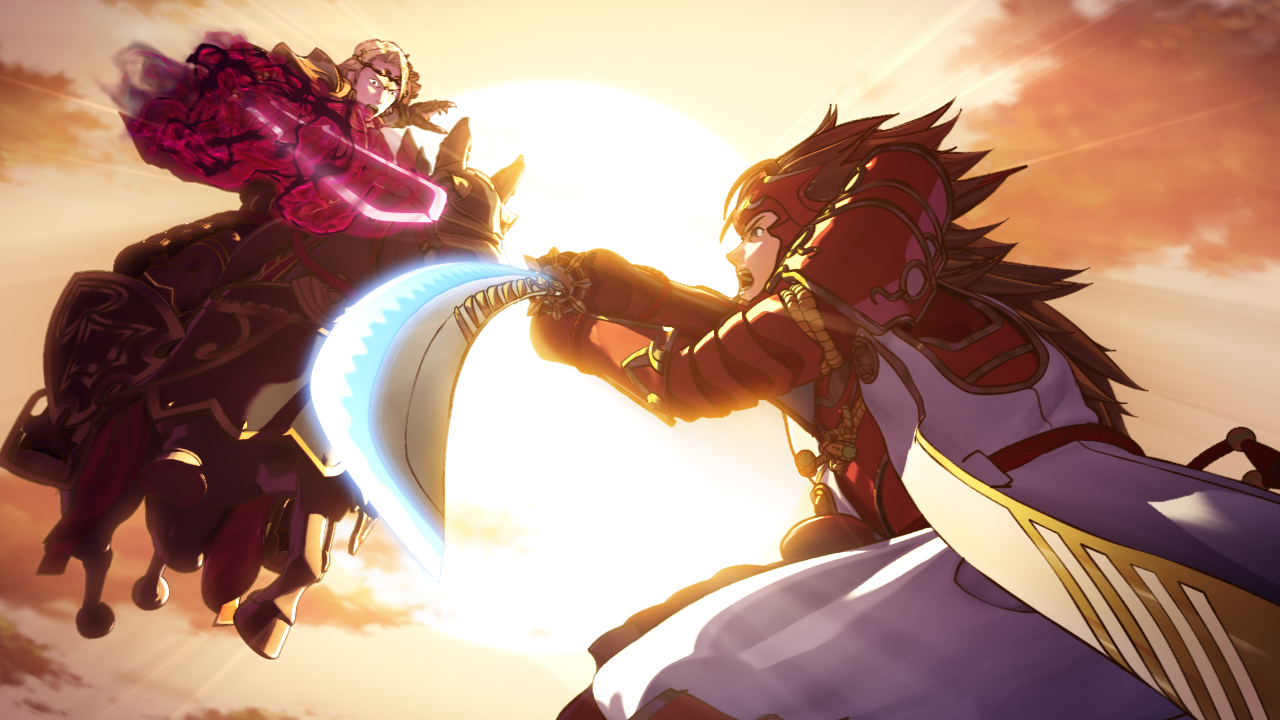 Kantopia has gone to the trouble of fully translating Famitsu's latest coverage of Fire Emblem If. You can check them out in the gallery below.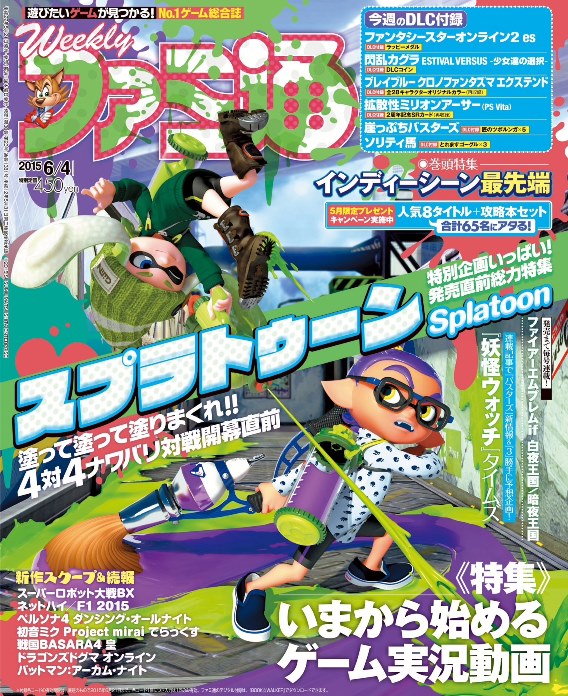 This week's issue of Famitsu once again has coverage of numerous Nintendo titles. Fire Emblem If, Hatsune Miku: Project Mirai DX, Langrisser Re:Incarnation Tensei, Splatoon, Super Robot Wars BX, and the upcoming Yo-Kai Watch games are all featured in the latest magazine. Scans of these titles and various ads are posted in the gallery below.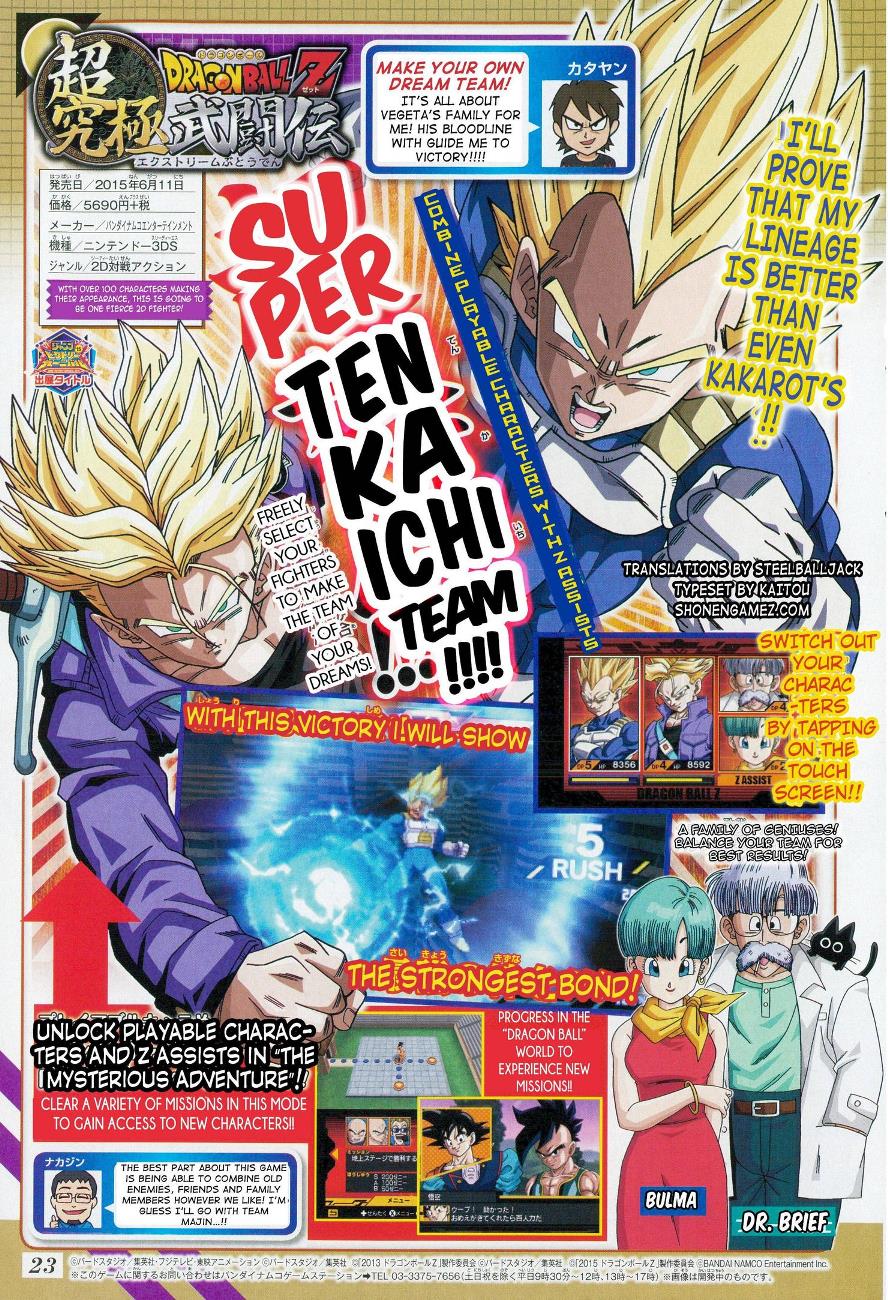 Jump is back with another quick look at Dragon Ball Z: Extreme Butoden. In the new scan, we get to see some screenshots and teases of the Adventure Mode. This will allow players to unlock characters and Z-Assists by clearing missions.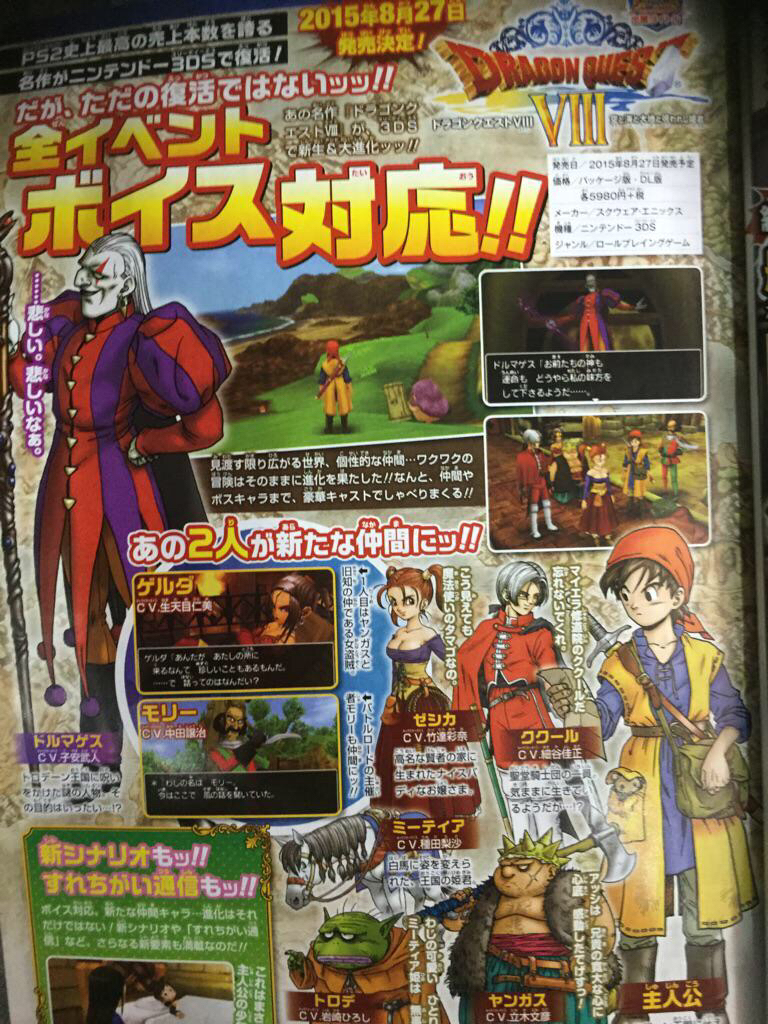 Update: Voice cast below.
Angelo (Yoshimasa Hosoya)
Jessica (Ayana Taketatsu)
Yangus (Fumihiko Tachiki)
Trode (Hiroshi Iwasaki)
Princess Medea (Risa Taneda)
Gerda (Hitomi Nabatame)
Morrie (Joji Nakata)
Dhoulmagus (Takehito Koyasu)
---
The first scan of Dragon Quest VIII has emerged from this week's issue of Jump. You can check it out above.
This week's issue of Famitsu has extensive coverage of Nintendo games. Here's a quick rundown of what's covered:
– Fire Emblem If
– The Great Ace Attorney
– PoPoLoCrois Farm Story
– Project X Zone 2
– Rhythm Heaven: The Best Plus
– Splatoon
– Stella Glow
– Yoshi's Woolly World
You can find scans of these games (and more!) in the gallery below.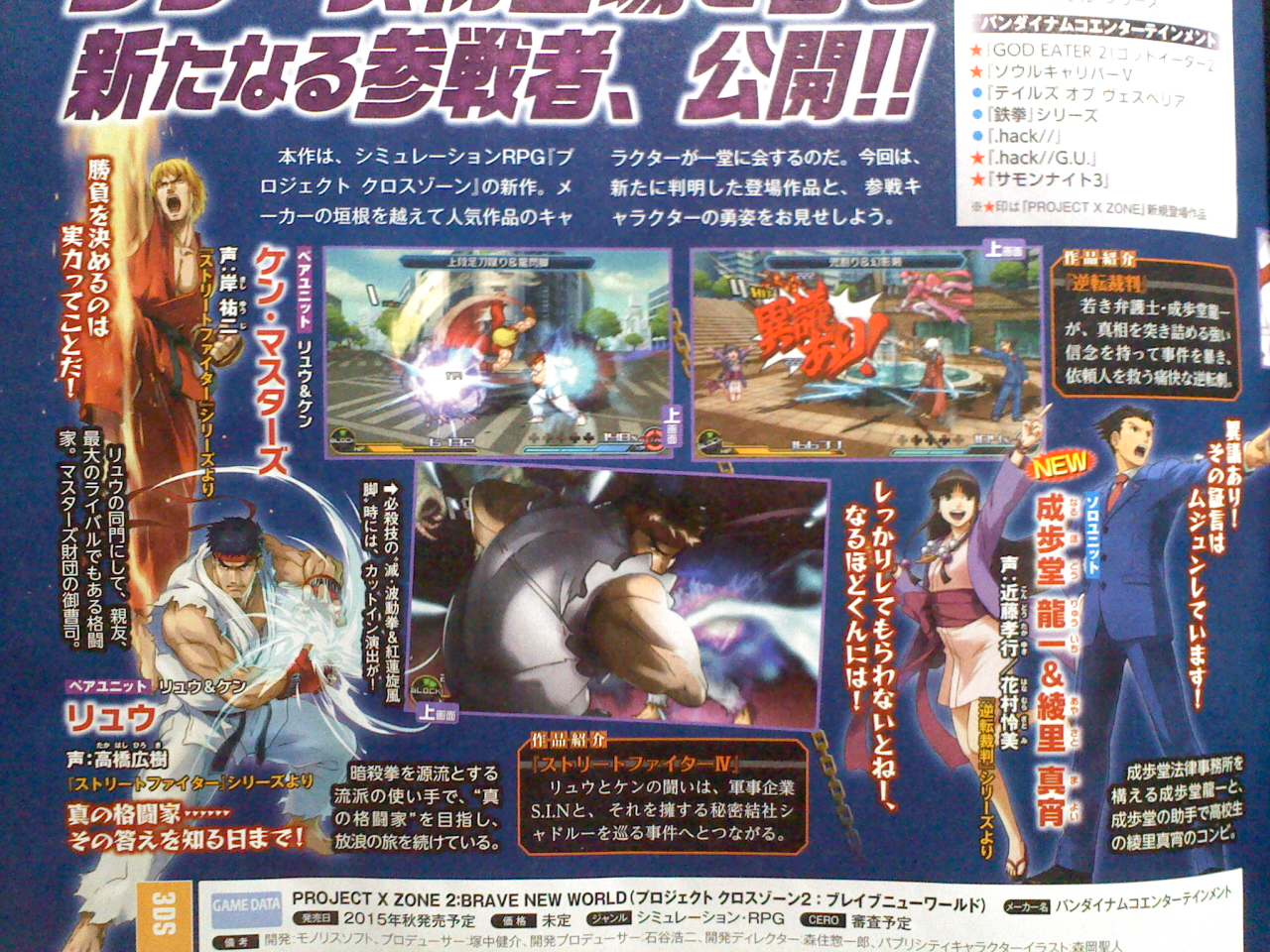 A few new scans of Project X Zone 2 have made their way online from this week's issue of Famitsu. They provide a first look at some of the latest roster additions, including Phoenix Wright.
You can check out the latest scans below. We'll have them in high quality at some point tomorrow.