Banana Bliss: Jungle Puzzles is launching on the 3DS eShop next week, Teyon has announced. The game will be available in both North America and Europe for $3.99 / €3.99 respectively.
Banana Bliss: Jungle Puzzles is an action puzzler developed by Mechanic Arms, which has players guiding Morris the monkey through the dense jungle canopy of Paradise Island. You'll need to collect all the scattered hearts for Molly – Morris' companion.
Players who find the invisible banana in each stage can unlock extra stages. Jungle critters will attempt to interfere with your hunt for hearts and bananas along the way.
Banana Bliss: Jungle Puzzles includes the following features:
• Swing through over 300 puzzles in 7 jungle-inspired worlds
• Climb and interact with boulders, bars and other items to clear each puzzle
• Avoid or destroy the jungle critters that roam aimlessly around the jungle
• Earn a Banana Bonus in each level to save the level's replay and watch it back with Playback
Source: Teyon PR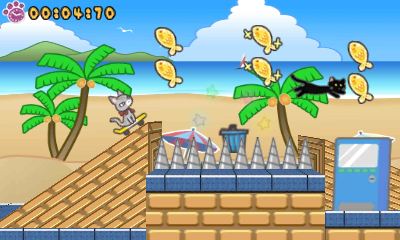 Teyon has yet another 3DS eShop title in the pipeline. "Skater Cat", a new action game that has players riding the streets and performing stunts, is due out sometime in the future.
Here's a quick listing of features contained in Skater Cat:
3 worlds with over 25 levels to complete and 90 medals to collect
Exciting in-game bonuses to unlock including the ability to play as your Mii
StreetPass feature included to exchange best times and ghost runs from other Skater Cat players
Receive news updates and available ghost runs from the game makers via SpotPass
A single screenshot from Skater Cat can be found above. The official page is located here.